Cardano: new ATH for ADA
2 min read
The price ADA, the cryptocurrency of the Cardano blockchain, today recorded its new historical maximum (ATH).
The ADA token recorded ATH
The price of ADA has risen by 22% in the last 24 hours and almost 40% in a week. Compared to previous weeks, the gain was 80% for the previous two and 137% for the last 30 days.
Right now, the price is around $ 2.5, while on July 20, for example, it was only slightly above $ 1. In other words, it multiplied its value two and a half times in one month.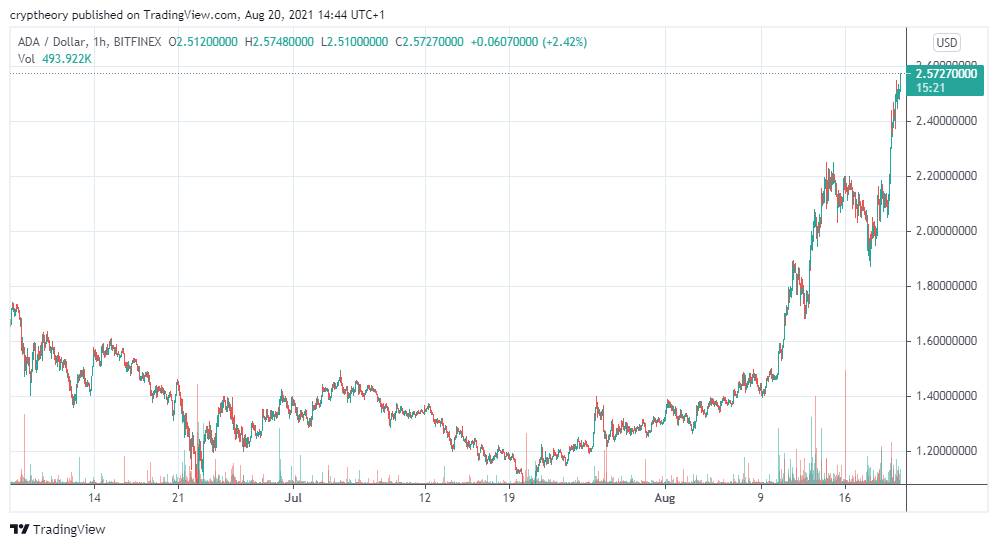 It should be noted that the previous peak, which took place on May 17, failed to break through the resistance of $ 2.2, a resistance that also withstood on August 15. Today, instead, this resistance has receded so much that some are beginning to speculate that the price of the ADA could reach as much as $ 3.
The fact is that a date has finally been announced from which it will be possible to upload smart contracts to the Cardano mainnet, which could be a viable alternative to Ethereo, as it is decentralized, but with a very fast time for transactions and significantly lower fees.
Cardano Vs. Binance Coin
Right now, the ADA has even overcome it Binance Coin (BNB) in market capitalization and ranked third behind BTC and ETH.
In fact, BTC alone has 42% of the total market capitalization of cryptocurrencies with more than $ 880 billion, followed by ETH with 18% thanks to its $ 377 billion. Cardano is now at $ 80 billion, while Binance Coin is at $ 66 billion.
In May, ADA growth from $ 1 to $ 2.2 lasted only three weeks, while this time it took a month but reached a higher level. Moreover, there was a real speculative bubble on the altcoins in May, and there seems to be no such bubble at the moment.
Alonzo update
Investors are waiting for September 12, the date of the release of the "Alonzo" update, which will introduce the possibility to upload smart contracts to the Cardano network. However, it is not clear how many smart contracts will be uploaded and what they will do, so nothing can be predicted.
In these cases, investors usually follow the unwritten rule "buy rumors, sell news", ie. from the metaphor buy before the target event occurs, and then maybe sell close or at the same time.
September 12 is more than three weeks away, so in theory the price of the ADA could still rise; moreover, after the resistance disintegrated to $ 2.2, another resistance could be the $ 3 psychological threshold.