Crypto.com cuts card rewards and CRO token plummets
2 min read
Crypto.com cryptocurrency exchange, announced last Sunday (5/1) a series of changes to its CRO Card rewards program, with the Visa flag. The changes will take effect within 30 days. That is, as of June 1, 2022.
Among other things, the platform said it will reduce CRO Card rewards. As a consequence of the announcement, the price of the platform's native token, Cronos (CRO), has dropped almost 20% in about 24 hours.
Changes to the CRO Card rewards program
As the exchange said in a statement, cardholders with staking service active in the last six months and before May 1, 2022 will continue to earn rewards on spend at the current rate until the service expires at 180.
Thereafter, revised fees will apply. Thus, cardholders who stake CRO after the 180-day expiration will earn card spend rewards as per the schedule below: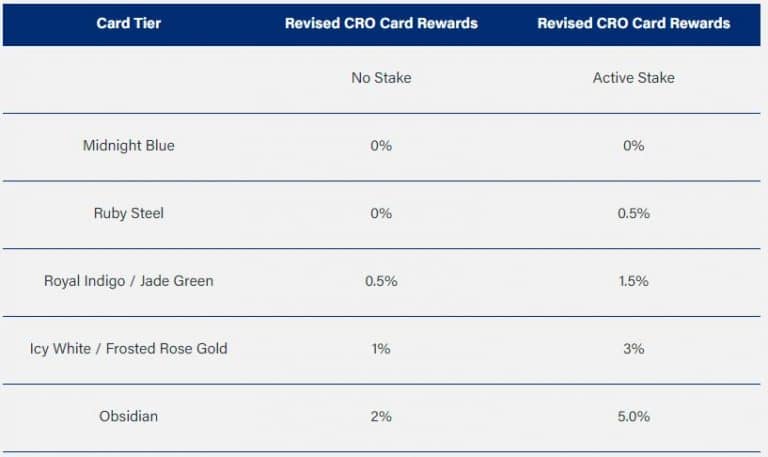 According to the update, users with lower-tier cards including Midnight Blue and Ruby Steel – without staking – will receive 0% rewards from the CRO. Meanwhile, those with Royal Indigo/Jade Green will receive 0.5%.
Icy White/Frosted Rose Gold cardholders will receive 1%, and users with the highest level of cards, Obsidian, will receive 2%.
Crypto.com Card Rewards
The new update is a significant change to CRO rewards. After all, current rates are 1% for the lower tiers and above 8% for the higher tier.
Additionally, the exchange reported that its monthly CRO Card rewards for Ruby Steel and Royal Indigo/Jade Green would be capped at $25 and $50, respectively. For higher tier cards, however, they would have no monthly rewards cap.

"CRO staking rewards will no longer be offered to Jade Green, Royal Indigo, Frosted Rose Gold, Icy White and Obsidian cardholders as of the Effective Date," the company said.
Other benefits cardholders enjoy, such as 100% cashback on subscription services like Amazon Prime and Netflix, free airport lounge access and more, will remain unchanged.
Ultimately, the company said that introducing these changes to the card program is a "tough decision."
"We are committed to continuing to explore and establish new partnerships to generate greater value and benefits for our cardholders, such as our partnership with Dosh, a US cash rewards platform," concluded Cypto.com.
Users protest
The news released by the exchange left card users outraged. Some of them even called the action rug pull. This is a scam where the developers behind a crypto project disappear with investor funds.
"Literally is it almost like a rug pull? Crypto.com, thanks for that. The card is OVER. #CRO IS OVER. $CRO no more."
In addition, another user suggested that he will reduce his staking equity:
"I think I will see my net worth in CRO staking decrease to next to nothing in the next few months."