Delta Investment Tracker Review
4 min read
With a purported 2.5 million downloads by users across 115 countries, Delta App has established itself as a formidable investment tracker since its launch a little over three years ago.
It likes to pitch itself as one of the most feature-rich, free-to-use portfolio management tools aimed at cryptocurrency traders. That said, the Delta app's utility is not confined to your crypto stash only. The platform can also come handy if your portfolio includes a sizable volume of stocks. The team overseeing Delta claims they will soon onboard multiple other asset classes as well, including ETFs, indices, forex, mutual funds, bonds, futures, and options.
In this quick review today, we'll be presenting BeInCrypto's early impression of the platform and its claim of being one of the best investment tracking tools around today.
Delta App: An Overview
Delta was founded in Belgium in Sept. 2017 and was later acquired by social trading and investment platform, eToro.
The app supports more than 1,500 cryptocurrencies and tokens. This means even if you have a few relatively obscure assets in your portfolio, you don't have to scramble from one platform to another to keep a tab on all of them – Delta has it all covered. Better still, you can sync the app across your various devices to access real-time data at any time, anywhere.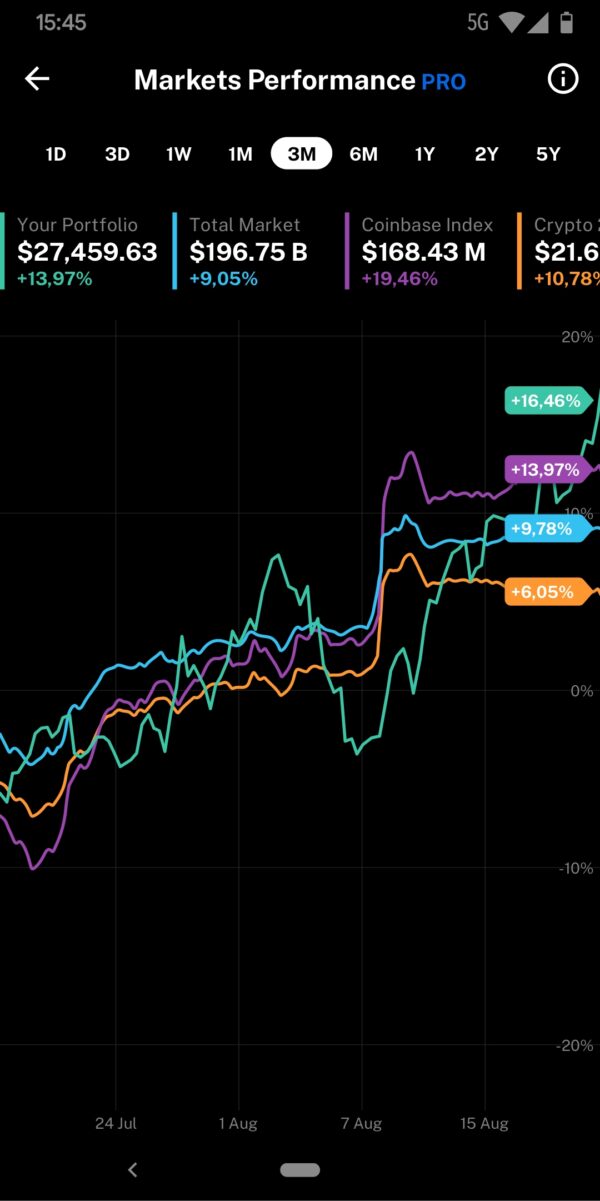 In-depth analysis and analytics
You can also create multiple portfolios to accommodate multiple trading strategies. In terms of functionality, Delta App provides an in-depth analysis of your assets and trade history. It compiles data such as your asset source, asset split, trades, most used exchanges, asset location, and investment status before making them accessible via a handy dashboard.
Real-time updates
Delta has a feature called the Delta Direct that enables investors to track latest updates from the teams behind the digital assets they are following. For example, if a promising DeFi platform that you have been following for a while announces the imminent launch of their IDO, Delta will quickly notify you about it.
Apart from that, the app also brings along other handy features such as Market and Watchlist that enable you to track:
The real-time prices of your favorite digital assets.
Ongoing trends
Details of the teams behind your favorite digital assets and blockchain projects
Communications and community feedback about all supported coins.
The Delta app is available across all major OS platforms including Android, iOS, and Windows (PC). The app is free-to-use for all with an optional paid subscription plan offering additional features.
Delta Pro
The paid subscription plan of the app is called Delta Pro. it is available for mobile users as an annual plan, although the desktop app users can opt for a lifetime subscription. As of July 2021, the annual subscription will cost you C$76.99 (~$61).
In addition to all the features available in the free version, the pro version comes with advanced metrics that give you a more in-depth insight into your portfolio. For example, you will have additional data such as, 
Realized and unrealized gains.
Unit and total cost basis for every coin.
Live prices (you no longer need to refresh to see updated prices).
The pro version also offers unlimited connections to exchanges and wallets – that's a clear edge over the free version which only allows connections to two exchanges and as many wallets.
Other than that, you also get additional perks such as the ability to sync up to five devices and unlimited automatic exchange API imports.
Pros and Cons of using Delta App
Pros
Available as a free-to-use portfolio tracker with decent features and core functionality.
The app makes it easy to enter transactions intuitively.
You can configure both one-time and recurring alerts.
The transactions logged within Delta are also available in a CSV copy.
The ability to sync across multiple devices counts as a big advantage.
Cons
While the Pro version brings along several added features, many users might find it a bit too pricey.
The Delta app/website should include a more accessible FAQ section to help new users. 
Overall, the Delta App appears to be a no-nonsense, straight-to-the-point portfolio tracker meant for a wide variety of asset classes. It has so far maintained a decent track record and if you are on the hunt for a tracker that makes it easier and more efficient to manage your crypto and stock portfolios, Delta App is definitely an option worth mulling over.
The post Delta Investment Tracker Review appeared first on BeInCrypto.