ETH inflation fell below BTC for the first time
2 min read
ETH inflation is constantly falling. The blockchain news company IntotheBlock came up with this interesting news. According to research, the daily value of ETH emissions is below the level of BTC emissions for the first time in history.
Ethereum inflation fell to 1.11%
IntoTheBlock research leader Lucas Outumuro points to net Ethereum inflation, which fell to 1.11% for the first time in history this week, compared to an annualized BTC rate of 1.75%. This indicator is essential. The second largest cryptocurrency can thus be added to the cash bonus. What does it mean? It is basically a transfer of Etherea value without the concern of users who could lose purchasing power.
1 / For the first time $ ETH's daily issuance was lower than $ BTC' with

ETH net inflation: 3574 ETH (1.11% annualized). BTC net inflation: 900 BTC (1.75% annualized).

A short thread on ETH's recent surge in activity and potential implications of its decreasing inflation.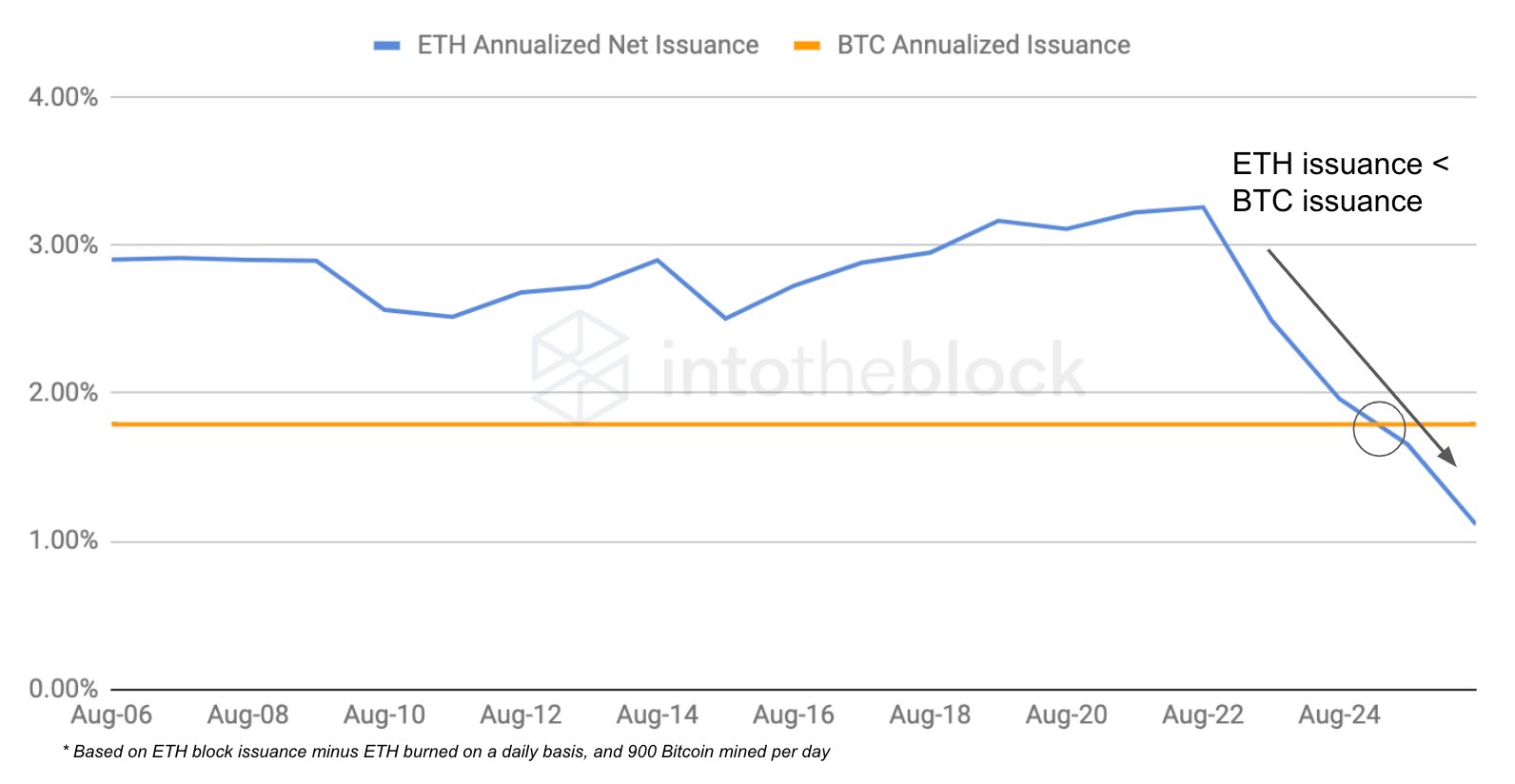 "Ether's decreasing issuance raises questions about how it is valued Previously closer to "digital oil" ETH's value moved in tandem with its usage. Now that it's issuance is provably lower (and potentially deflationary), it is likely to develop a monetary premium like $BTC"
Outumuro added that, according to him, the current hype around the NFT is mainly behind this decline. The constant supply of new users to the network increases the fees, but some of them are burned due to hard fork.
"The recent sharp increase in NFT activity has significantly increased ETH charges and, with them, the amount of Ethers burned. In this way, we got to the point where more ETH was burned than was actually issued. In a short period of time, it triggered a deflationary process. "
ETH can become a store of value
Deflation of the second largest cryptocurrency can cause very interesting reversals. ETH is well on its way to becoming a full-fledged store of value.
"As NFT and other ETH applications continue to grow, deflationary pressure is being created that boosts the Ether money premium. Ultimately, this puts users and users in mind that ETH can become a store of value for the decentralized internet. "