Institutions provide 99% of BTC's trading volume
1 min read
High volatility has recently highlighted the important role of institutional investors in BTC transactions. The organization currently accounts for more than 99% of BTC's trading volume with transactions worth over $ 100,000.
Institutions account for 99% of BTC's trading volume
Specialists from the analytical company IntoTheBlock note that the institutional interest in the crypto assets has increased since the third quarter of 2020. Since then, the share of large transactions has not fallen below 90%.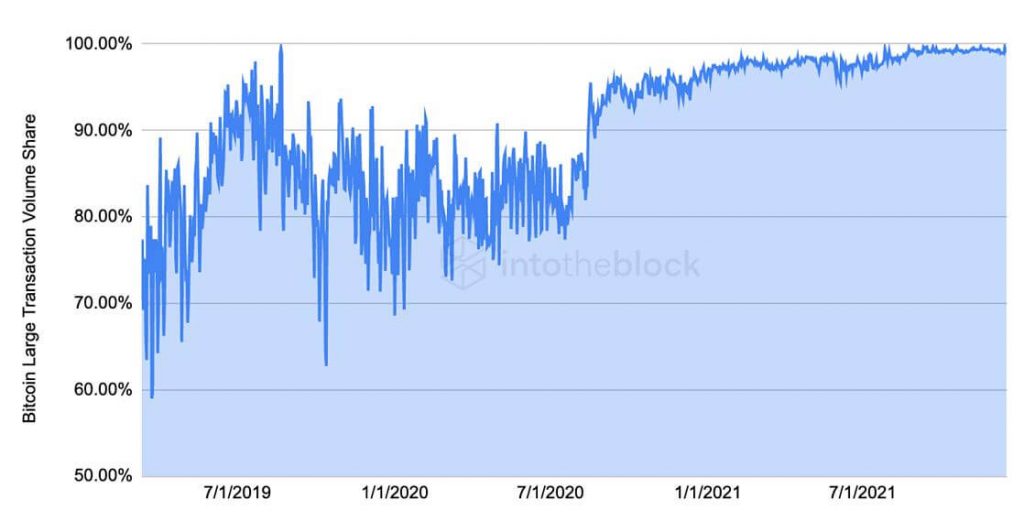 From the third quarter of 2020, the institution entered the BTC world and in 2021 set several historical highs. Companies like MicroStrategy and Tesla are still leading the way in investing billions of dollars in BTC.
At that time, institutional interest in BTC pushed the price to the maximum, but this is not the case at the moment. BTC is experiencing very high volatility, with the short sector increasingly correlating with the stock market.
The attractiveness of BTC for institutions is determined by several factors, including return on investment. Despite the fact that the year started negatively, BTC outperformed the six best technology stocks with an average return on investment of 12.24%.
In addition, interest rates have hovered close to zero in most countries in recent months, making BTC and other crypto assets an ideal alternative for institutional investors.