Logistics giant Flexport acquired BTC as part of its reserves
2 min read
Flexport, a global company operating in the logistics industry, acquired some BTC as part of its balance sheet, as revealed by Ryan Peterson, the company's CEO.
During a series of messages posted on Twitter, Peterson spoke about the war in Ukraine and the impacts of the conflict on his company. He was then asked how much of the company's balance sheet would be allocated in BTC.
According to the most recent data, Flexport has US$ 1.6 billion in cash. The CEO admitted that the company has BTC, but did not disclose what percentage of the cash allocated to the cryptocurrency. "We don't disclose that, but it's not zero," he said.
Challenging time for supply chains
In addition to talking about BTC, Peterson gave a long assessment of the current moment, including the war and the Covid-19 pandemic. The CEO called the global scenario "challenging" but said Flexport is prepared to face it.
"There has never been a dull moment in our industry. Flexport is fortunate to have over US$1.6 billion in net assets on our balance sheet. This allows us to stay ahead of the curve, protecting the interests of our customers, employees and shareholders through volatility, uncertainty and chaos."
In this sense, BTC likely serves as part of the company's innovation strategy, which is quite engaged in the market. In fact, Flexport also has the BTC white paper listed for download on its website, in order to inform its customers about the cryptocurrency.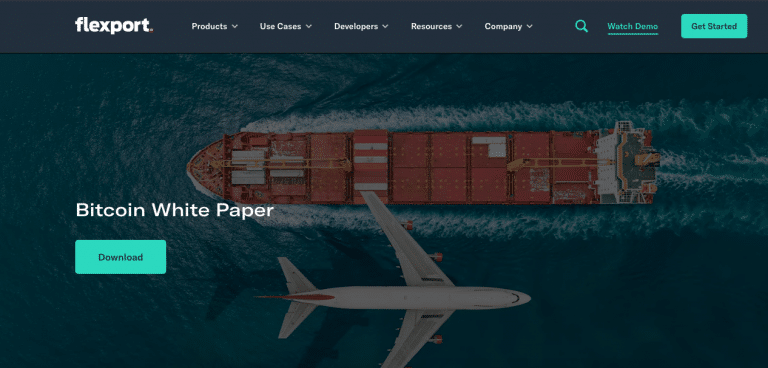 Innovation in logistics
With US$8 billion in market value, Flexport is one of the largest logistics companies in the world. However, it does not own the trains, ships or planes used to move merchandise through the global supply chain.
Instead, Peterson started what is being called the "Digital Freight Forwarding", which leverages its customers' supply chain systems. Then the company automates the entire process, generating great savings for its customers.
In a way, the company resembles services like Uber and Airbnb, which also don't have taxis or hotel rooms, respectively. With digitalization, Flexport manages to save an average of four hours per week for its customers, a relevant value for the logistics sector.
Founded in 2013 with the intention of automating the process of customs forms, Flexport has become the automation hub for the global supply chain. Even without having any containers, the company leaves its mark in the sector.
"I wish I could look with a hololens to see which containers are from Flexport. Any container ship on the west coast (of the United States), I guarantee we are there," Peterson said.
TOP cryptocurrencies for staking with passive reward up to 80%