The most famous baseball card like the NFT, what's its price?
2 min read
Sports player cards are one of the most liquid collector's market segments in the world. The price of some legendary athletes who are immortalized on paper cards is still rising, and this inspired the creators of the NFT, to try to transfer this added value of the cards to the digital world and to create NFT collections of the most famous sports legends. This year, the card of the most famous baseball player Mickey Mantel was auctioned for a record amount. How do the prices of NFT athletes move, and how do auctions of these unique sports actually take place? We will outline this in this article.
Sport and NFT have formed a strong partnership, with the US NFL, NBA and UFC launching a specialized NFT marketplace. Player cards from these leagues can be purchased, for example, at the NFT market Dapper Labs while NFT athletes from MBLs can be purchased, for example, at the Candy Digital or OpenSea markets.
NFT Mickey Mantel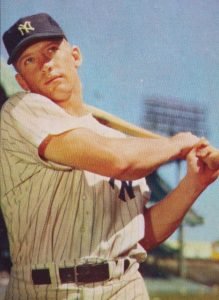 One of the most famous MBL players, Mickey Mantel, was an American professional baseball player who played MLB for the New York Yankees. His professional career lasted from 1951 to 1968, playing professionally only for the Yankess. He is considered the best player in history and was elected to the All Star Team of the MLB Century.
At the beginning of March, a public internet auction of the NFT card summer baseball legend took place at the OpenSea market, where it auctioned for ETH 175, or about $ 471,000. Thanks to this auction, Mantel also conquered the NFT world, because it was the most expensive auctioned NFT card of the athlete so far. The creation of this card also inspired the company Topps, which launched the collection Topps Series 1 NFT Collection which contains 70 NFT biggest baseball stars in the last 70 years.
The second highest auctioned NFT card is basketball legend LeBron James, whose digital portrait was auctioned for $ 230,000. However, this amount did not exceed the auction of his physical portrait on a collector's card, which in 2021, as part of the collection, along with a T-shirt and signature, auctioned for $ 5.2 million.