The number of BTC millionaires has decreased by 24.26% in three months | In 2021, criminals laundered a $ 8.6 billion in cryptocurrencies
1 min read
Due to the bearish trend that is raging in the crumpled market, the number of BTC millionaires has decreased by 24.26% in the last three months.
The number of BTC millionaires has dropped
According to BitInfoCharts and the Wayback Machine, between October 2021 and January 2022, the number of BTC wallets with a balance of at least $ 100,000 decreased by 30.04%. The number of addresses holding coins worth at least $ 1 million has decreased by 23, 50%. The number of accounts with savings of $ 10 million decreased by 32.08%.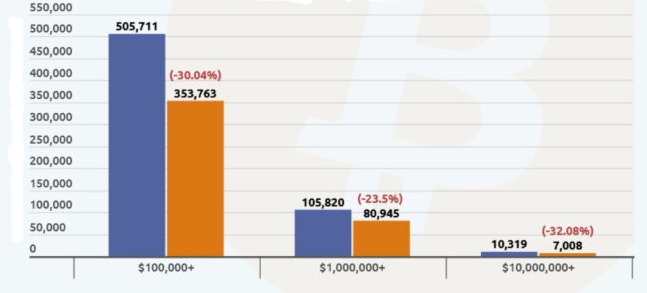 In February 2021, experts identified 109,952 BTC wallets with a balance in excess of $ 1 million. The number of millionaire addresses then dropped to 87,953 during the year.
_____
In 2021, the Cybercriminals laundered $ 8.6 billion in cryptocurrencies, and that number has risen by 25% compared to 2020.
According to the analytical company Chainalysis, in 2019 a record was set in the value of legalized digital assets acquired illegally. Three years ago, cybercriminals laundered a virtual currency worth $ 10.9 billion.
Since 2017, have been laundered $ 33,4 billion in crypto. This number pales in comparison to the amount of money laundered in fiat currencies, which reached $ 2 trillion in 2021.