Top Five DeFi Coins For September
4 min read
A look at five tokens from the decentralized finance (DeFi) sector that have interesting developments lined up for the month of September.
Kava.io (KAVA)
Current Price: $8.11
Market Cap: $673 Million
Market Cap Rank: #110
Kava is a decentralized finance (DEFI) lending platform. Unlike other such platforms, it provides support for cross-chain assets. The platform allows users to borrow stablecoins and then afterwards use them in order to earn yield.
The platform utilizes the native token, KAVA. The token has a use case as a reserve currency and for voting rights.
KAVASwap will launch on Sept. 1, serving as a bridge between DeFi, blockchains and financial services. Furthermore, the mainnet will launch sometime in September.
KAVA broke out from a descending resistance line on July 24 and reached a new all-time high on Aug. 24.
Afterwards, it dropped to validate the $7.30 area and initiated another upward movement. As a result, it reached a new all-time high of $9.21 on Aug. 30.
There is no weakness present in technical indicators. The next resistance is at $1.90.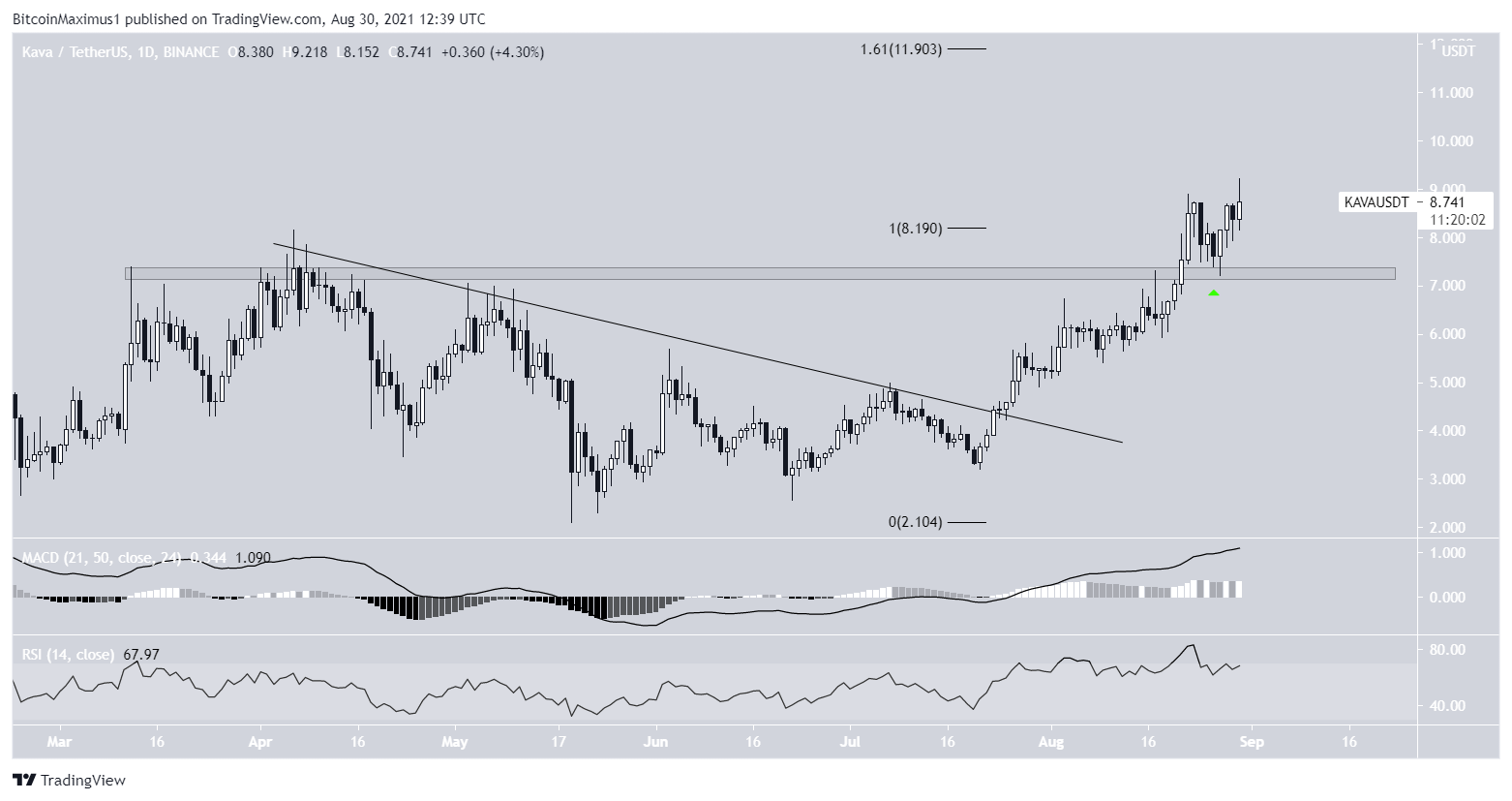 Mantra Dao (OM)
Current Price: $0.22
Market Cap: $79 Million
Market Cap Rank: #431
MANTRA DAO is a community-governed decentralized finance platform. It focuses on governance, staking and lending.
The native token used by the platform is OM, whose holders govern the Mantra Dao ecosystem through their voting rights. Users who contribute to the ecosystem are rewarded by the "Karma" reputation mechanism.
The Skyrim pool will open up on Sept. 1, preceding Skyrim Finance launch. Skyrim Finance Launch is an ecosystem of DeFi products. It will provide both fixed-rate and leveraged-yield products. It will initially build on ETH and Binance Smart Chain while will later become compatible with Polkadot.
OM broke out from an ascending parallel channel on Aug. 5 and validated it as support two days later (green icon).
While it has been increasing since, it has yet to reach a close above the $0.25 horizontal area. Doing so could lead to a significant upward movement.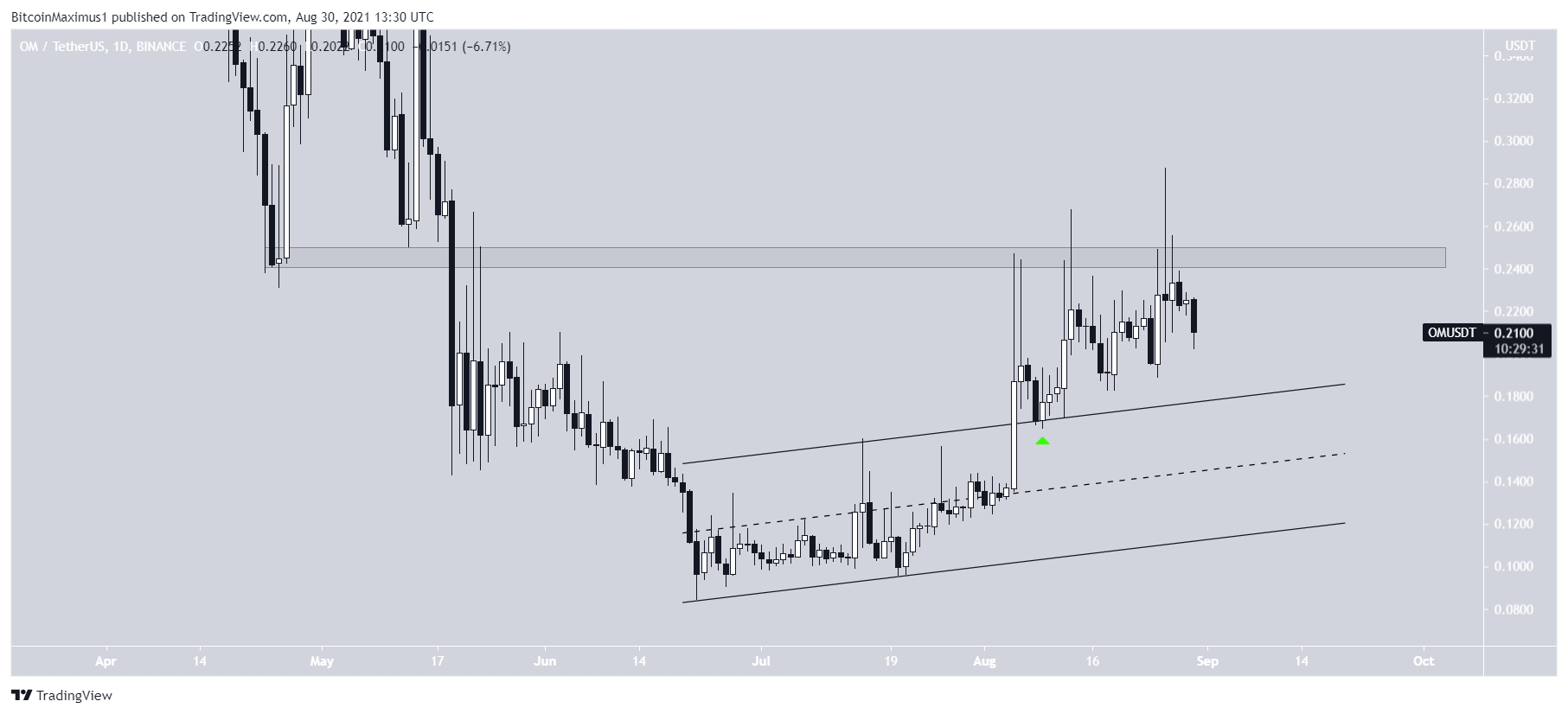 Terra (LUNA)
Current Price : $33.8
Market Cap: $13.58 Billion
Market Cap Rank: #12
Terra is a blockchain that makes use of stablecoins and in turn uses them to power a global payments systems. The projects goal is to combine the decentralization of cryptocurrencies with the stability of fiat currencies.
The native token is called LUNA. Its two main uses cases are the stabilization of stablecoin prices and its usage for voting rights.
On Sept. 9, the Columbus -5 mainnet upgrade will launch, providing several updates to the current system. The most essential is that instead of burning swap fees, they will be used as dividend.
LUNA has been increasing since Aug. 1, when it broke out from a descending resistance line. As a result of the breakout, it reached a high of $36.89 on Aug. 29. This stands as a new all-time high price.
However, there are some slight signs of weakness in the form of bearish divergences in both the RSI and MACD.
The closest resistance area is at $33.86, right at the current price, while the next one is at $52.50. These are the 1.61 and 2.61 external Fib retracement resistance levels.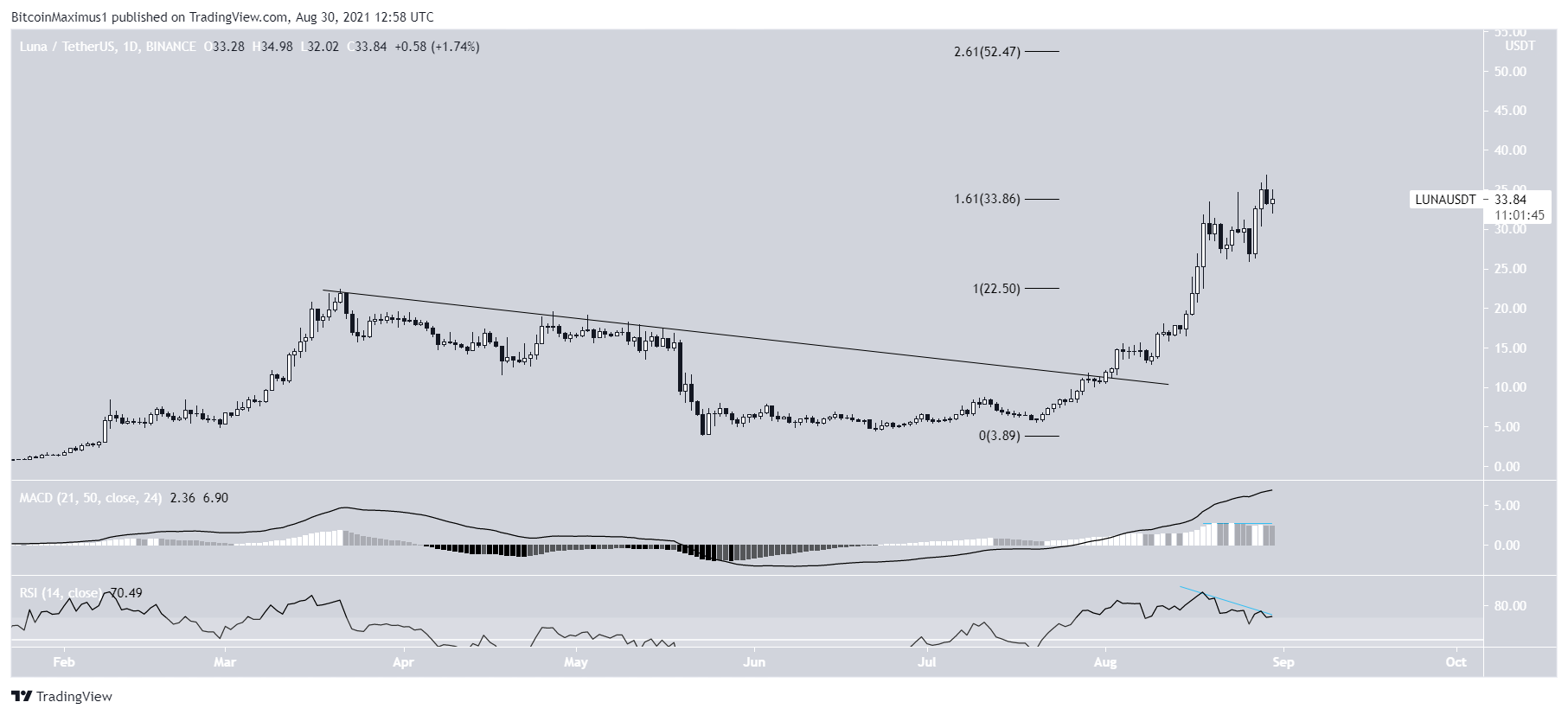 Coti Network (COTI)
Current Price : $0.34
Market Cap: $274 Million
Market Cap Rank: #165
COTI is a blockchain platform that specialized on the creation of payment systems. More specifically, it allows users to build their own personalized payment systems.
It uses a new consensus algorithm called "Trustchain", which is based on machine learning. The algorithm can process more than 100,000 transactions per second.
The platform offers seven main elements that are considered essential for legitimate payments structure:
Simplicity
Scalability
Cost-effectiveness
Buyer-seller protections
Security
Price stability
Instantaneity
In September, COTI will begin deploying on-chain smart contracts. The contracts will be fully executed on-chain, drawing a distinction with other platforms who offer smart contracts.
On Aug. 25, COTI managed to break out from a long-term descending parallel channel. It increased by 48% for the day and reached a high of $0.49.
However, it has been decreasing since after it was rejected by the 0.786 Fib retracement resistance level. The closest support area is at $0.26, the resistance line of the previous channel.
Zeroswap (ZEE)
Current Price: $0.274
Market Cap: $14.2 Million
Market Cap Rank: #871
Zeroswap is a decentralized exchange aggregator that is compatible with different chains. Transactions are gasless and new tokens are created each time an on-chain trade is made.
The native token for the platform is ZEE. So far, the platform offers access to the ETH, Polkadot and Binance smart chains.
Three main new products will launch in quarter three of 2021:
Zeroswap mobile app
A new governance module
New bridge for PolkaDot, AVA and Elrond
ZEE initiated an upward movement on July 20, which led to a high of $0.45 on Aug. 23. While the token has been moving downwards since, it is still trading above the 0.618 Fib retracement support level at $0.262.
In order for the bullish structure to remain intact, ZEE has to hold above this level.
Both the MACD and RSI are neutral. The former is at the 0 line while the latter is at the 50 line.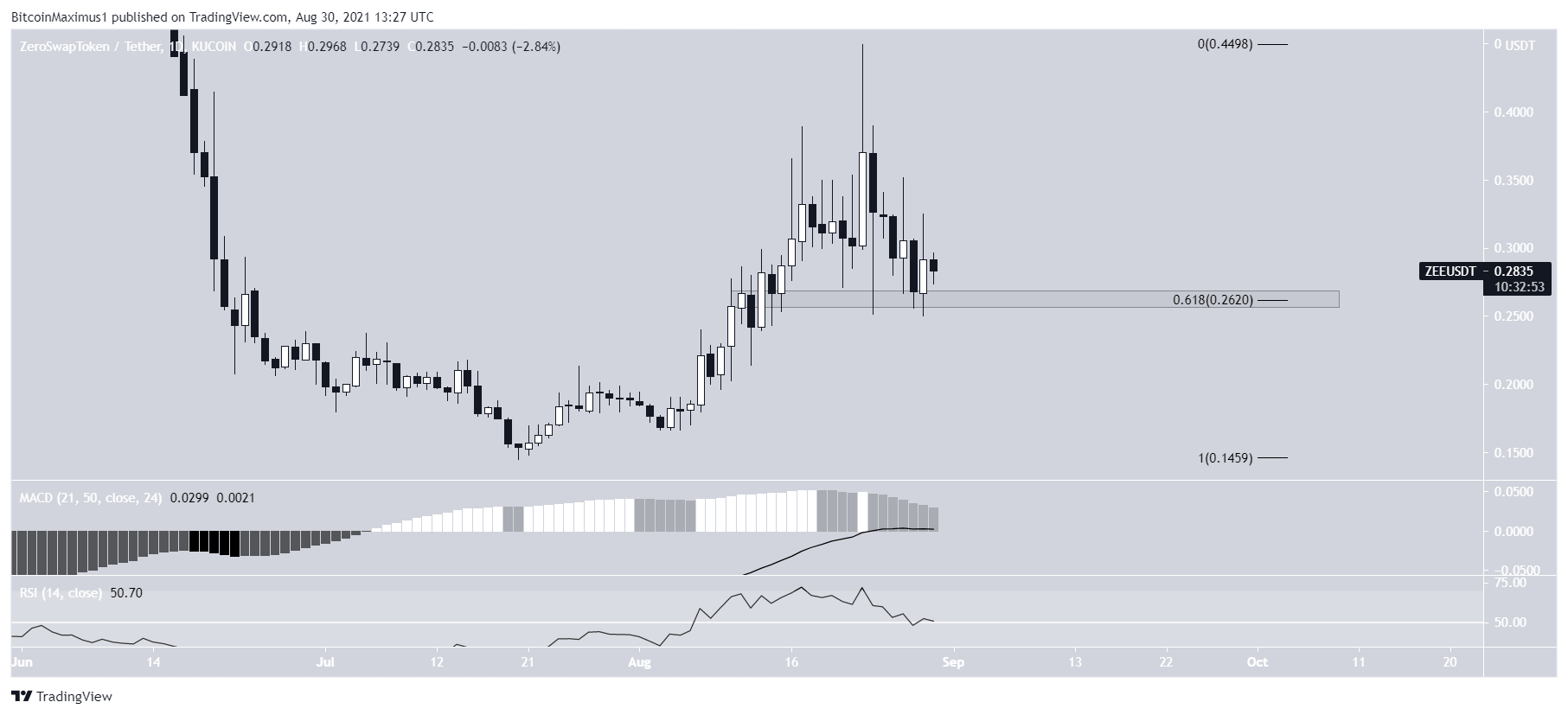 For BeInCrypto's latest BTC (BTC) analysis, click here.
The post Top Five DeFi Coins For September appeared first on BeInCrypto.