Ukrainians Break BTC Purchase Record on Binance
2 min read
Ukrainians are buying more BTC than ever before to protect their wealth. According to a report released on Tuesday (1) by Arcane Research, there were record-breaking purchases on the Binance exchange.
Ukrainians' top buying choices are BTC and stablecoin Tether (USDT). As a result, many are paying a hefty premium to trade their hrvynia. According to TradingView, the Ukrainian currency is worth $0.03.
The move reinforces the neutral character of BTC, as the cryptocurrency is being used by both sides of the war. As Cryptheory reported, BTC volumes broke successive records in Russia.
"Just like the Russians, the Ukrainians are also buying cryptocurrencies like never before. Many Ukrainians fear that the country's banking system could collapse and are looking to cryptocurrencies as a safe haven," the report reads.
Volume grows 50%
Arcane data shows that the trading volume between USDT and the hryvnia grew by almost 50%. According to the data, the Ukrainians were trading just over $6 million just before the invasion. With the start of the war, the average volume jumped to around $8.5 million.
However, the increase was even more significant compared to the previous six weeks, which rarely exceeded US$ 3 million. In contrast, 24-hour trading between BTC and hryvnia grew by 200%, from $1 million to $3 million.
The report added that Ukrainians fleeing the country want to take some of their wealth with them. In this sense, BTC is the only tool capable of facilitating this movement, hence the increase in trading volume.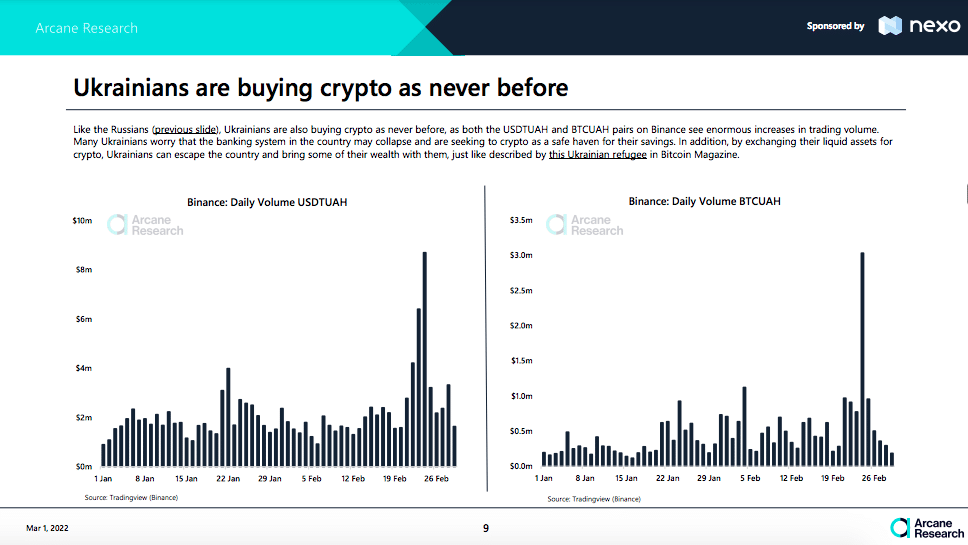 Since Russia invaded Ukraine on February 24, interest in cryptocurrencies has skyrocketed in both nations. Binance volumes traded by Russian clients were $34.9 on Feb 28, the highest since May 19, 2021.
Ukraine expands aid options
In addition to BTC and USDT, the Ukrainian government said it would accept Polkadot (DOT) for donations, in response to the success of the campaigns. At the time of writing, the country has received over US$35 million in donations.
Meanwhile, exchanges also face increasing pressure to ban transactions involving Russian customer addresses altogether. Coinbase, Binance and Kraken have already said they will not block.
TOP cryptocurrencies for staking with passive reward up to 80%