UST overtakes Binance USD to become the third largest stablecoin on the market
2 min read
The TerraUSD (UST) stablecoin reached the mark of US$ 17.5 billion in market cap, surpassing the US$ 17.3 billion of Binance USD (BUSD). As a result, Earth's currency has reached third place among the largest stablecoins.
Now, UST is second only to USD Coin (USDC) and the absolute leader Dollar Tether (USDT), which have $49.9 billion and $82.8 billion in market cap, respectively.
And it was not just the UST that grew, but the entire ecosystem of the Terra as a whole. According to data from DeFi Llama, the Terra blockchain has $27.6 billion in allocated value, second only to ETH at $114.3 billion.
On the other hand, the BSC network follows in third place with US$ 12.9 billion. In other words, Earth continues to capture more decentralized projects and, consequently, more resources. And much of that growth has been fueled by the world's largest cryptocurrency: BTC.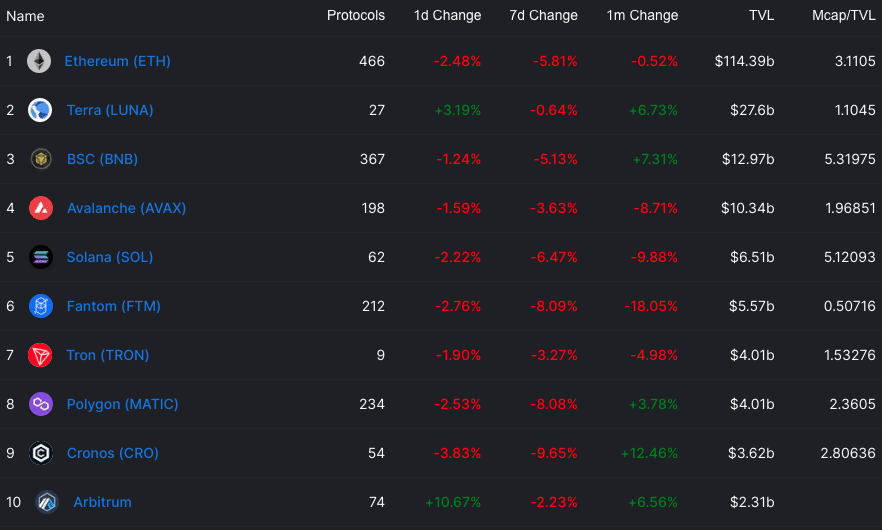 Real-backed stablecoin
Like most stablecoins, the UST has its value backed by a fiat currency; in this case, the US dollar. However, Terra decided to change the composition of this ballast and include BTC as part of its reserves.
In this sense, the Luna Foundation Guard (LFG) started a process of systematic purchases of BTC, carried out every week. Operations began in late March, when Terra Do Kwon's founder announced the change in strategy.
Kwon stated that LFG intended to buy $3 billion worth of BTC, but that this amount could reach $10 billion. At first, the foundation set a goal of acquiring $125 million in BTC per week, a strategy that has been implemented.
As of the date of publication of this text, LFG has about 42,200 BTC in its reserves, an amount greater than Tesla, for example.
Another reason for the growth of UST is the increased expectation of projects built on the Terra blockchain. Today there are only 27 protocols on the network, but Terra expects the figure to reach 160 by the end of the year.
With more active projects, the demand for UST also grows, which can increase its market value.
UST overcomes problems
The change in strategy on Earth came after a series of problems detected earlier in the year. In January, UST's reserves reached 50% in the last four weeks, reaching a low of US$ 35 million.
This means that the UST was at risk of losing its value stability with the dollar and even suffering an eventual collapse. Terraform Labs even needed to inject $70 million in liquidity in May 2021, preventing a general slump.
In short, the drainage of reserves compromised the stability of the system, leading the UST to change its composition. Now the strength of the stablecoin lies in the dollar, but also in the most solid financial asset among cryptocurrencies.
Analyst who predicted BTC crash in 2021 projects cryptocurrency to $ 135,000 in 2023