XMR analysis – we are consolidating strong support, will there be a reflection?
2 min read
Monero (XMR) has been staying at its annual low for almost two weeks. It is a support where historically there have been many decent reflections. This time, however, the exchange rate is consolidating for too long. In short, the market does not have much to bounce back, and if this level of support breaks down, it is a problem. From a technical point of view, this would mean that for Monero, any bull run is a passé.
Current situation at 1D XMR / USD
Monero failed to break through the S / R level of 290 USD. We have three rebounds here, but on the other hand we managed to defend the S / R level of 242 USD. The consolidation therefore looked promising, but once the $ 242 fell, it was clear that we would test $ 185. Which is an annual low from ATH, which we tested several times this year. And there was a very nice response every time.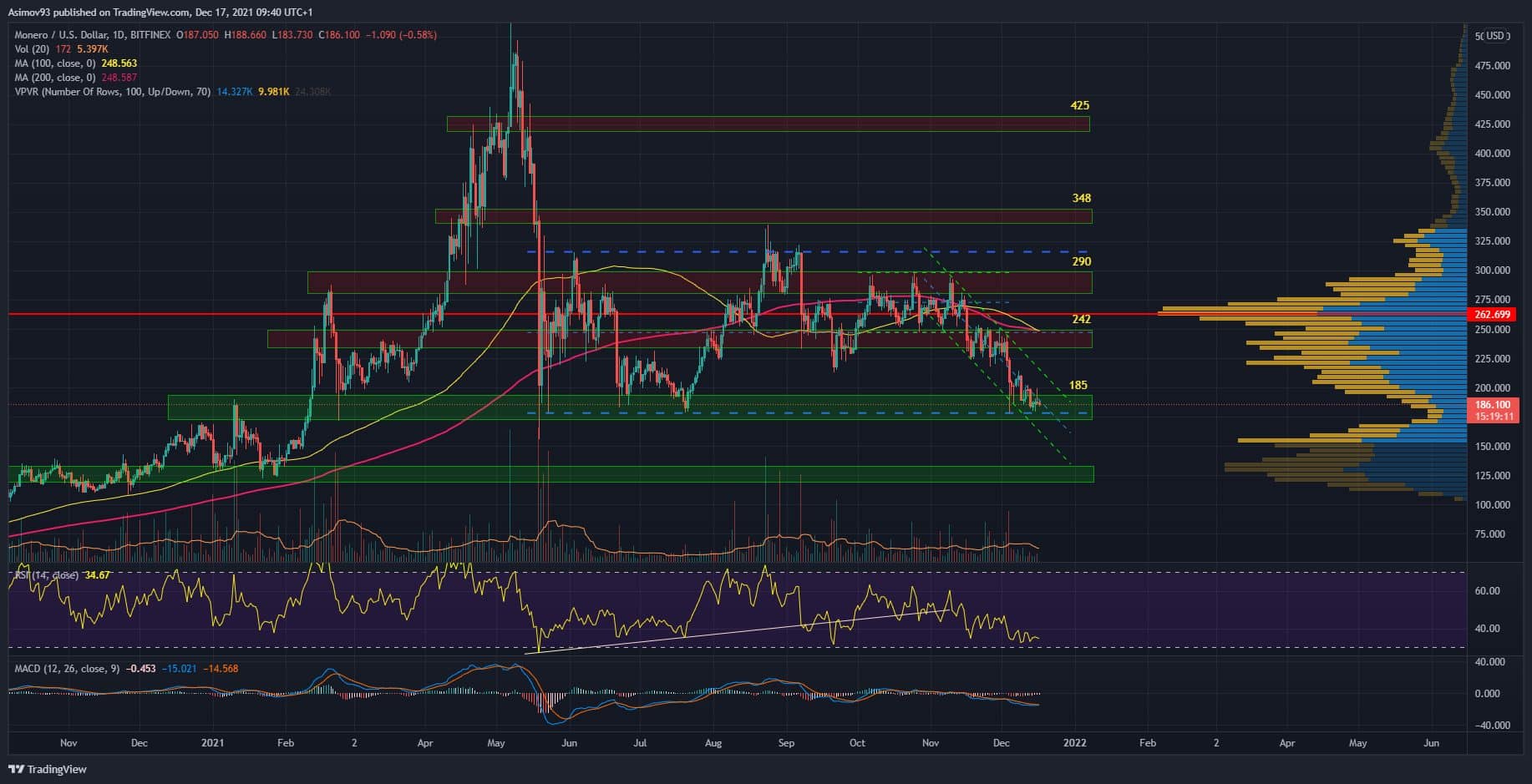 As for the several-week market structure, it takes the form of such a classic declining channel. Thus, as long as the exchange rate is within the pattern, we cannot expect the exchange rate growth to last longer than a few days. We simply have to break up from that channel. Subsequently, the first hurdle is the $ 242, which is not exactly a weak level.
In any case, it is now essential that current support sales pressure persists. As mentioned, there were more of those reflections at $ 185. There were four in all. He's here low volume node, so we also have support confluence. Therefore, it is logical to assume that it will be the fifth. However, doubts are brought about by the fact that we have been on support for a very long time. The reflection had never lasted that long before.
Respectively, the attempts were there, but they are obviously unsuccessful. In the event of a breakthrough in support, I would perceive similar price action as very problematic. Respectively, it wouldn't be much for a bull run. So if we go down, I expect another strong defense at $ 125. That's about 33% down from the current price.
Indicators
As for the RSI indicator, the values ​​still remain above 30 points. Which I personally perceive as a bull signal. That negative momentum has clearly weakened. But it is suspected that the rebound has not yet taken place. The situation is similar on the MACD. They are even on the histogram of the bullish divergence indicator. Bullish cross is also coming.