xNFTs on Solana overtake top Ethereum NFT collections
4 min read
In the world of cryptocurrencies and blockchain technology, non-fungible tokens (NFTs) have long been an integral part of the digital asset market. But there is always room for improvement and innovation. One of these innovations are executable non-fungible tokens (xNFTs)which have the potential to have a major impact on the world of NFTs in the coming months.
Mad Lads overtake Bored Ape Yacht Club
Recorded in the last 24 hours Mad Ladsa Solana-based xNFT project, a trading volume of over $2.1 million. In comparison, the largest Ethereum-based NFT collection, Bored Ape Yacht Club, only traded around one million US dollars. This is shown by the data from Cryptoslam.io.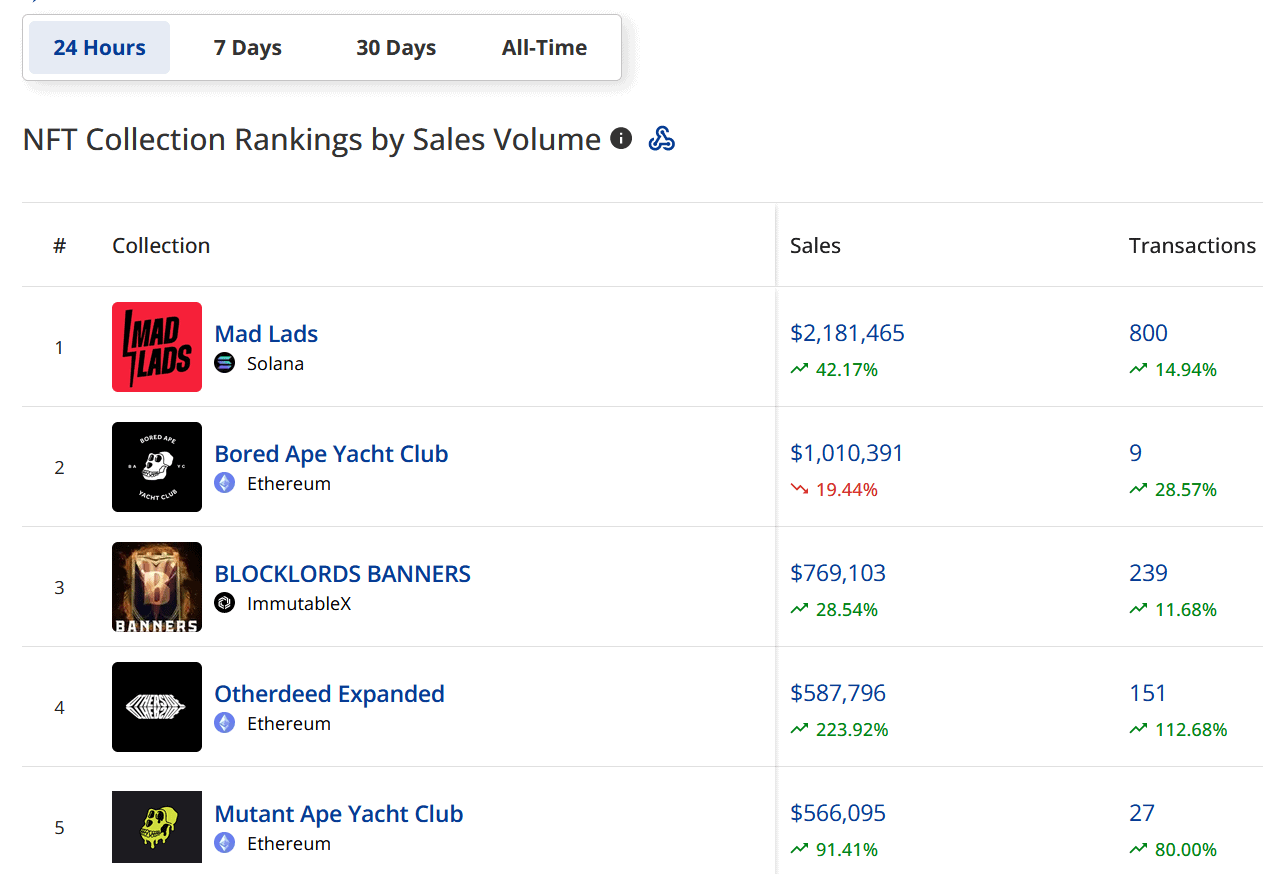 These numbers make it clear that Solana-based projects like Mad Lads are able to compete and in some cases even surpass established Ethereum NFT projects. But what exactly is xNFTs and how could they transform the NFT sector in the coming months?
What are xNFTs?
xNFTs are a new breed of programmable non-fungible tokens (NFTs) that run as Web3 applications on the Backpack operating system. With the potential to replace traditional crypto wallets, they allow developers to build dynamic applications on top of a crypto wallet to simplify the use of decentralized applications (dApps). Solana's xNFTs are the answer to innovative NFT protocols such as RMRK on Polkadot/Kusama and fantasy. These also aim to change the way NFTs are created. Its main goal is thus to try to improve the traditional Web3 user workflow, which is often complicated and cumbersome.
The process of setting up a wallet and connecting to a website can often be cumbersome and risky for the Web3 user. But the xNFT concept offers a considerable simplification here. By integrating decentralized apps (dApps) into the wallets, users can access applications and carry out transactions directly from their wallet without having to switch between different websites and wallets. In this way, the risk of connecting to malicious websites is minimized.
Backpack: The operating system for xNFTs
Backpack is a new multi-chain wallet specifically designed to be the operating system for xNFTs. It allows users to consume xNFTs directly from the wallet without having to visit external websites.
The Mad Lads project was created by the Backpack team themselves. With the first Mint, they wanted to show other developers and NFT projects what possibilities xNFTs offer. For example, in the case of Mad Lads, the respective owners gain access to an exclusive chat room by clicking on their NFTs and a window opens to the relevant chat room.
Mad Lads has shaken up the NFT market in a very short time and is currently outperforming Ethereum NFT giants like Bored Ape Yacht Club or CryptoPunks in terms of trading volume. What is special about Mad Lads is that not only was it minted on Solana, but it is also the first project to use xNFTs.
Solana NFT ecosystem remains stable
Although Backpack is fundamentally "chain-agnostic" and xNFTs can also be launched on Ethereum, the Mad Lads Mint shows that Solana's ecosystem continues to grow and when it comes to NFTs, the Number two behind Ethereum is. In the past few weeks, Solana has achieved numerous milestones, including State Compression, which reduced the minting cost of one million NFTs to just $110. Solana also launched the first-ever Web3 smartphone, facilitating the use of blockchain technology and cryptocurrencies for mobile users.
Furthermore, as the second proof-of-stake blockchain, Solana released a second validator client, which provides additional security and decentralization. In addition, thanks to the upcoming Firedancer upgrade, Solana should soon be able to process over 100,000 transactions per second. These impressive performances show that, despite many deeming blockchain dead, Solana continues to rise and rival Ethereum in the NFT space.
The future of xNFTs and the crypto market
It is likely that more projects will use xNFTs in the near future. xNFTs offer improved usability and security for crypto users and enable new use cases and business models in the digital art and collectors market. They are changing the NFT landscape and could pave the way for the next generation of blockchain applications.
Further development of xNFT technology could trigger a shift in the balance of power between Ethereum and emerging blockchain platforms like Solana. The success of Mad Lads and xNFTs shows that the crypto market is constantly changing and innovating. Investors, developers and users should keep a close eye on developments in the xNFT space and their impact on the blockchain and cryptocurrency industries.