08.02.[News of the day] • Russia would make billions in taxation of cryptocurrencies • Twitter founder cash app now offers Lightning • and other news
3 min read
BTC Lightning Network newly in the Cash App from the founder of Twitter
The mobile payment service Cash App has revealed that you can now use Lightning Network for transactions in their application. With the new feature, its users can send their BTC to any Lightning or on-chain (classic) BTC address.
The announcement came a few weeks ago, but only today is this great service up and running. So you can send BTC in seconds for literally pennies. The only ones who may not be happy will probably be the people of New York, as the Cash App states that the Lightning Network function is not available for this state.
To use Lightning Network in the Cash app, users must scan a Lightning QR with their mobile phones, confirm payment details, and click on the payment.
The Lightning Network, sometimes called Lightning or LN, is a network (superstructure) operating on top of BTC, and thus does not require its constant cooperation in confirming transactions. Within this network, you send BTC almost immediately and basically almost for free…
Cash App is a service developed and operated by Block Inc., founded by Jack Dorsey. In 2021, Dorsey resigned as CEO of Twitter. Whether he did so so that he could focus more on crypto projects is a question.
Ripple spends millions of dollars on lobbying in the US, but also others
Cryptocurrency-related lobbying spending in the United States totaled $ 4.9 million in 2021, more than double the previous year.
According to Cryptohead, lobbying spending has spent about $ 9.5 million over the past five years. By comparison, in 2017 it was only $ 200,000.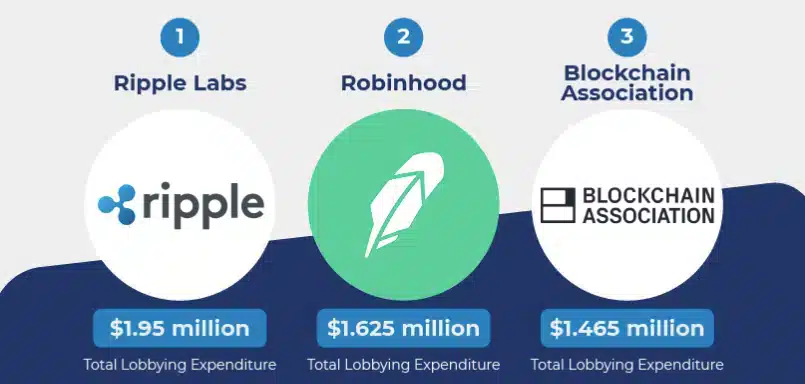 According to the agency, Ripple Labs is currently the largest "lobbying investor". They has spent over $ 2 million on this business over the past five years.
According to the study, Ripple Labs is thus the strongest company in terms of influencing government policy and regulations.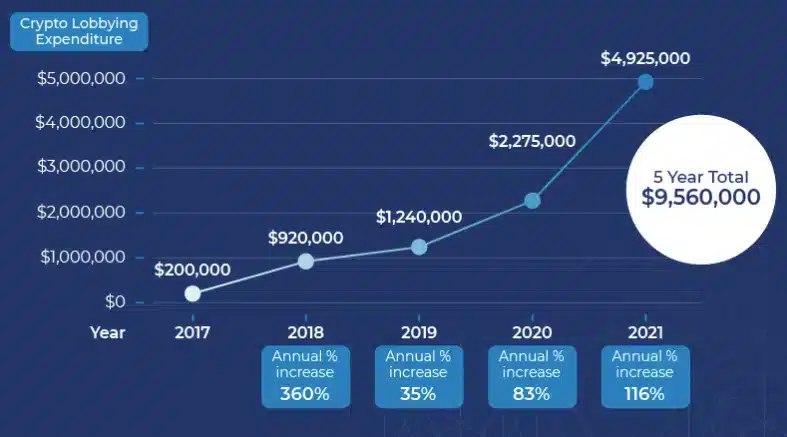 Other great lobbyists include Robinhood, the Blockchain Association, Coinbase and the Block.one platform. In 2021, Coinbase managed to spend $ 1.3 million on lobbying.
Russia could collect $ 13 billion a year in cryptocurrency tax
The Russian government is expected to collect up to 1 trillion rubles ($ 13 billion) in cryptocurrency tax each year. Estimates are based on a tax rate of 6%.
Russia's The Bell reportedly has a government analytics report based on these annual tax revenues. According to the authors, the Russians hold nearly $ 214 billion in cryptocurrencies. The number of users on crypto exchanges is estimated at 10 million, plus a significant share of over-the-counter (OTC) transactions. The government agency believes that it will receive from 146 billion to 1 trillion rubles in the tax.
Softbank Startup offers cryptocurrency trading for retail
One of Softbank's startups, DriveWealth, aims to be a provider of crypto liquidity in order to compete with Coinbase and at the same time enable the public to trade on its platform.
DriveWealth is a New Jersey-based company backed by Japanese technology giant Softbank, valued at $ 2.85 billion.
DriveWealth CEO Bob Cortright said:
"As the regulatory environment around cryptocurrencies tightens and customers focus more on spreads and efficiency, we cannot continue in a world where you can charge 200 basis points per transaction, as is currently the case at Coinbase."
BTC analysis – the price increased by 15% in 4 days! Where is the next target?