BTC sales by miners caused price to drop in January, says Glassnode
2 min read
After nearly two months of accumulation, miners have started selling BTC in recent days. As a Glassnode report points out, the year 2022 opened with the first sequence of sales since November.
These sales took place last weekend. On Saturday (12) 1,660 BTC were sold, while on Sunday (13) another 1,733 BTC.
According to the report, this represents a big change as it is about the sale of new BTC. Red bars indicate periods of selling, while green bars indicate periods of accumulation.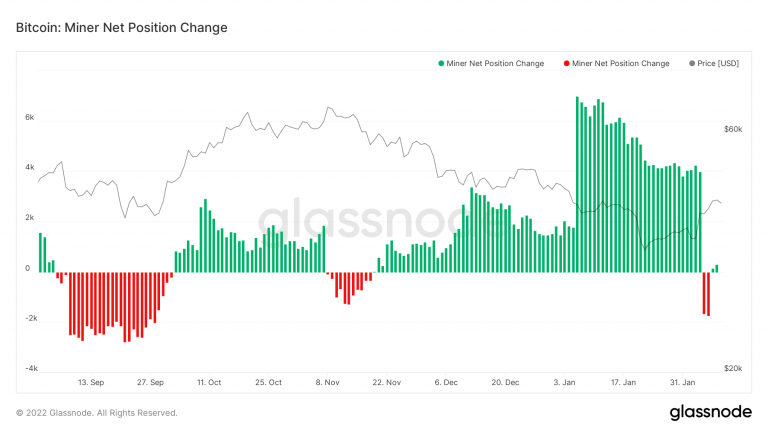 Sales contributed to BTC's fall in January
In the last two months, the price of BTC has suffered a sharp devaluation, falling from $55,000 to a low of $35,000. However, miners continually accumulating BTC regardless of movement.
According to Delphi Digital, the appreciation registered last weekend changed this trend. With BTC close to $45,000, miners began to decrease their positions by selling new cryptocurrencies.
"With the weekend's appreciation, miners are starting to dump their BTC onto the market. This is a change in the miner's net position, which turned negative for the first time in 2 months," the analysts wrote.
That is, there were more outflows than inflows of BTC. This sale in the last 30 days probably contributed to the fall in prices in January, which reached 16.7%. Last month, BTC dropped to a low of $32,000, down 27% from its current price.
Even so, the scenario is still positive in February. According to data from the portal coinglass BTC is up 14.58% in the first 15 days of the month.
BTC mining is the process of discovering new blocks, verifying transactions and adding them to the blockchain. In the process, miners earn new BTC as a reward for performing this work.
At the time of writing, each block mined grants a reward of 6.25 BTC. This value is cut in half every 210 thousand blocks (about 4 years) in a process called halving. BTC mining should be fully finished around 2140.