LooksRare is accused of a scam after selling more than 23 thousand WETH that were blocked
2 min read
The NFTs marketplace LooksRare, which had become one of OpenSea's main competitors, has been accused by the cryptocurrency community of being a very well-orchestrated scam by its developers.
Thus, since its launch, the platform has been causing apprehension in the community due to inflated sales that would be manipulated to increase the trading volume on the platform.
However, this week, the team responsible for the project was accused of withdrawing more than 23 thousand WETH that guaranteed the platform's liquidity.
Update: The @LooksRareNFT team has already cashed out 23116 WETH ($73,000,000). This doesn't include the value of $LOOKS.

Most of it is going straight to Tornado Cash. https://t.co/KjBeuqDCwS pic.twitter.com/zf9YKYb60v

— tradfi guy (@0xShitTrader) February 7, 2022
Thus, the amount would have been withdrawn using a service called Tornado Cash, a currency mixing protocol that aims to hide transaction data.
Therefore, with the whistleblower and the cryptocurrency community criticizing the platform and its developers the marketplace's native token, LOOKS has dropped 15%, accumulating a drop of more than 70% since its all-time high.
We were broke
So, shortly after the allegations began to circulate on social media, one of the LooksRare team members spoke on his Twitter account that withdrawing liquidity (without warning users and using a mixer) was necessary.
Therefore, according to him, the team had been working for more than half a year without receiving any remuneration, income or reward.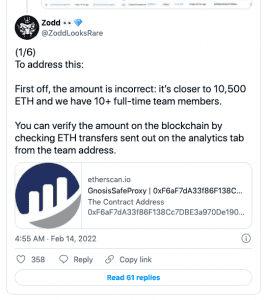 However, the answer was not accepted by the community which demanded that the team buy back the LOOKS tokens instead of keeping the millions of dollars in ETH.
So many users started calling LooksRare a RugPull, a platform that pretends to be a serious project and then disappears with users' money.
Anyone surprised by this did not research the token properly at all.

Was pretty obvious in the token incentives from day 1. Assumed everyone knew this was happening.

It's actually a pretty innovative ponzi model, kinda similar to a perpetual ICO but obfuscation layers on top. https://t.co/1hFhMnax0P

— Cobie (@cobie) February 14, 2022
According to research by Chainalysis, cryptocurrency investors lost more than $2.8 billion in 2021 due to fraud of this type, which LooksRare has been accused of.
Thus, according to company data, this type of fraud represents 37% of all ill-gotten gains from cryptocurrency fraud in 2021, totaling $7.7 billion.