BTC's reserves on Coinbase have fallen to lows: a bullish signal
2 min read
BTC reserves on Coinbase reached the level of December 2017. So what does this mean for us?
What do BTC's Coinbase reserves suggest?
The chart published by Glassnode clearly shows that Coinbase held around 700,000 BTC in December 2017.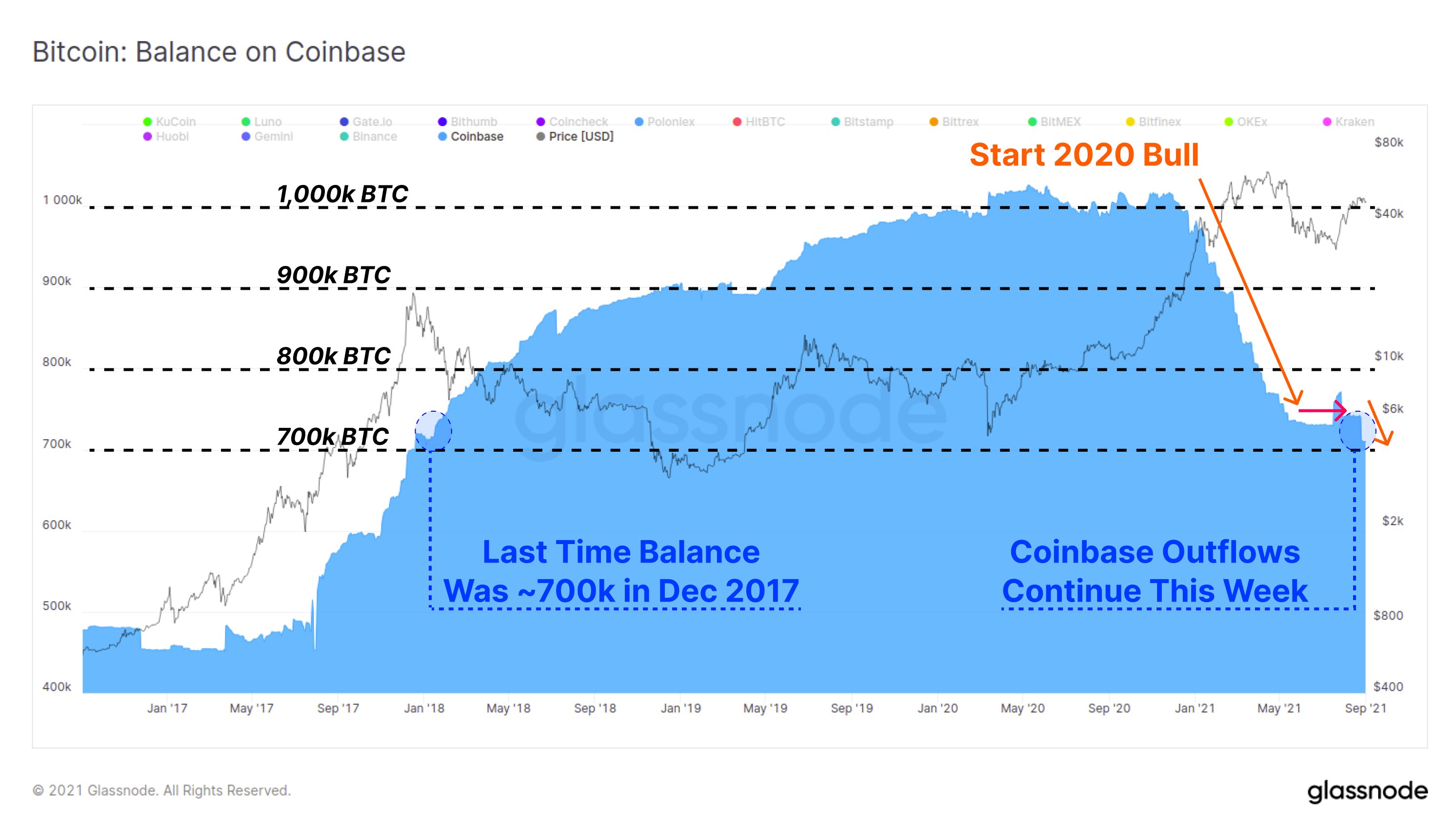 This amount increased to more than one million BTC in October 2020. With the start of the BTC bullrun from October 2020, this amount dropped drastically as the price rose. It is no coincidence that this outflow of BTC coincided with the price rising from 10,000 to $ 65,000. From May 2021, outflow stopped, BTC returned to Coinbase and the price fell. Now outflow is coming again. When we look at the chart and compare it with the price of BTC, there seems to be an inverse correlation: when the reserves on Coinbase increase, the price decreases and, conversely, increases when the reserves decrease. Therefore, it is considered a bullish signal that could herald the rise in the price of BTC.
BTC reserves on all exchanges
According to data from the CryptoQuant platform, the analysis performed for Coinbase can be extended to other exchanges. Chart, as with Coinbase, shows the inverse correlation between price and reserves. The maximum peaks in reserves correspond to price collapses. On the contrary, with price increases, reserves fall dramatically.

This also confirms the deflationary nature of BTC, whose price may rise as supply to circulation declines. It is worth noting that more than 18 million BTCs have currently been mined and the Satoshi Nakamoto´s protocol has set a limit of 21 million.
Relationship between exchange reserves and investors
However, not everyone agrees with the bullish thesis related to BTC reserves. At BitcoinTalk, some point out that Glassnode and Cryptoquant's analysis does not suggest price predictions, but something else: people who buy BTC prefer to keep it in their wallets than on exchanges.
The reason is simple: they have full control over the assets in their own wallets, while holding them on the exchanges can always be a risk, as the cases of Coinbase's hacked accounts show.
The price of BTC has really risen again in recent days and was above $ 50,000 again.
BTC is still far from the historic high of $ 65,000 set in April, but this analysis shows that there is a good chance that BTC will go straight to the previous record.