DeFi locked value drops to year's lowest value
2 min read
The cryptocurrency market remains bearish with major digital currencies posting heavy losses amid a general decline in interest in risky assets. And the decentralized finance (DeFi) is no exception.
The total value locked (TVL) on DeFi – an important metric for evaluating the size of a protocol – dropped to an annual low this weekend.
According to data from tracking platform DeFi Llama, the total TVL of decentralized financial protocols stands at $175.2 billion at the time of writing. This is the lowest value recorded since October last year.
By way of comparison, the drop is almost 30% compared to the maximum TVL of US$ 252 billion recorded in December 2021. In addition, theOver the weekend, approximately $27 billion in locked value was lost.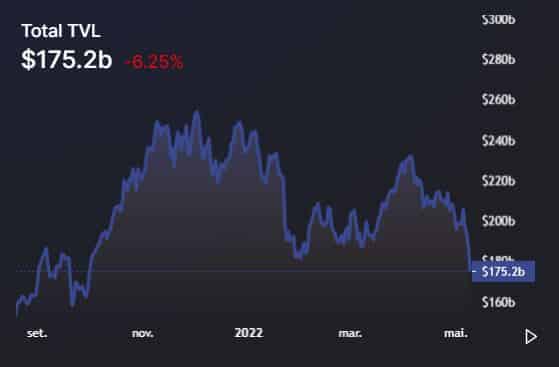 DeFi Protocols TVL Drop
Analyzing the main DeFi protocols punctually, it is possible to observe that the largest of them in total blocked value, the Curve (CRV), also suffers significant losses.
Today, Curve's TVL is at $16.9 billion, down 30% from the high of $24.3 billion recorded in January 2022. In the last 7 days alone, Curve's TVL has dropped by almost 10%.
An even worse scenario is observed with the second largest DeFi protocol, Lido (LDO). In the last week, the total amount locked in the protocol has fallen by more than 15%.
So, at the time of writing, Lido's TVL is at $15.29 billion. This amount is still about 26% below the maximum amount of US$ 20.83 billion allocated in the protocol in April this year.
Meanwhile, with regard to the third largest DeFi protocol on the market, Anchor (ANC), the losses are even more significant. In the last week, Anchor's TVL has dropped more than 22% to the current US$ 12.83 billion. This is down just over 25% from the $17.15 high reached last week on May 5.
All 10 major decentralized finance protocols are in decline.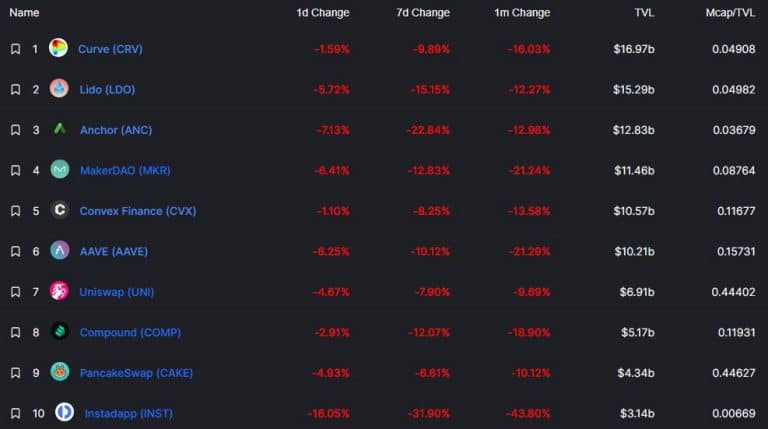 Table of the top 10 DeFi protocols in TVL. Source: CoinMarketCap
According to experts, in part, this widespread drop can be attributed to the general crash of the crypto market:
"The decline in DeFi TVL that we are currently seeing is mainly caused by the general bearish trend of the market. On the one hand, many assets locked in DeFi protocols are highly volatile, and their value has declined as the market crashes. On the other hand, we must reckon with the fear that often comes with the downtrend and people exiting their (volatile) positions in stablecoins or [moedas] fiduciaries – which also removes value", said Kate Kurbanova, co-founder of the risk management platform Apostro, in a message on Telegram.