Fake Banksy NFT Sells for $338K in ETH, Scammer Returns Funds
3 min read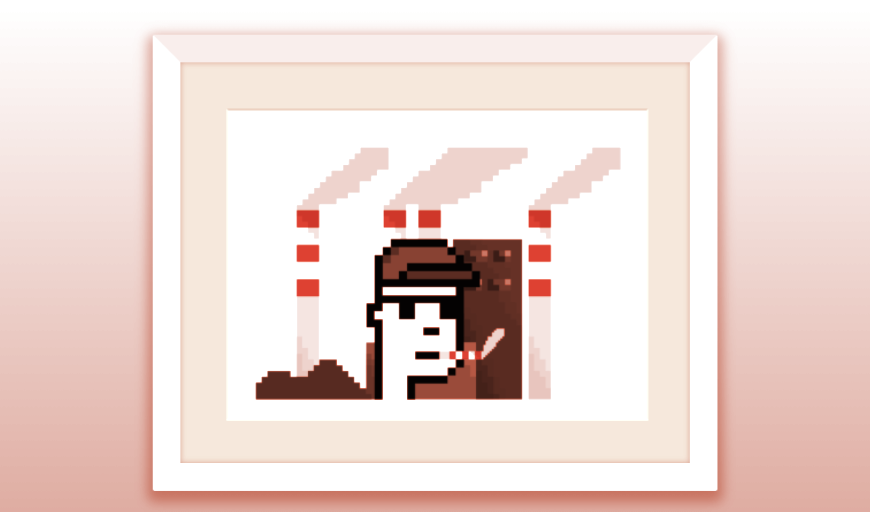 Early this morning, the official website of the elusive artist Bansky promoted the sale of an NFT artwork, which was then promptly auctioned for 100 ETH, worth $338,000 at the time.
But the CryptoPunk-inspired artwork, "Great Redistribution of the Climate Change Disaster," isn't by Banksy, according to a statement by the artist's authentication body Pest Control.
It all happened too quickly, says NFT investor Pranksy, who purchased the fake Banksy NFT.
So my bid of 100 ETH was accepted for the potential #Banksy first #NFT on @opensea.

The link was removed from his website so it could have been a very elaborate hoax, my guess is that is what it will be, only time will tell!https://t.co/EEmElqIvBZ pic.twitter.com/Pbs5zrht05

— Pranksy (@pranksy) August 31, 2021
A pseudonymous user called yosefo contacted Pranksy this morning on messaging app Discord to tip him off about the auction, according to a screenshot Pranksy shared with Decrypt.
Yosefo shared a link to Banky's official site, which contained the artwork and itself linked to a live auction on NFT marketplace OpenSea. Pranksy then placed a bid of 100 ETH, which abruptly ended the auction. "My first misgiving was when the offer was accepted [so quickly]," Pranksy told Decrypt.
An hour and half after the auction ended, the NFT promotion on Banksy's site was taken down, which made Pranksy even more suspicious that this was all a big scam.
Then, in perhaps an equally strange turn of events, the scammer returned 97.69 ETH to Pranksy a little more than eight hours later. "No idea why [he returned the funds]," Pranksy told Decrypt. "I think I tracked him down, and he was made aware."
An NFT is a type of crypto asset that functions like a receipt of ownership over digital items, be they images, videos, music files, or just about anything else. And while NFT scams are common, an elaborate NFT hoax of this scale isn't.
"The infrastructure hosting the website could have been hacked, or it could have been an inside job," Tom Robinson, co-founder of blockchain forensics firm Elliptic, told Decrypt. Pest Control did not immediately respond to Decrypt's request for comment.
Banksy has never tokenized his art. But in early March, a group of blockchain investors and traders bought the partially destroyed artwork "Morons" for $95,000 after its authenticity was verified by Pest Control. They later sold it on OpenSea for $382,000 to pseudonymous NFT investor GALAXY.
In February, an artist under the username Pest Supply sold NFTs created in Banky's signature graffiti-stencil style for 447 ETH ($900,000) on NFT marketplaces OpenSea and Rarible. Although many initially speculated Pest Supply could be Banksy himself since the art style is almost identical and the titles of his work—including the username Pest Control— make unmistakable references to Banky, Pest Supply has never explicitly claimed to be Banksy himself.
But unlike Pest Supply, today's scammer masqueraded as Banksy.
Speaking to Decrypt earlier today before the funds were returned, NFT investor Pranksy said he was misled not only by the claim but because the sale appeared on Banksy's official website. The investor said that he "agrees to an extent" that the team behind the website, responsible for what may have likely been a security flaw, owes him "something."
But "I'm not going to beg for it," he said. "It was my choice to make the bid."
In a tweet soon after the funds were returned, Pransky added: "Just to add a comment, to those who feel this may have been some sort of stunt. I would never risk a future relationship with Banksy or any fine artist by hiring someone to hack their website and then buying an NFT from myself."
Said the investor: "What an unusual day."