Play-to-earn games to invest in
3 min read
Blockchain-based games, especially play-to-earn games, have increasingly attracted the attention of players. After all, they offer the possibility to profit while having fun.
A recent study also showed that nearly 25% of P2E game users use the resources to support themselves.
Over time, some games gain more prominence than others, either because of developments and new features, or because of the appreciation of game tokens.
Check out some P2E games that are on the rise this week, according to Dapp Radar
REVV Racing
REVV Racing is a P2E blockchain game within the REVV Motorsport NFT ecosystem that is developed and published by Animoca Brands. As the name suggests, the game is focused on car racing.
In REVV Racing, cars are non-fungible tokens (NFTs) and all game sessions are recorded on blockchain. But in practice, the game looks and works like the 3D car racing games available on console or PC.
The game is still in the alpha stage. Therefore, the developers warn that it is possible to find bugs and glitches that will be fixed for the official version.
Built on the Polygon network, the game has a native token called REVV. 
Meanwhile, the game's NFTs are available on OpenSea with prices starting at 0.001 ETH.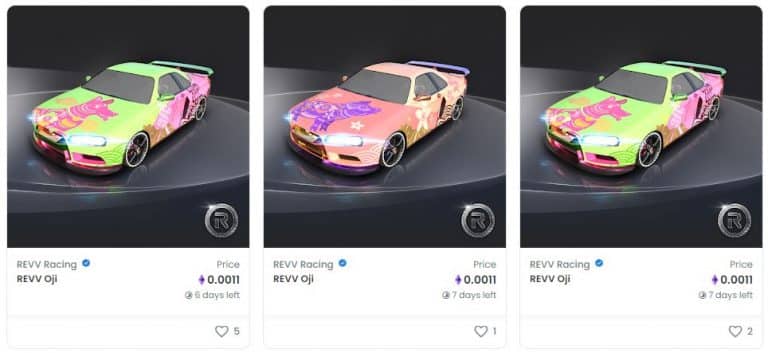 Metamon
Based on the Binance Smart Chain (BSC), Metamon is a P2E blockchain game with a focus on NFTs, designed by Radio Caca.
According to the project's website, the game will join the Universal Metaverse (USM) as the first mini-game. USM is a 3D mapping metaverse.
This collection contains 3 different rarity levels of eggs that can hatch 3 different levels of Metamon rarity in the game.
Almost all items in the game, including Metamons, are NFTs. The player has full ownership of these NFTs and can transfer them, gift them to someone else, or list them on any NFT marketplace for sale.
The game's NFTs are available on the Radio Caca marketplace. Metamon eggs start at 3,330 RACA.

Radio Caca's native token is RACA and the in-game currency is u-RACA, used to start battles. A RACA is equal to a u-RACA, which the player can trade in-game.
Each RACA is priced at $0.001581 at the time of writing.
Prospectors
Finally, a P2E game that is on the rise is Prospectors, one of the first blockchain games with a full economic model.
Prospectors is a game set in the atmosphere of the 19th century gold rush. It is a strategy game that offers players opportunities to earn "crypto gold" using blockchain technology.
In the game, users can start a business and explore a world full of available resources. In addition, players can join unions and trade organizations for more efficient communication and work.
The game's currency, gold miners, is the basis of economic relationships between players.
Players have access to resources, land and tools and must pay taxes to the state for land use and commercial activity.
The game token is PGL, the total amount of which is limited to 220,000,000 tokens. Half of the overall value – 110 million coins – is located in-game and can be mined.
The crypto asset is available on the WAX ​​platform, a blockchain that uses delegated proof-of-stake (DPoS) as its consensus mechanism, fully compatible with EOS. Each PGL costs 0.103 USD.
"UP" and "DOWN" cryptocurrencies rise 40% on Binance – How do they work and how to make money?