The BTC price burns bears on the way to $ 40 000
3 min read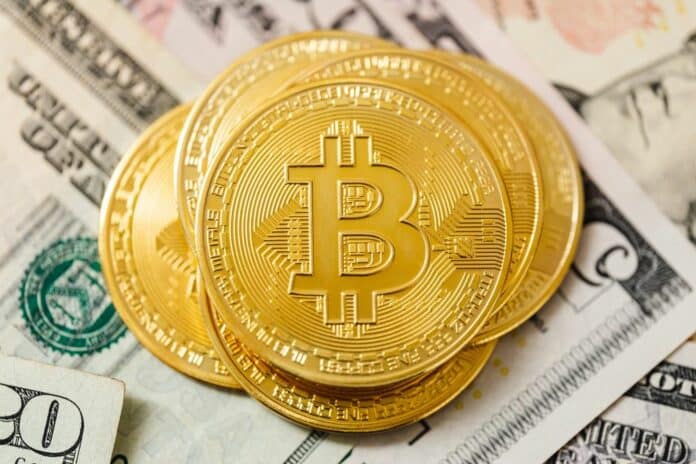 BTC is approaching $ 40 000. The calm but confident weekend culminated in a dramatic increase on Sunday to Monday nights, and BTC / USD quickly approached the peak of its several-month trading range.
BTC stares at $ 40 000
The spot price action is currently naturally on everyone's radar, with BTC sealing profits of almost 31% in 7 days. Although $ 40,000 has not yet turned into resistance, current levels have not been there since mid-June and the appetite for bullish growth is palpable.
It started slowly after last week's "The B Word" conference, which was praised by people like Jack Dorsey and Elon Musk. However, the breakthrough was not immediately apparent and progress was slow as analysts remained cautious about a market that they said could still easily fall to new cycle lows.
In the end, however, BTC moved slowly upwards during the week, breaking the $ 34,500 mark over the weekend and opening up prospects for further growth.
China is dampening the mood on the stock market
BTC's declining relationship with traditional markets is again in the spotlight, so the price action looks all the more "impulsive". While rising stocks have recently been accompanied by a steady or even negative performance of BTC / USD, the card has reversed in recent days. Shares are now treading water due to a headwind from China, while BTC is rising sharply.
Tearing by Beijing has overshadowed previous strength in US markets, which, combined with growing fears of inflation and a reduction in central bank stimulus, is creating a volatile mood.
BTC also brings maximum pain
Is growth always good? Not if you're short BTC. As commentators have suggested recently, with BTC / USD still close to $ 30,000, the "maximum pain" scenario would probably not be a fresh loss, but rather a dramatic upward turn.
That's exactly what happened, 15% of night profits took a serious toll on those market participants who believed the crash was coming.
According to monitoring source Bybt, 24-hour liquidations reached $ 1.1 billion on Monday, the highest since May 18.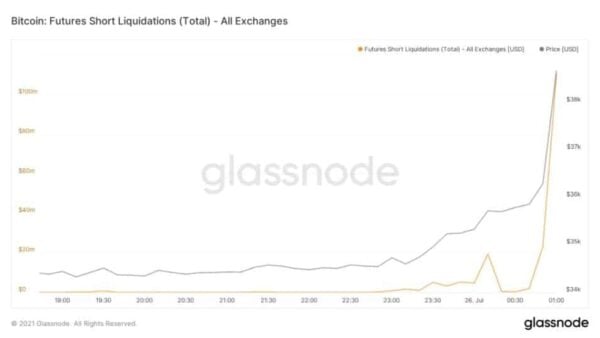 The difficulty turns positive after two months
The recovery of BTC's core indicators, which is taking much longer than the price, continues unabated this week. The hash rate is again approaching 100 EH / s, which is a positive sign that is accompanied by increasing decentralization of the overall hash rate.
Gains were very fast in the past week, when the hash rate was still close to the local low of 83 EH / s. At its peak before the price drop in May, the hashing speed reached 168 EH / s.
A similar story is evident in the network difficulty, which was to increase by approximately 3.7% in five days during the next reset. If this happens, it will be the first positive change in difficulty since the mining outage in May and a strong signal that the effects of the accompanying shocks have been mitigated.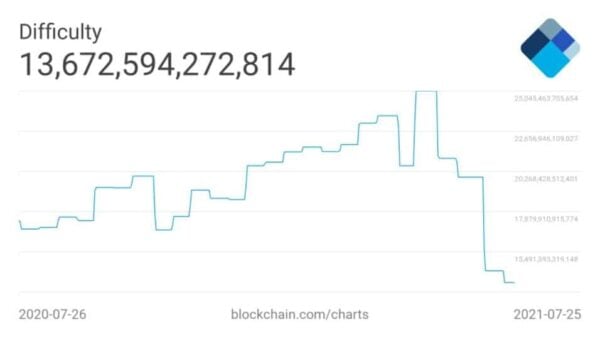 "Fear" finished
The index measured 50/100 – signaling "neutral" atmosphere, suggesting that BTC could continue to grow without investors feeling too greedy and tending to sell off.
Conclusion
BTC looks up and seems to be flashing for better times.