The ETH network will settle $ 8 trillion at this rate in 2021
2 min read
Ethereum (ETH) prices may continue to fall, but its characteristics as a layer of financial settlement have never been stronger. According to Messari's analysis, ETH settled $ 2.5 trillion between April and June this year in the second quarter.
Added that this represents a quarter-on-quarter increase of more than 65% and almost 1,500% year-on-year. If the current pace continues, ETH could settle $ 8 trillion by the end of this year, the analyst said.
The ETH network could settle $ 8 trillion by the end of the year
Researcher Ryan Watkins said DeFi and stablecoin activity continued to be the biggest drivers of this growth.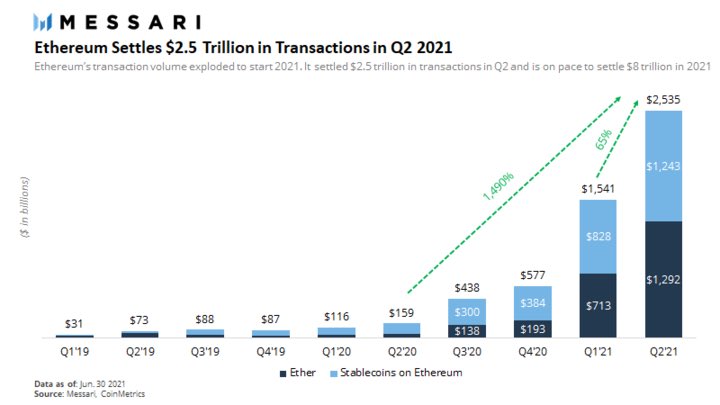 In the same quarter in 2020, when the DeFi sector was just beginning to develop, $ 159 billion was settled on Ethereum. A year back to 2019, when markets were still largely bearish, only $ 73 billion was settled on the network.
ETH whales have also increased their stakes and the ten largest wallets now control more than 20% of the entire offer.
Stablecoin activity
Stablecoins still accounted for about half of the total settlement for the quarter, despite the decline in Ethereum-based ERC-20 coins.
Messari noted that in the second quarter of 2021, the stablecoin capitalization reached over $ 107 billion, an increase of 70% since the first quarter and more than 800% year-on-year. In three months, the volume of transactions with stablecoins was $ 1.7 trillion, a year-on-year increase of 1,090% and 59% since the first quarter.
The highest-growing stablecoins in the second quarter were USDC, BUSD and DAI, which increased their market share to 23%, 9% and 5%. USDT is still the market leader, but its dominance is gradually weakening.
According to Tether's Transparency Report, its total offer is currently 62.4 billion, an increase of 197% since the beginning of the year. Of this, less than half, USD 30.9 billion, is on the ERC-20 token standard. There's a little more Tron in the $ 32 billion network.
The USD Coin significantly outperformed Tether this year in terms of growth, with supply up 577% from the beginning of the year to a record $ 26.4 billion in circulation today.
The price of Ethereum is weakening
Despite rising transaction numbers, ETH continues to weaken. ETH prices are still below the psychological level of $ 2,000. But Goldman Sachs, for example, still sees ETH as a bullish due to its use cases and smart contracts.
How Binance Liquid Swap works, make money by providing liquidity