The most popular coins on CoinMarketCap include Shiba Inu, Saitama and Safemoon | In the first half of 2022, 300 banks will start trading with BTC
2 min read
A list of the 10 most watched cryptocurrencies in Europe has been published on the CoinMarketCap website, which contains three meme coins.
10 most watched cryptocurrencies in Europe on CoinMarketCap
Shiba Inu, Saitama and Safemoon were among the most watched. Interestingly, token Multiverse Capital took first place, BTC took second place.
Shiba Inu has become the third most popular coin in Europe at CoinMarketCap, ETH is in fourth place. Saitama is the fifth most popular coin on the web, Safemoon is in sixth place.
Solana, Wonderland, Cardano and MetaPets placed seventh, eighth, ninth and tenth. Data were collected between З1. December 2021 and January 6, 2022.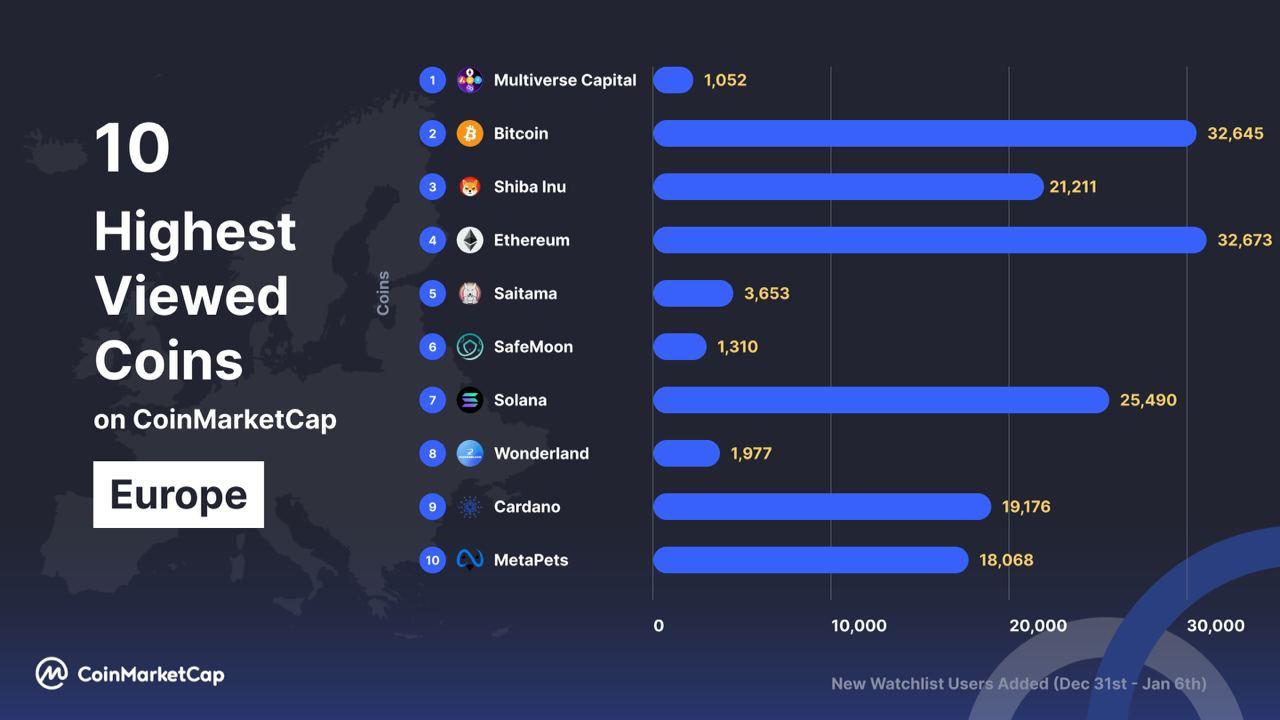 As we can see, meme coins stand next to stablecoins and attract the attention of investors. A new wave of investors entered the market after Elon Musk expressed his support for Dogecoin several times in 2021.
Tesla's CEO tweeted about DOGE on many occasions and interviewed his prospects throughout the year. Musk is largely credited with attracting a new wave of investors, mostly millennials.
_____
About 300 U.S. banks will begin trading with BTC in the first half of 2022 in partnership with the Stone Ridge NYDIG subsidiary, according to a report by American Banker.
This plan was announced in July last year, after which the bank worked for several months to solve regulatory problems. Organizations surveyed by American Banker say they are close to launching BTC services because they have eliminated security issues that are specific to the new asset class.
The use of cryptocurrency is expected to help small banking organizations stay afloat and keep customers interested in investing in digital assets.
Zach Bishop of Synovus Bank believes that cryptocurrencies play an increasingly important role in their business, and BankSouth CEO Harold Reunolds has seen a significant increase in crypto investment among his bank's clients.
Another small bank in Georgia, Sūnovus Financial, plans to integrate BTC trading into its mobile application later this year.
Pegasus spy software monitored journalists who criticized Bukele's BTC plan