Traders are suing Binance for millions over the May outage
2 min read
A loosely organized group of traders seeks to compensate for the losses caused by the Binance exchange failure during one of the worst days in the history of the cryptocurrency.
Millions lost during the Binance outage
A group of traders is suing Binance for the outage suffered in May. The victims are to be represented by the New York law firm White & Case.
On May 19, during the great crypto market crash, Binance futures and other leverage products ceased operations. Many customers suffered liquidation as a result of the incident and lost large sums of money.
Fawaz Ahmed, an experienced Canadian businessman, lost about $ 9 million during the incident. "Within an hour, I clicked on the 'close position' and 'stop loss' buttons more than 70 times. They didn't work. If the Binance platform worked as it should, it would leave with 3,300 ETH. Instead, he lost everything.
Another trader lost $ 80,000 when trading algorithmic trading bots. According to him, the Binance API did not work properly, which caused the failure of his trading bots and did not sell when the market fell.
Binance initially denied all responsibility. However, on May 20, Binance's vice president of derivatives, Aaron Gong, sent out a tweet apologizing for the "incident" on Binance Futures and promising that employees would address those affected. The tweet was deleted the same day.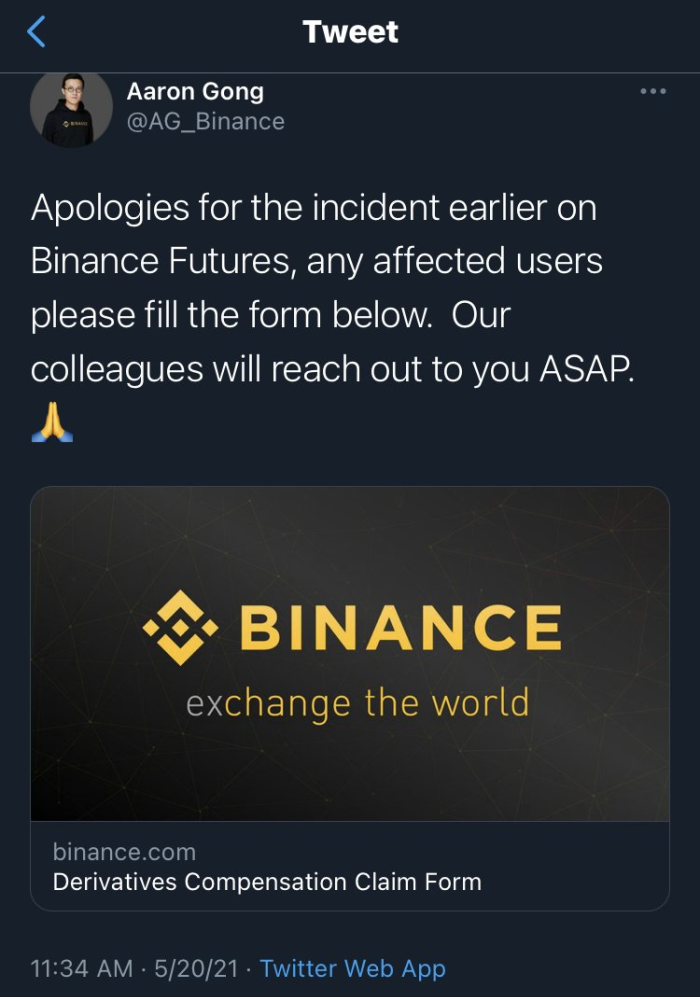 The victim showed Aaron Gong a tweet screenshot to the customer support team. Binance offered him $ 18,000 in BLVT tokens as compensation. BLVT tokens are a leverage product of Binance. "An hour after receiving the compensation, I received an email that my account was flagged and that I had to close it immediately." When I explained that if I closed my account, I would not be able to transfer tokens from Binance because they are not compatible with other exchanges, they told me bluntly: "Then you will have to sell"
A loosely organized group of traders who have suffered losses due to the failure of the Binance platform have now set up a steering committee and arranged for the Swiss company Liti Capital to secure the case and give them a fair chance to fight. Liti Capital has raised over $ 5 million to date, with White & Case hired to fight the case and ranked the best international arbitration law firm in the world.
Binance issued a statement:
"Our policy is fair in that we compensate users who have experienced real trading losses due to problems with our system. We do not deal with "what could be" hypothetical situations such as unrealized gains. "
Liti Capital set up website for users affected by the Binance outage. The note states that "there is no risk or cost" as it covers all funding of the case. It also states that the total loss incurred could be more than $ 100 million.
Solana (SOL), Polkadot (DOT) and Cardano (ADA). Which one will win.