What Changed in Crypto Markets While You Were Sleeping — July 29
2 min read
BeInCrypto presents our daily morning roundup of crypto news and market changes that you might have missed while you were asleep.
BTC update
BTC has been moving upwards since July 20, after it had reached a local low of $29,278. So far, it has reached a high of $40,900 on July 28.
The high was made inside the $40,500 resistance area, which is the range high that has been in place since May 19. In addition, it's the 0.382 Fib retracement resistance level.
The ongoing upward movement has caused technical indicators to turn bullish. The Stochastic oscillator has made a bullish cross and the RSI is above 70. The MACD is also increasing and is nearly positive.
Since the low on July 20, BTC has created seven bullish candlesticks in a row. This is a relatively rare event, so a few bearish candlesticks would be expected.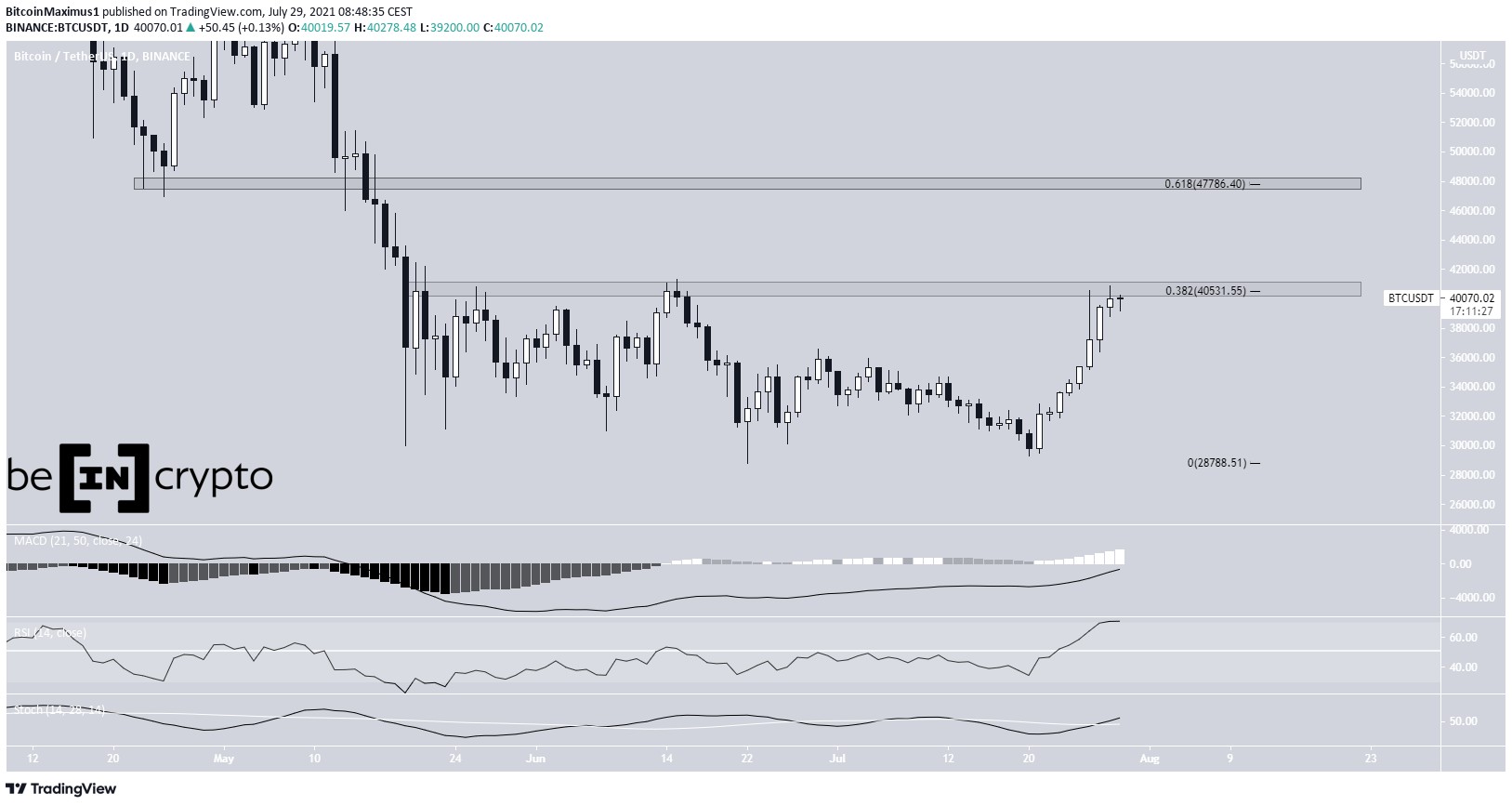 Altcoin movers
The total cryptocurrency market cap is up slightly to $1.61 trillion today and is approaching the range highs of $1.73 trillion last seen on June 15. Most cryptocurrencies are up by a percent or two on the day as BTC battles with the $40,000 resistance level.
THORChain (RUNE) is today's biggest altcoin gainer, up a whopping 34% in the past 24 hours, returning to the $5.44 level. Although RUNE has bounced back significantly, it's still far off its $20 all-time high that was reached on May 19.
Axie Infinity (AXS) is today's biggest loser, although it's only down 4.3%. This is minuscule when compared to its 100% gains made in the past week. AXS remains the top gainer of the week, so its negative daily performance is likely just a retracement in response to the pump.
In other crypto news
President Biden has unveiled a new infrastructure bill aimed at boosting the economy, saying that some of the cost will be paid by tax enforcement on crypto.
The Chicago Mercantile Exchange Group (CME) has published its quarterly report for Q2 2021, and it shows a small jump in profit, led by innovative products like BTC micro futures.
A video of a talk by the growth lead at Uniswap has hinted at possible deals in the works with major trading and payments platforms including PayPal, E*Trade, and Robinhood.
The post What Changed in Crypto Markets While You Were Sleeping — July 29 appeared first on BeInCrypto.