Bitcoin Tests US$30,000 Support Again
2 min read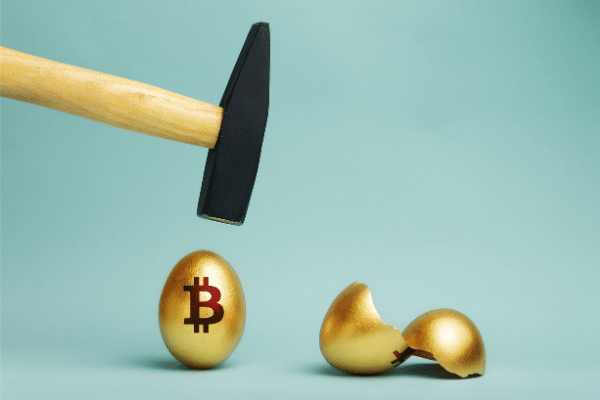 Bitcoin tests key US$30,000 level of support again in less than a week 
Technical indicators suggest that Bitcoin has potential to go lower or expand its trading range on heightened volatility, making peaks and troughs harder to call 
How many times can you strike a dam before it bursts?
As Bitcoin dipped below US$30,000 for the second time this week, traders are guessing where the bellwether cryptocurrency is headed to next, as it struggles to regain momentum after sharply correcting from an all-time-high near US$42,000 earlier this month.
Falling by as much as 9% at one stage, Bitcoin dipped below US$30,000 before rebounding just as quickly. Having surged by over 300% in 2020, amid speculation that institutional investors were piling into Bitcoin with interest rates near-zero, companies such as Square (-3.21%) and MicroStrategy (-3.52%) have put a portion of their balance sheets into Bitcoin.
Technical analysts are suggesting that Bitcoin has room to correct lower, with Bitcoin having dipped below its 50-day moving average. And some analysts are suggesting that Bitcoin's lackluster performance of late is because retail flows have moved into other speculative corners of the market, bidding up shares of video game retailer GameStop and embattled movie theater operator AMC Entertainment Holdings (+301.21%).
Because retail trading apps such as Robinhood make it easy for retail investors to buy options, there is some suggestion that retail buying has moved into the speculative options market, with flows being withdrawn from the cryptocurrency markets.
Fundamentally though, little has changed for Bitcoin. Assurances by the U.S. Federal Reserve that it's not tapering its asset buying program and continuing to pump liquidity into the markets ought to be seen as a longer term positive for Bitcoin which is prized for its alleged deflationary properties. And the expansion of institutional-grade investment options as well as the erosion of the Grayscale Bitcoin Investment Trust premium are all signs of a maturing market.
Add to that the prospect that PayPal (-4.59%) will be empowering spendable cryptocurrency and the macro outlook for Bitcoin continues to be bullish. In the interim however, volatility and the trading range for Bitcoin might actually expand from US$25,000 all the way up to US$35,000.
Considering that US$20,000 for a single Bitcoin was once considered the destination, Bitcoin still very much remains in bull market territory, as unreasonable as that may seem. 

The post Bitcoin Tests US$30,000 Support Again appeared first on SuperCryptoNews.