Ethereum balance on exchanges at record low – these are the consequences
3 min read
Although both Bitcoin and Ethereum are currently stagnating on the price side, behind the scenes – on the blockchain – a very special trend is developing, especially with ETH. Recent data shows a significant drop in ETH holdings on centralized crypto exchanges, while the number of ether staked is increasing. Both developments can have a bullish effect on Ethereum's long-term price development.
The amount of staked ether has for the first time 21.7 million mark exceeded. At the same time, the number of ethers on crypto exchanges is decreasing 17.8 million ETH – a low last seen in 2018.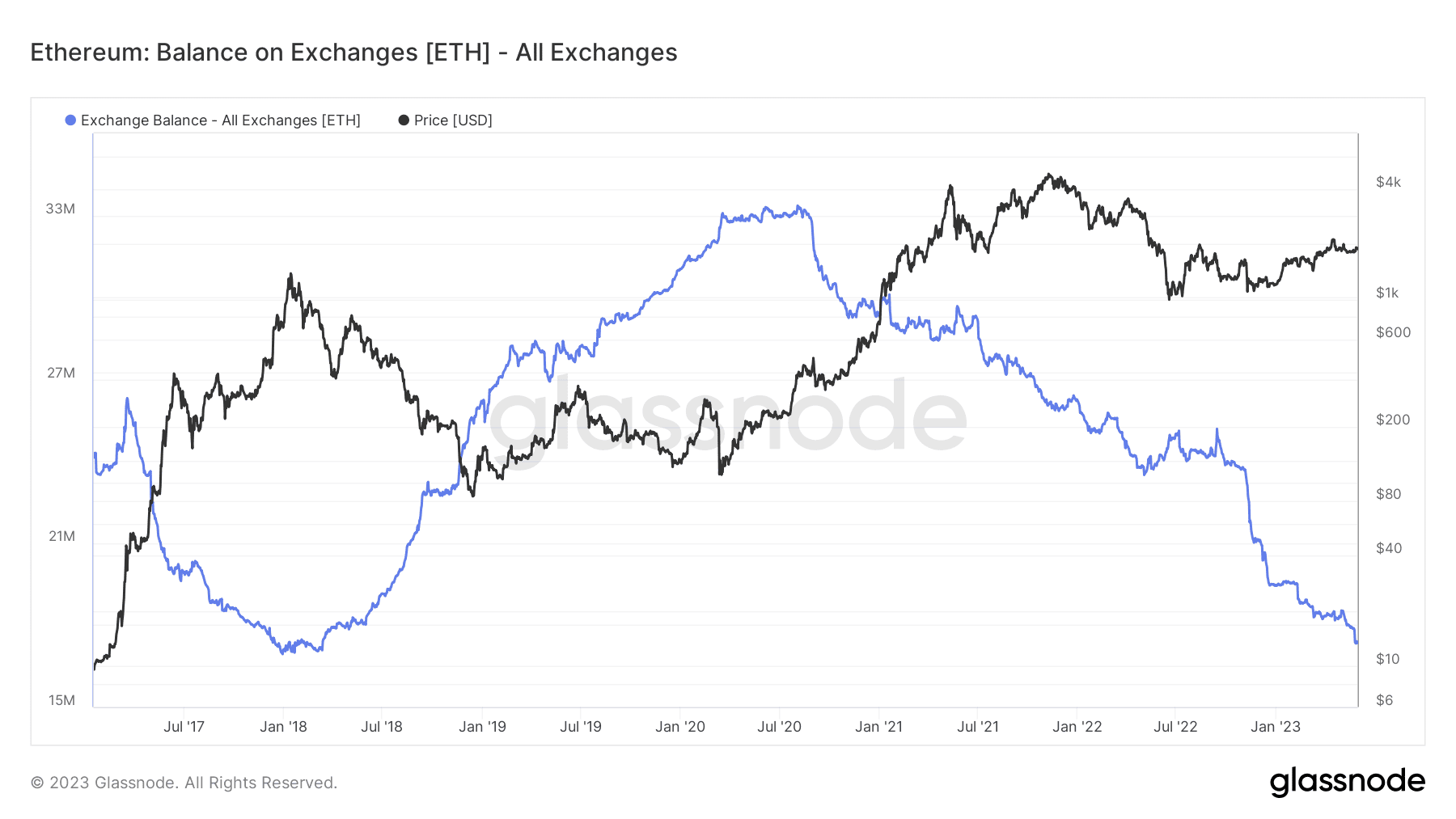 Both trends have fundamental implications for ETH price momentum. Why is that?
A bullish development for Ethereum?
The decline in ether balance on exchanges means there is less ETH available for sale. This is illustrated by the graphic below Glassnode illustrated: While in February 2020 around 30 percent of all ETH was still held on centralized crypto exchanges, it is now less than 15 percent.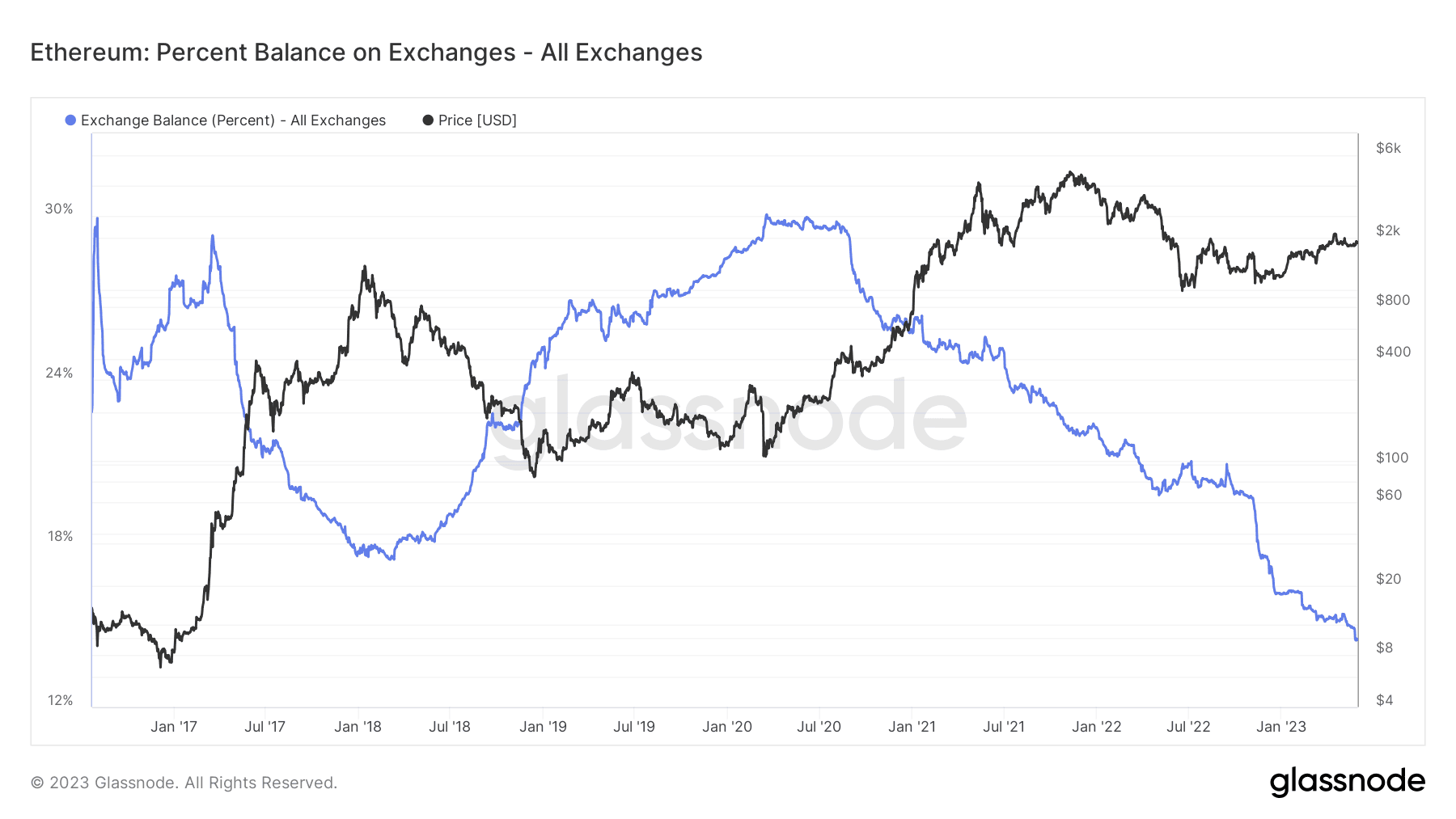 This circumstance could propel the price of ETH higher if demand stays the same or increases further. Also, Ethereum's decline on exchanges could indicate that investors do not intend to sell their ethers any time soon. This, in turn, can be a sign of bullish sentiment among investors and have a positive impact on ETH price.
Ethereum staking rate hits all-time high
Interestingly, this drop in exchange holdings has come hand-in-hand with increased ETH staking activity. Since the launch of the Shapella update in May, the amount of ether staked has increased from 19.3 million to over 21.7 million. As the data from CryptoQuant shows, this means that over 18 percent of all ETH is now being staked.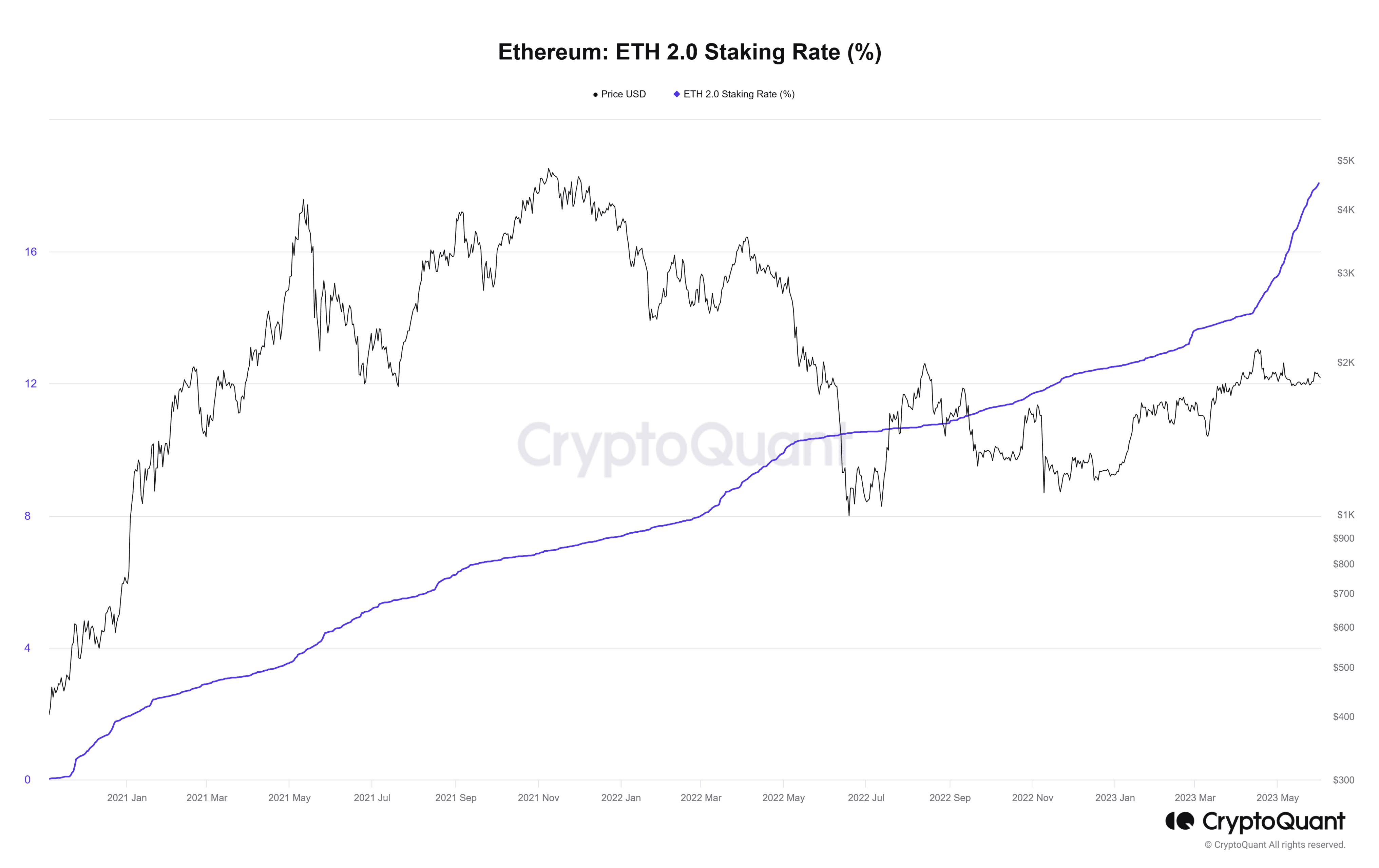 Increasing participation in staking is pulling more ETH out of the market, as staked ether is locked for a period of time and cannot be sold immediately. This reduces the available supply of ETH, which can have a positive impact on the price if demand remains constant or increases.
Additionally, an increase in the staking rate can be seen as a sign of investor confidence in the ETH network. This could encourage other investors to buy and stake Ethereum as well, which could put additional upward pressure on the price.
Long-term positive outlook for Ethereum
In summary, both a decrease in the amount of ether on centralized exchanges and an increase in the ETH staking rate can be seen as bullish for Ethereum price, as both factors can help reduce the available supply of ETH.
While the trends appear positive, they alone are not enough to boost ETH price. Lower Ethereum availability on exchanges and more staking alone are not critical to ETH price development. Other factors are important. These include market dynamics and regulatory developments. Technological advances in the Ethereum blockchain and macroeconomic influences also play a role. Moreover, the demand for ether is a crucial factor. Even if the supply falls, the price can only rise if the demand stays the same or rises. Therefore, it is essential to also consider these aspects when assessing the future price development of ETH.
Glassnode is a leading blockchain data and intelligence platform. Offering the most comprehensive library of on-chain and financial metrics, they provide a holistic and contextual view of crypto markets through understandable and actionable insights.
The data and statistics provided by Glassnode are trusted by the world's leading investors, hedge funds, banks, asset managers and crypto companies.