Interesting facts about Shibarium – the Layer 2 Shiba Inu Bridge
6 min read
Has been doing this for over two years Shiba Inu Headlines already, and your latest project? The introduction of Shibariumthe new Layer 2 solution.
This event, building on the already impressive reputation of Shiba Inu builds, promises another important chapter for both Shiba Inu as well as for its large community.
But what is Shibarium and why should you care about it? Below you can find out more about Shibarium and its potential impact on decentralized finance (DeFi).
Shibarium's Big Debut: Paving the Way for Shiba Inu's Dominance in the DeFi World?
Shibarium is the newly released Layer 2 blockchain from Shiba Inu for Ethereum.
The launch of the mainnet on August 16 caused excitement among crypto enthusiasts, especially because of the impressive number of over 21 million wallets created during the testnet phase.
This paints a promising picture and points to the potential of Shibarium there, Shiba Inu to position itself as a notable DeFi contender.
The network aims to attract users to a low-fee ecosystem primarily centered around financial services and gaming.
With this goal SHIB along with other tokens like BONE, TREAT and LEASH used for applications built on the blockchain. Due to increasing demand, the prices of these tokens could skyrocket.
The ambitious step Shiba Inu-Developers (like Shytoshi) reflects a broader vision: Although their SHIB-Tokens named after the Shiba Inu dog and from Dogecoin were inspired when meme coins started, their path has changed significantly.
Since their issuance in August 2020, these tokens have quickly become prominent meme coins by market cap.
Through Shibarium Today, developers are assigning greater utility to these tokens to solidify their presence in the DeFi space.
Recently, the official marketing expert of the Shiba Inu-Development teams, @LucieSHIB on the platform X (formerly Twitter), the SHIB-Community remember that Shibarium is now public, and invited developers and companies to start building the new Layer 2 blockchain.
📣 ANNOUNCEMENT:

🚀SHIBARIUM IS LIVE FOR THE PUBLIC! 🚀

(I know 99% know but some look confused)

🌐 Everyone can now embark on their building journey here.

(Just a small note: Be cautious of scammers; always do your research.)

🏗️ If you're itching to build, GO FOR IT!… pic.twitter.com/piG7fujgO0

— 𝐋𝐔𝐂𝐈𝐄 | ✨Shib.io✨ (@LucieSHIB) September 7, 2023
However, her announcement was accompanied by a warning urging the community to remain vigilant against potential scammers and always do their own research – a reminder of the importance of being vigilant when using new crypto ecosystems.
Exploring Shibarium: a strategic leap into DeFi and gaming ecosystems
Aside from its origins and potential financial impact creates itself Shibarium a niche in the Metaverse and gaming sectors, especially given the rising expectations for the NFT industry.
In addition to its value proposition for gaming and metaverse applications, the network also offers an affordable billing option for DeFi apps.
Additionally, the network has plans for a "DoggyDAO", a decentralized autonomous organization. It is intended to be led and controlled by the token holders and aims to Shibarium to finance developed projects.
Perhaps the most fascinating aspect is the infrastructure of Shibarium. It is a Proof-of-Stake (PoS) blockchain that relies on validators and delegators.
Validators do the heavy lifting – operating nodes, processing transactions and creating new blocks – ensuring the smooth functioning and maximum security of the ecosystem.
Meanwhile, delegators support validators by staking tokens.
Your work is done with a governance token called BONE rewarded, which is limited to a total quantity of 250 million pieces.
The Shibarium network: the Layer 2 solution
Anyone who has asked around in crypto circles, especially on platforms like X and Discordcould mark the resurgence of SHIB hardly overlooked.
The price has skyrocketed by almost 60% since the beginning of 2023, even surpassing the giants Ethereum (ETH) and Bitcoin (BTC) exceeded.
The focus of this discussion is the term "Shibarium"which comes directly with Shiba Inu is linked. This is not an esoteric concept, but rather a central Layer 2 blockchain that is in the Ethereum-Basic structure is rooted.
Its introduction represents a decisive expansion of the Shiba Inuuniverse and serves as a scaling solution.
This will not only speed up token transactions but also those associated with them "gas"-Reduce costs incurred by users.
Furthermore, it integrates Shibarium-Network an improved mechanism for "Burn" from Shiba Inu-Coins. This strategically reduces the token supply and increases the value of the remaining coins.
Shibarium's unbridled growth
Unfortunately, the excitement surrounding the introduction of Shibarium accompanied by a stormy course in which the SHIBshares fell by almost 9% sparked by market concerns about apparent bridging issues affecting the new Layer 2 service.
Transactions on the network froze, with nearly 954 Ether (ETH) and a whopping $750,000 falling BONE – the governance token from Shibarium – hung in limbo.
Bridging tokens with the Shibarium-Network became impossible.
Wild speculation, including now-discredited fake screenshots supposedly taken by Shiba Inu-Developer Shytoshi came from, flooded X with a wave of FUD (Fear, Uncertainty, and Doubt).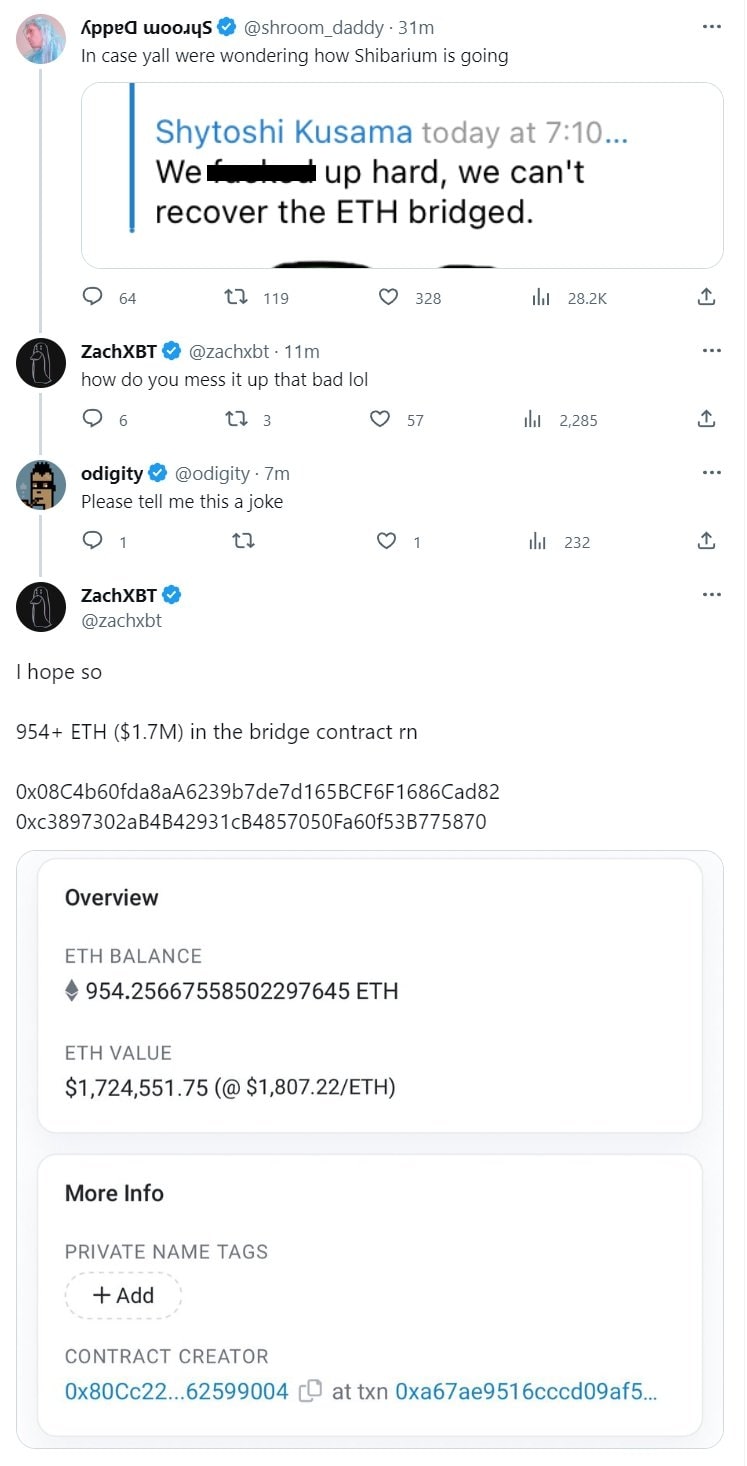 For the uninitiated: Bridges are central tools in cryptocurrency that facilitate token transfers between different blockchain networks. Their functionality is crucial and any disruption can disrupt the market.
Amid the growing concern – which has been exacerbated by rumors on social media – one of the Shibarium-Developers spoke out in a blog to clear up the mess.
Shytoshi Kusama: Everything is good in Shibaland
Lead developer Shytoshi dismissed rumors of a bridge problem, citing the cause: a sudden and massive influx of transactions following the announcement of the Shibarium-Starts.
Shytoshi Kusama the lead developer and the driving force behind the online presence of Shiba Inusubsequently published one clarifying post about the eventful start of Shibarium.
And what is the core of the problem? The sheer strength of SHIBarmy overwhelmed the system upon launch.
Despite solid preparations, including validators set to auto-scaling, this was not possible Shibariumteam cannot predict the extent of traffic that will follow.
— Shytoshi Kusama™ (@ShytoshiKusama) August 17, 2023
To illustrate: your service at Alchemy provided 400 million computing units per month. However, within half an hour of launch, they had already consumed 160+ million units!
If this pace continued, they would consume billions of computing units daily and compete with the most widely used L2 blockchains.
Shytoshi's message to the SHIBarmy was a plea for patience. He asked them to trust the team's efforts to scale while warning about possible misinformation and security threats.
It is a testament to the potential of the project and the commitment of the community that assets such as 1,000 ETH and 600,000 BONE were deposited onto the new chain in just a few minutes.
After the initial difficulties Shibarium carried out a successful relaunch and achieved notable milestones.
Within less than two weeks, the Total number of transactions Shibarium 1,283,219. The number of wallet connections rose to an impressive 1,118,908.

Furthermore, more than half a million blocks (506,606 to be exact) were created in this short period of time Shibarium mined, with an average block mining time of just five seconds.
Conclusion
The introduction of the Shibarium-Mainnet is more than just an extension of the ecosystem Shiba Inu. It represents a transformative change.
Whether you are an investor or a crypto enthusiast, it is a must-read developments around the platforms shib.io and Shiba swap in view of the launch of the mainnet of Shibarium to keep an eye on.
As the crypto world continues to develop, projects like Shibarium the potential to redefine the way we perceive and engage with decentralized systems.