Network on-chain data – activity at all-time high
2 min read
Let's face it: Not much is happening with Bitcoin. Development in the Bitcoin network is slow and unspectacular. In the development overview The largest and oldest cryptocurrency is therefore in 11th place – behind Solana (SOL) and the Internet Computer (ICP). In the last few weeks, however, that has changed. With the integration of ordinal inscriptions, there is movement in the network.
The now 160,000 Bitcoin NFTs have polarized in recent weeks. Opponents criticize the "waste" of valuable block space. The proponents see an increased demand for this.
A neutral look at the data reveals more. The average block size has changed significantly, increasing from a typical upper limit of 1.5 megabytes (MB) to 2.0 and 2.5 MB now. The BTC inscriptions are by nature larger files and therefore occupy more limited space in each bitcoin block.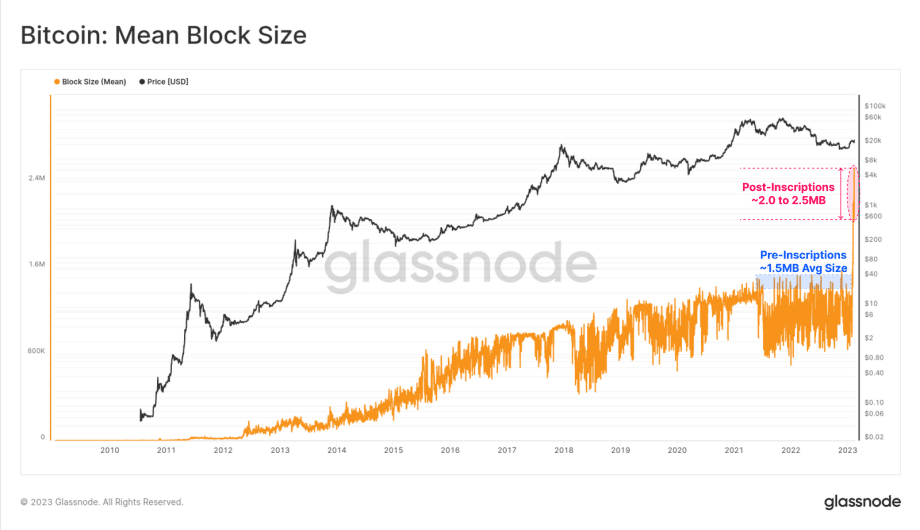 A second indicator of the increased on-chain activity: The Unspent Transaction Output (UTXO). The total number of UTXOs is therefore 137 million marked a new all-time high. UTXOs are the current sum of all possible outputs in the network that have not been made, i.e. satoshis, which can be transferred using the associated private keys. Also the Taproot usage hit a new all-time high.
BTC transaction volume in the network "extremely low"
In addition to the activity on the Bitcoin network, the price has also increased significantly. The transaction volume on the other hand, has "remained extremely low", as Glassnode im weekly analysis report explained. "Such low values ​​could only be observed a few times in the course of history," it continues.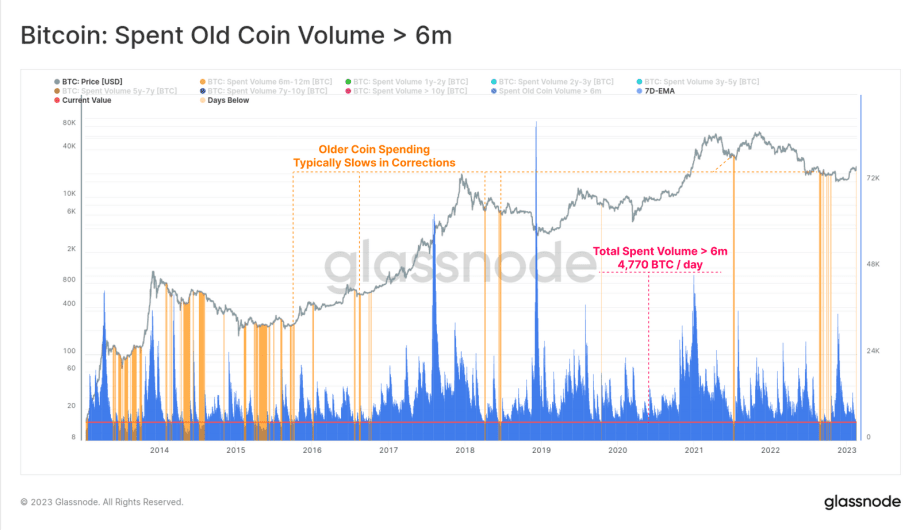 "What is interesting is that since 2016 these cases have been in bear markets and towards the lows of a significant sell-off or correction." According to Glassnode, this provides indications that the market is overbought, at least in the short term.