Technical analysis ETH – after the fall retracement?
2 min read
ETH begins to show greater weakness, which was more or less rare. But the crypto market is already starting to get its way around, so it's no wonder that even the strongest altcoins are starting to lose ground. Thanks to the recent recent slump, ETH has lost almost 40% of its all-time high. This is already a pretty solid decline, after which we could at least count on retracement.
Current situation at 1D ETH / USD
So ETH fell from the declining canal that had formed for many weeks. At the same time, there was a breakthrough S / R level of 3,350 USD. There was only weak resistance here, which only slowed down the price drop. The downside is that the bulls have lost another dynamic support – 200-day moving average.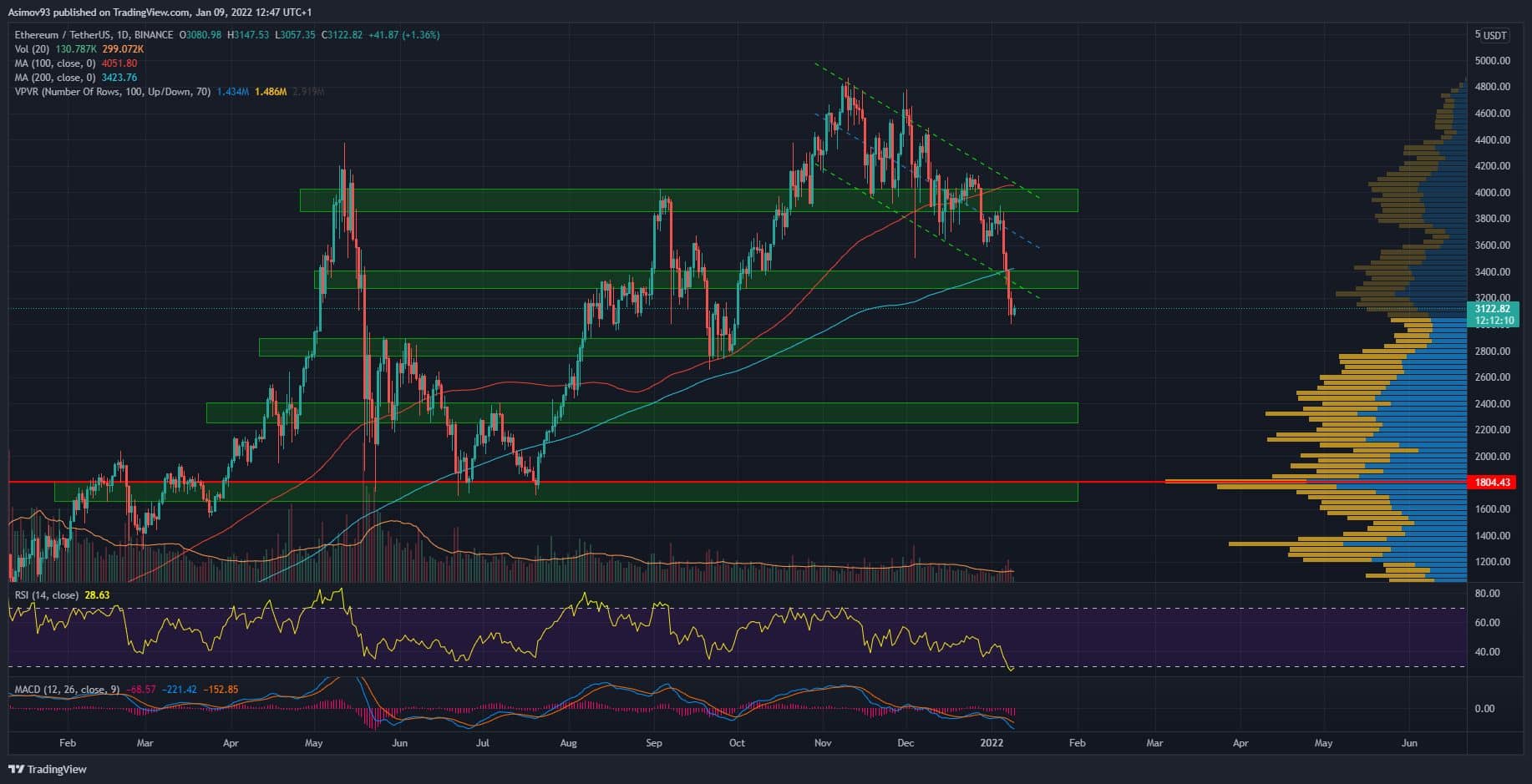 The breakthrough of said levels was another signal to continue the decline. Thus, ETH goes further to lower levels. The first close strong level is around 2,820 USD. You can see that we have a nice bottom here from the end of September last year. Therefore, I would venture to say that the level of potential selling pressure will withstand.
But only if BTC doesn't fall for to $ 30,000. In such a scenario, it is almost certain that the $ 2,820 will fall and we can expect another stop up to $ 2,330. However, a deeper drop of $ 1,740 cannot be ruled out. It is also at the last mentioned level according to the volume profile Point of control.
In other words, this is a level that should be able to cope with a much larger sales surge caused by the great panic in the market. But even S / R level 2,330 USD is a candidate who can stand it. But it's a bit more risky – it simply depends on what exactly the price trend in the BTC market will look like.
Indicators
The daily RSI has a bottom at about 27 points so far. That's pretty deep enough for us to expect a close turnaround. At least with retracement after the first resistance. By the way, one important thing – ETH has not beaten the daily RSI border of 30 points since March 2020. In other words, the market shows a great weakness.