The number of addresses with a non-zero BTC balance reached 40 million, a metric growed of 92% since 2018
2 min read
While BTC has risen recently and jumped 10% in the last seven days, statistics show that the number of addresses where BTC is stored has exceeded 40 million. Metrics from the analytical web portal intotheblock.com show that addresses that hold at least a small fraction of BTC have reached 40.25 million addresses.
The number of addresses holding at least a small fraction of BTC has exceeded 40 million
Non-zero BTC addresses or accounts held by at least one satoshi have been growing at a parabolic rate since 2018. This milestone was reached on March 25, when the official twitter account intotheblock.com reported.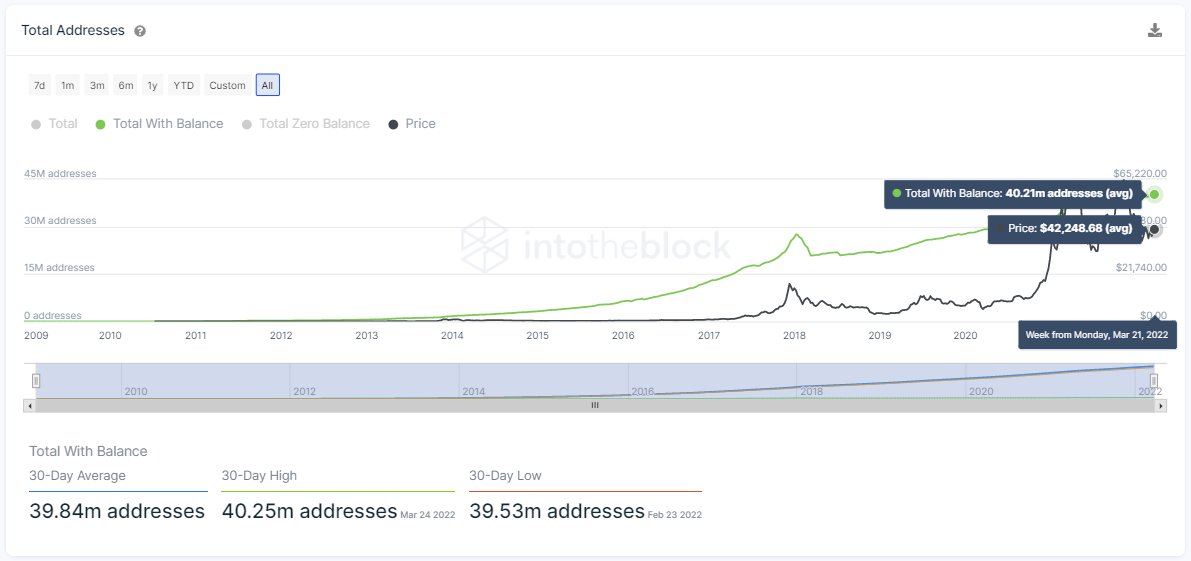 "40M+ Holders – For the first time the number of addresses holding #Bitcoin has surpassed 40 million," said Intotheblock. " After dropping in February, the number of addresses holding Bitcoin has continued to grow and set new highs." The cryptanalytic company added:
This points to growing interest and adoption for Bitcoin
As late as March 12, 2018, four years ago, the number of non-zero BTC addresses was around 20.86 million. Statistics show that the number of BTC addresses has increased by 92.95% since that day four years ago. Currently, the number of active BTC addresses per day is 955,380 and the number of new addresses is 429,120. In terms of profit, the 30.64 million addresses holding BTC are up at the current price.
100 addresses control more than 14% of the BTC offer
Intotheblock.com metrics show that the concentration of large BTC holders today is 10%, while the data coincarp.com suggest that the top ten holders BTC owns 5.58% of all BTC offerings. 20 wallets control 7.78% of the offer, 50 top addresses capture 11.36% of BTC's offer and the 100 richest addresses hold 14.11% of the primary crypto asset supply. As for any address with at least 0 to 0.00001 BTC, today this amount is held by 3,315,204 addresses.

BTC addresses with at least 1 to 10 BTC formed March 26, 2022 680 261 addresses. As for whale addresses with at least 1,000 to 10,000 BTC there are currently 2 200 addresses that fall into these criteria. For megawhales or BTC addresses with at least 10,000 to 100,000 BTC, there are only 82 addresses that meet the requirement. In addition, for the largest BTC whales of all, or addresses with at least 100,000 to 1,000,000 BTC, there are currently four BTC addresses that hold this amount.