07.11.21 Technical analysis of BNB – soon to a new historical maximum
2 min read
Binance coin (BNB) has had several very successful days, thanks to which we are getting close to the original all-time high from May this year. So the BNB did a lot of work, which many other top altcoins were far from doing. If BTC can be at least stable, the BNB should reach the new ATH soon.
Current situation on 1D BNB / USD
The binance coin was able to use the S/R level of $ 450 as such an imaginary trampoline. For a short time, the course of the course stopped at the S/R level of 535 USD, but this took only a few days. This was followed by a breach of the border, at which the price consolidated for a few days. Then began another aggressive growth that continues to this day. In the unfinished three days, the BNB appreciated by more than 20%.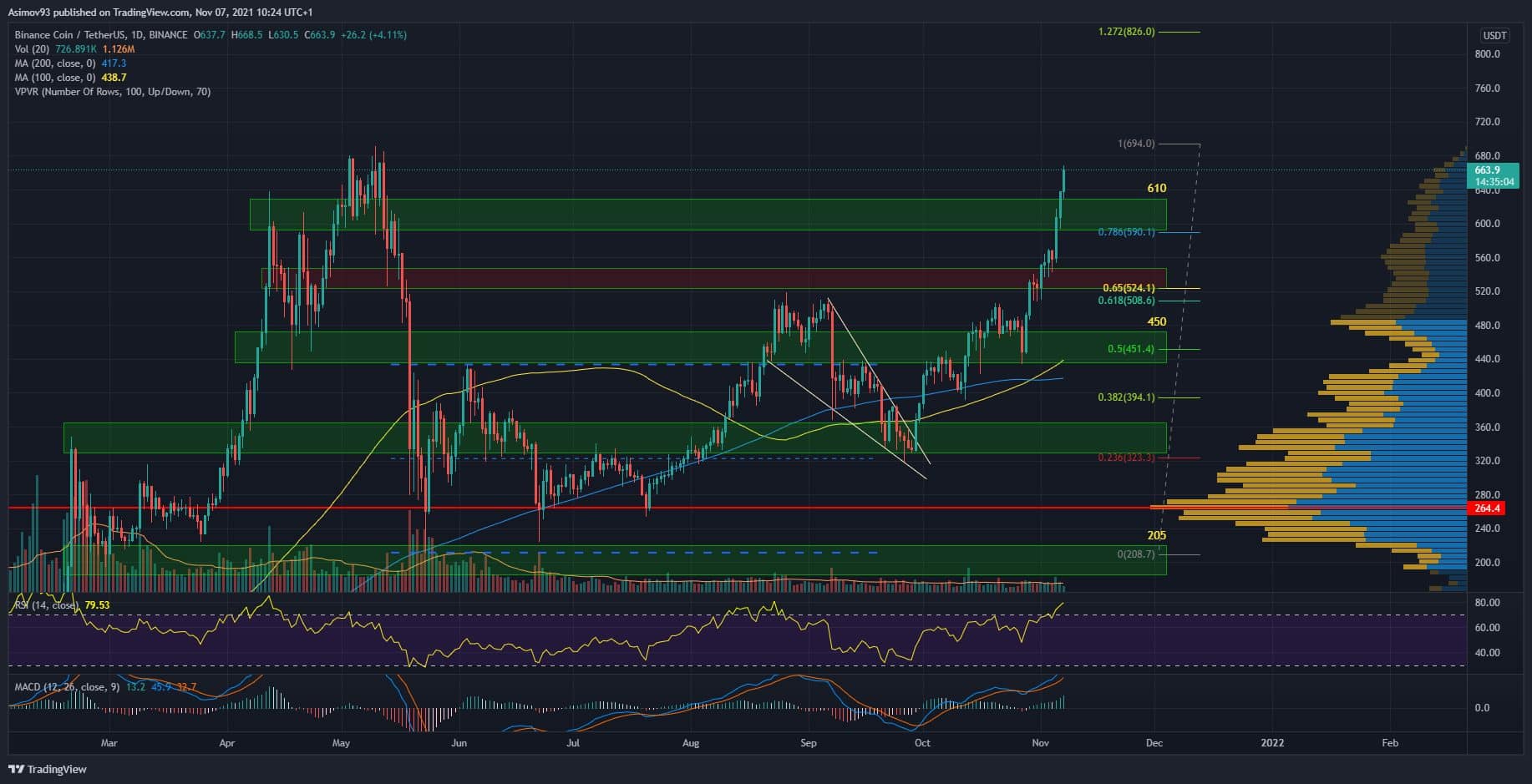 It was very easy to break the S/R level of 610 USD. Which is not so surprising, because according to the volume profile, there is no big one above the S/R level of 535 USD market depth. Therefore, the resistance at higher price levels may not have been so strong. This made the pricing procedure all the easier. Currently, the price is just below the May ATH. If nothing changes drastically and the momentum lasts, the BNB may have a new historical maximum in a few moments.
As for volumes, you are still quite weak. Notice how the moving average of the volumes is almost horizontal. The curve has had such a horizontal course since at least the middle of the summer holidays. Even so, price action as such is very solid.
Indicators
The daily RSI is already at 80 points. This is already a fairly high level, which in itself can be a harbinger. correction to S/R level 610 USD. However, another sequel cannot be ruled out, because those 80 points are not yet extreme. According to MACD, the market is really quite strong.