22.11.21 Technical analysis of BTC – growth trend is broken?
2 min read
BTC ended the next week, unfortunately in a rather unfavorable form. Weekly chart is indeed aimed at testing the S/R level of $ 52,500. There was a break in the market structure. Therefore, it is wise to expect the decline to continue to the first stronger support.
However, it is necessary to take the situation so that nothing is definitive. If BTC drops to the said level, the reaction itself will tell us a lot. For example, only a correction structure will emerge, which will have a bottom right on the support.
Current situation at 1W BTC / USD
Already in October, we received a clear warning when the ATH candle closed in the second half of the month Doji. Even so, the price tried to move upwards. However, it did not have the strength, which I pointed out. More than a week ago, the procedure was rejected again, but the resulting candle was not so bearish. But at CME, futures was genuine Shooting star.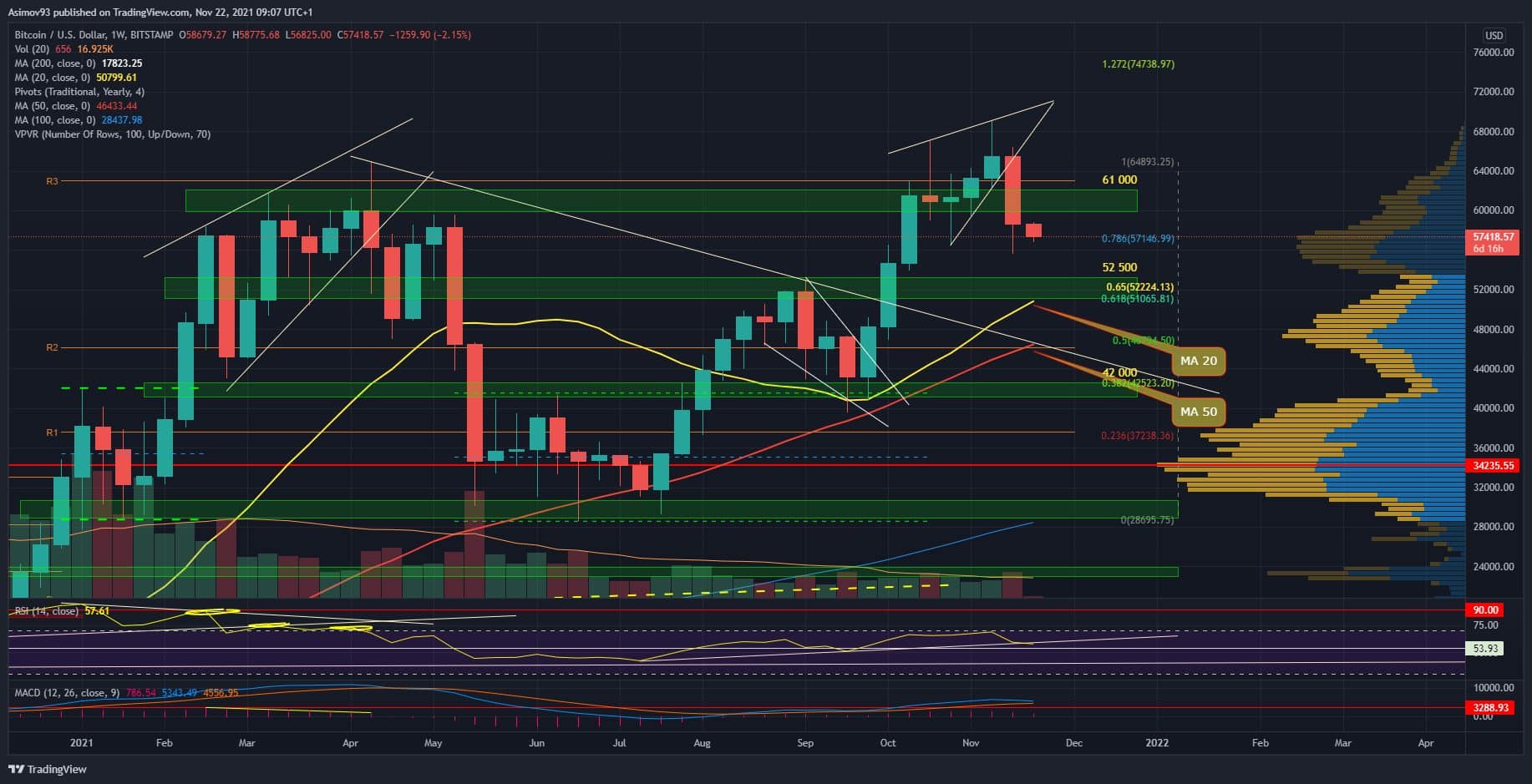 It was therefore obvious that the conditions for a development break were beginning to be created in the market. Which started last week, and the close-up of the weekly candle confirmed that. The closing price is below support, so BTC simply did not keep the levels above $ 60,000. In any case, the slump stopped at $ 56,000. It is no coincidence, because at that level is the middle of it all cluster volume profile.
But the strongest close level is just $ 52,500. It goes here too support confluence in the form price support, moving averages MA 50, 20 a low volume node. Simply put, there is a high probability of reflection. Of course, security never exists. If there is no panic in the market, we should not go to the first good.
Subsequently, any known pattern can be created in graphs with lower time frames. This can help us to orient ourselves over the market situation.
Indicators
The growth trend on the RSI indicator broke near 70 points. This is not good, because to confirm the bull run it is necessary to continue above the limit level and stay there. The bearish cross is slowly emerging on the MACD, but there is still a long way to go.