BakerySwap Hits 500,000 NFT Transactions
4 min read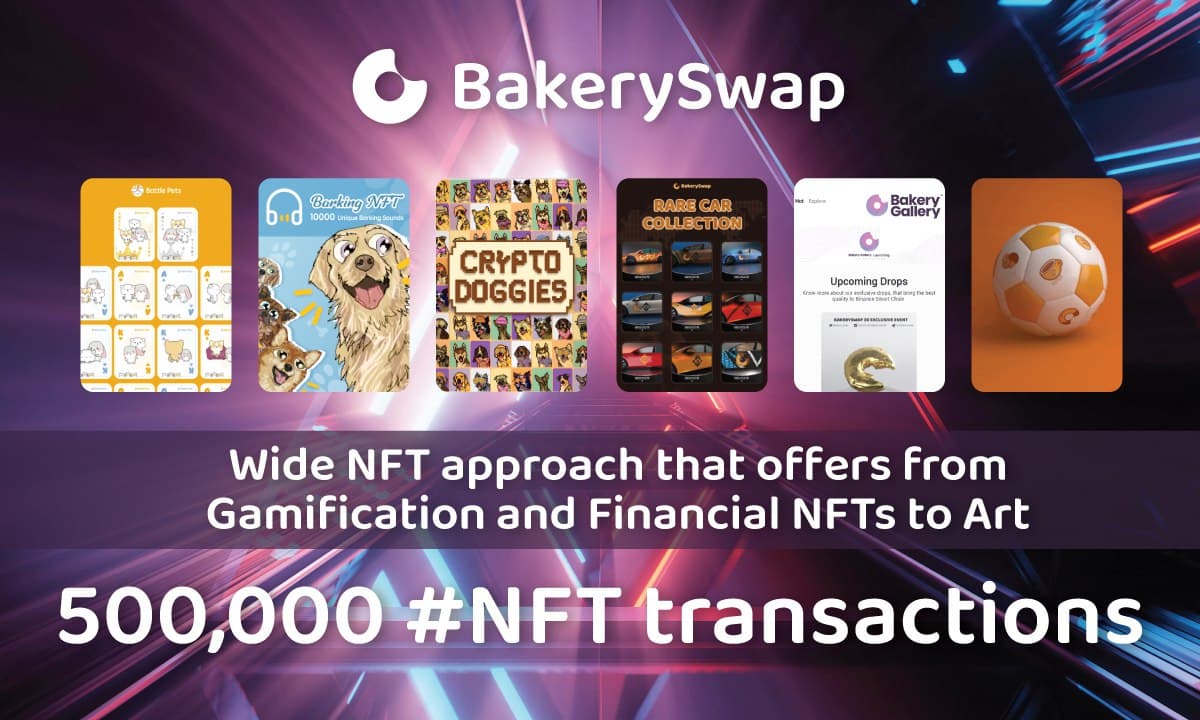 BakerySwap hits 500,000 #NFT transactions and Celeb NFT Drops from Maye Musk or Ian Somerhalder, will strengthen its leadership position.
BakerySwap hit the 500,000 NFT transactions milestone mark in June thanks to its wide NFT approach that offers from Gamification and Financial NFTs to Art. 
Financial NFTs are those NFT that can earn rewards by staking them and have gamification or random component in their creation, which also gives them collectible value.
BakerySwap was the first platform in BSC to launch such products back in Q3 2020, thus becoming a first mover in the blockchain industry. One of those early Financial NFTs, the Food Combos, was sold in June for more than $400,000 becoming one of the Top transactions of the Month, overtaking some of the famous Crypto Punks.
Gamification is playing also a relevant role
Regarding Gamification, the NFT transactions have been fueled by two initiatives. The first one has been the NFT shops for partners, like the one they have with Pet Finance, where users can trade NFT game items. The other one has been the launch of Cryptodoggies, which has been a major hit.
Claiming to be more than a meme token, the Cryptodoggies ecosystem consists of tokens, collectible NFTS, and gaming. 10,000 unique Doggy NFTs have been procedurally created, along with 10,000 unique Barking Sounds, the first of collectibles combining video, sound, and art. Talking about Doggy NFTs, one of them was resold for $200,000, and their contribution to BakerySwap transaction volume is considerable as there are more than $300,000 weekly transactions in the secondary market.
The Art section keeps contributing and new competition helps to make the market bigger.
BakerySwap has two approaches regarding art NFTs. The first one is through their curated platform, BakeryGallery.com, which is exclusively for featured artists that are selected by a professional team of curators in order to give peace of mind to investors and real collectible value. Differentiating from other platforms, BakerySwap doesn't filter for the number of followers, but for quality or innovation.
The second approach is via the Open Marketplace for artists, also known as BSC artists, where everybody can mint their own artworks. More than 100,000 artworks have been minted so far at the Bakery platform, confirming its popularity. Bestsellers from the Open Marketplace have the chance to be promoted to Featured Artists and exhibit at the Bakery Gallery, so it depends on the artist's talent!
Not being enough, BakerySwap is entering the Celeb Space with two big collaborations to strengthen its NFT leadership position.
BakerySwap entered into a partnership with TOKAU Japan to offer a sleek platform for easy onboarding of celebrities into the realm of NFT. This is one of the most beneficial collaborations to the DeFi ecosystem as great celebrities like Hollywood actor and model, Ian Somerhalder (Damon Salvatore of The Vampire Diaries), Luna Maya, the beauty queen of Indonesia, with more than 30M Instagram followers, or Yua Mikami, one of the most popular and best-selling Japanese contemporary AV idols, are ready to launch their NFTs on BakerySwap.
Mr. Bake, CMO of Bakery, added "Teaming up with TOKAU Japan to provide a platform that connects celebrities and their fans is an exciting development for our project and facilitate the global adoption of NFTs"
… and the best comes at the end! Maye Musk lands on Binance Smart Chain and sells 500 Mystery Boxes in 3 minutes.
BakerySwap in collaboration with Koda and Radio Caca NFT has launched the first NFT Drop from Elon Musk's mother, which has been a success, from both the media exposure and the revenues, with combined sales of over $40,000.
On July 1st this collaboration moved forward, and 6,000 Mystery Boxes were offered at the BakerySwap gamification area. The first batch of 500 Mystery Boxes was sold in less than 3 minutes. The NFTs, besides collectible value, will also have financial properties, like staking power or offer the opportunity for holders to receive future airdrops from Radio Caca. Mystery Boxes have been a hit, as they have a combination of lower price and gamification that people love.
With this combined strategy of Celebs, Gamification, Financial NFT, and Artworks, the BakerySwap team is excited about the NFT future and confident about their principal role in the sector.
About BakerySwap
BakerySwap, the 1st AMM + NFT Exchange, is the all-in-one DeFi platform on Binance Smart Chain. This platform was one of the first projects to be supported by the Binance Chain Accelerator Fund and to be listed at Binance.com.
BakerySwap aims to be the reference place for all DeFi users' needs, by providing three main services. First, the AMM (Automatic Market Maker) where users can exchange tokens, stake them, or do liquidity farming, with over $250M TVL.
Second, the NFT Marketplace, with over 500,000 NFT transactions, allows participants to mint or trade artworks and other gamified NFT items. And finally, the IDO Launchpad, that provides initial coin offerings from selected quality projects to early investors.
The post BakerySwap Hits 500,000 NFT Transactions appeared first on BeInCrypto.