Bram Cohen: Chia Network is planning new Defi products, has introduced the pooling protocol and version 1.2.0
2 min read
Chia Network founder Bram Cohen unveiled his new protocol plans in a series of recent tweets. According to Cohen, it plans to develop a new set of DeFi-related products within the Chia Network ecosystem.
Bram Cohen on the further development of Chia Network
The founder revealed that DeFi products will have a domestic decentralized exchange (DEX) and an AMM to accompany the upcoming Chia project.
Decentralized stock exchanges have become a fairly common part of the Defi sector. According to available data from Defiprime The platforms recorded a total ATH transaction volume of over $ 140 billion in May.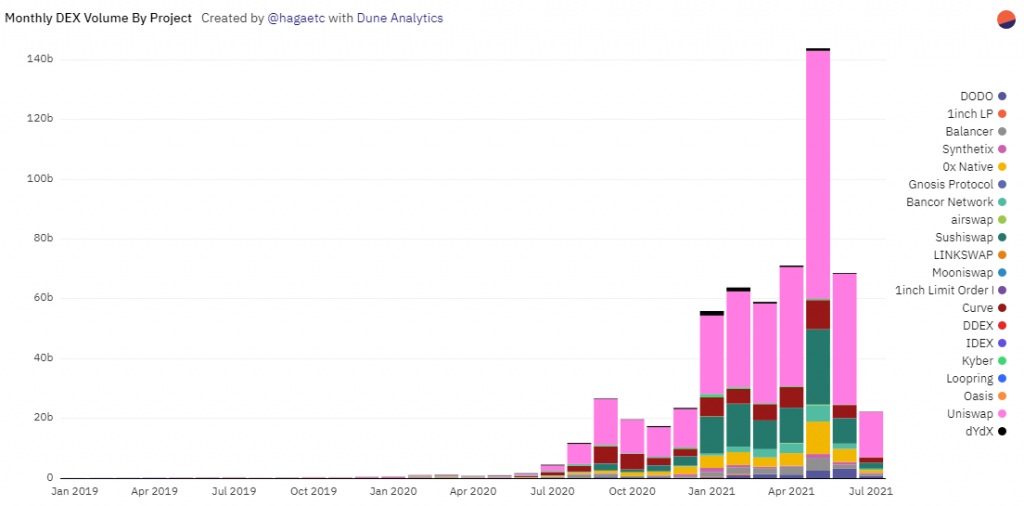 In addition, it shows that more than $ 1 billion was traded on 16 different dex platforms yesterday and a total of $ 15 billion a week. Of that $ 15 billion, Uniswap captured $ 10.3 billion of the total, surpassing Sushiswap and Pancakeswap. "
Decentralized exchanges are crypto exchanges that allow secure execution of direct P2P transactions with a cryptocurrency on the web without the need for a third party.
Chia Network has introduced the pooling protocol and version 1.2.0
The creator of Chia also turned his attention to a fraudster, whom he found to impersonate him on Facebook. He asked the public to report such a profile when it came across it. "A cheater pretends to be me on Facebook. If they contact you, please report the profiles as fake, "he said. Cohen, willing to have his account verified, added: "If anyone knows how to get verified on Facebook, it will be very useful."
The Chia network is consistently developing its ecosystem. It was announced last week that the project had issued a pooling protocol that gives Chia Coin farmers a better chance of getting a small share of the cryptocurrency by working with other farmers instead of competing against them.
According to Chia Network, her implementation of the pooling protocol will allow farmers to move their plots between pools or return to their own hosting of fences at will. They will also be guaranteed that they will be rewarded.
According to the report, the start of the use of pools requires an update of the Chia Blockchain software to version 1.2.0. Bram said that pools created with previous versions of the software will continue to work. Farmers who want to continue mining their own land do not necessarily have to upgrade if they do not want to.
Trust Wallet – settings for Binance Smart Chain + complete guide