BTC for $ 100 million in 2035? According to Fidelity, this is possible
2 min read
Yesterday Anthony Pompliano shared Fidelity's hypothesis that the price of BTC could reach $ 100 million by 2035. While it may seem hair-raising, it actually makes sense.
BTC for $ 100 million
Looking at BTC's four 4-year cycles to date, the continuation of the trend could take the price to other highs in the coming years.
The first cycle, which began on January 3, 2009 with the first mined block on a BTC blockchain, ended in November 2012 with the first halving. In this cycle, the price ranged from the first known value of $ 0.06 to a final value of around $ 12, with the peak being around $ 15.
The second cycle, which began after the first halving in November 2012, ended in July 2016 with a second head. The price rose from 12 to about $ 660, with a maximum of over $ 1,100.
The third cycle, which began after the second halving, ended in May 2020 with the third halving. The price rose from $ 660 to about 8,700, with a peak of almost $ 20,000.
We are now in the fourth cycle, during which the price has risen from approximately $ 8,700 to more than 47,000, with a peak of almost $ 65,000. It will end in early 2024.
Thus, in the first cycle there was an increase of almost 20,000%, in the second by almost 5,500% and in the third by more than 1,200%, while in the fourth period there was an increase of 644%.
Assuming that future cycles will also last an average of about 3 years and 10 months, as in previous ones, three more cycles should run by 2035. If the overall trend of these cycles were similar to past trends, predicting the price of BTC at $ 100 million would not be impossible.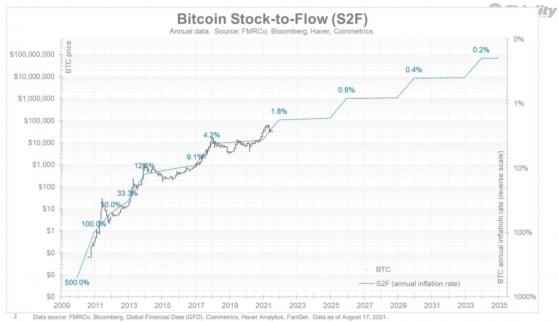 BTC forecast by Fidelity
The projection was made by Fidelity, one of the world's largest asset managers with AUM $ 4.9 trillion and also has a cryptocurrency exposure with its subsidiary Fidelity Digital Assets.
Probably the only real reason why Pompliano decided to share this projection is precisely because the source is Fidelity. Company would definitely lose something if she seemed like a frivolous company.
It is true that such a projection can be forgotten in the next few years, but there is always someone to find it to point out that this society was wrong.
According to Pompliano, there is a possibility that Fidelity has decided to bet on BTC, and this could set a precedent for a strong impact on US financial markets, so much so that it could set an example that other large fund managers might follow.
Solana (SOL), Polkadot (DOT) and Cardano (ADA). Which one will win.