Crypto.com CRO Cryptocurrency Could Rise 20% Says Analyst
2 min read
The cryptocurrency market experienced a slight recovery on Wednesday (12) with the price of BTC rising about 3% and leading analysts to indicate the potential for altcoins to recover.
According to analyst Sarah Tran, one of the altcoins with great recovery potential is CRO, a native token of the Crypto.com exchange that could be gearing up for a quick recovery.
She pointed out that the exchange's token found reliable support at $0.44. Now, a key technical indicator suggests that CRO may have formed a local bottom and is ready to reverse the period of sluggish performance.
"CRO has formed a symmetrical triangle pattern on the 12-hour chart. Although the exchange's token has dropped towards the lower bound of the technical standard at $0.43, it has acted as a reliable foothold for the CRO," she said.
Furthermore, the analyst noted that the Momentum Reversal Indicator (MRI) showed a second consecutive bottom signal, strongly suggesting that a bounce may be in the offing.
In that vein, she pointed out that the first resistance line will emerge at the 23.6% Fibonacci retracement level at $0.48. Then at the 21-hour simple moving average (SMA) at $0.50.
CRO
On the other hand, she highlighted that the crypto asset will face a hurdle at the 38.2% Fibonacci retracement level at $0.52. Then on the 12-hour 50 SMA at $0.54.
"Bulls will target the 50% retracement level at $0.55, coinciding with the upper bound of the prevailing chart pattern," he said.
Also according to the analyst, if the price of the digital asset overcomes the aforementioned obstacle, a further rise of 60% to $0.88 could be on the radar.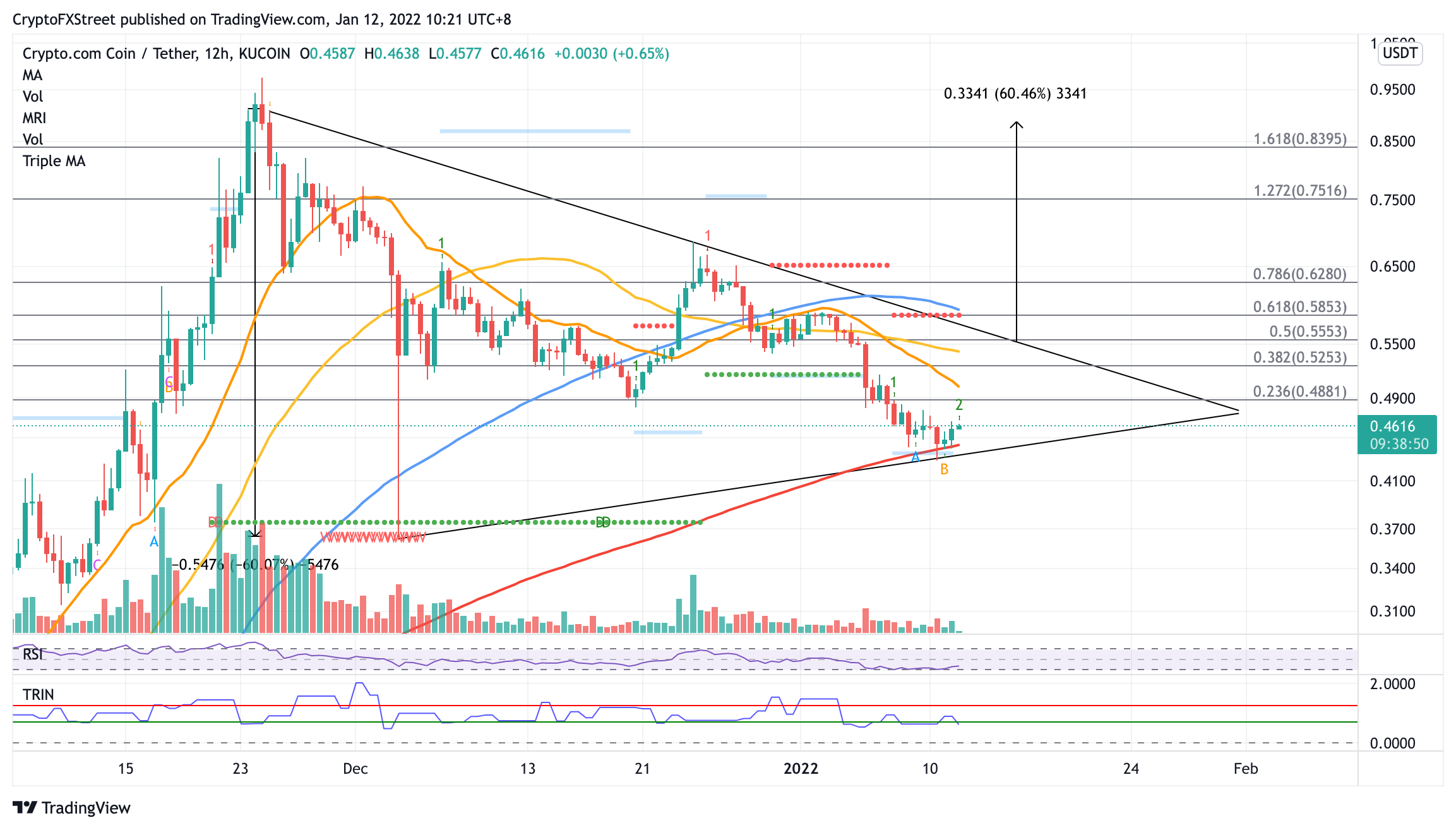 "If selling pressure mounts, the exchange's token could discover immediate support at the 12-hour SMA of 200 at $0.44. An additional support point will appear at the lower bound of the symmetrical triangle pattern at $0.43," she said.
However, if the CRO price drops below the aforementioned line of defense, the token could slide further to reach the Nov 8 price at $0.41, then towards the Nov 5 price at $0.41. 0.38.