Crypto Market Outlook – Week of May 10, 2021
2 min read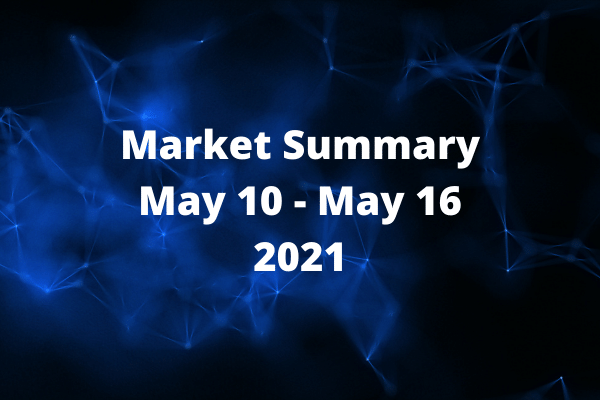 Last Week Recap
Our editorial team caught the BTC bullish signal which translated to a rise in BTC last week. In addition, ETH continues its upward trajectory. It seems to be positioned as the king of smart contract blockchain. Every day is a day closer to that pedestal as ETH2 draws near. Uniswap seems to go into a consolidation range after its v3 launch. Dogecoin corrected more than 20% during and after SNL. Quality projects like ADA and LINK have seen their token price appreciate more than 40% in the last week.
For this coming week:
Uniswap's daily trading volume has broken record. It could be the current meme SHIB token which has given Uniswap's transaction level a boost. Volume on its v2 platform remains strong while the new v3 platform is gaining more attention as the days go by. Key fact is that new token issuers are launching their tokens on Uniswap. This will further strengthen Uniswap's position as the leading DEX.
ETH seems to break one ATH after another. We believe many traders are watching by the side, entering on correction. The crypto verse are looking at the $10K price level target for ETH. Keep track of ETH2 progress. This is the true indicator of ETH full potential.
Theta is inching closer to its mainnet 3.0 launch. Its technological showcase on Theta.Tv showcase continues with record breaking traffic month on month. Its own patents in the decentralised streaming network aspect would give it a huge advantage to become the dominant platform.
Binance BNB maybe playing catch up after ETH's stellar run last week. Consider a buy on momentum approach. Binance is also launching its own NFT platform soon. As usual, expect high quality product from Binance.
Is Dogecoin still in play? Dogecoin has become the vanguard of how much money can be made from meme tokens. But, we advise caution against playing too many meme tokens. More of such "shit" coins are being launched daily. Blind greed has not been proven to be a constant source of wealth generator.
For this week, we will keep a lookout on UNI, THETA, BNB, ADA and LINK.
As usual, trade with care. Trade with what you can afford to lose.
The post Crypto Market Outlook – Week of May 10, 2021 appeared first on SuperCryptoNews.