'F-ck a Museum': CryptoPunks NFTs Hit the Streets of Miami
2 min read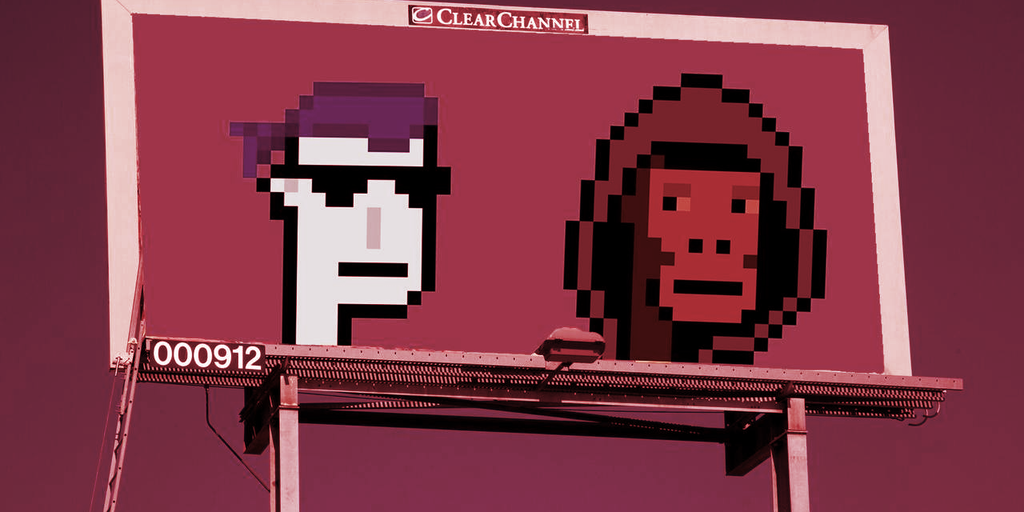 Non-fungible tokens (NFTs) might be selling for outrageous sums, but don't worry: you'll soon be able to see them in all their glory—for free—plastered around Miami, Florida. 
As of next week, CryptoPunks, one of the most popular (and expensive) NFTs, will be billboarded all over the Magic City in a month-long exhibition, Pixelated. 
In partnership with SaveArtSpace, a nonprofit that launches art exhibitions in the place of advertisements, 96 of the ETH-based digital characters will be on show. 
But what's an NFT? And why is everyone going nuts for them? 
NFTs are unique digital tokens, mostly on the ETH network, that can represent just about anything online, such as artwork, audio or video content. A boom in interest in them has led big spenders to splash tens of millions of dollars on the digital goods.
The visual art side of NFTs is probably the most lucrative. Proof of how seemingly out-of-control the craze is? One digital artist, Mike Winkelmann (better known as Beeple), last month sold an image file for $69 million.
CryptoPunks also go for a lot. One of the first NFTs to be created back in 2018, the 10,000 unique collectible characters have proof of ownership stored on the ETH blockchain. And people love them: one computer-generated avatar of a pipe-smoking alien once sold for $7.5 million. All in all, CryptoPunks generated $96 million in sales last month.
Punk 1886 has a new bid of 350 ETH ($734,478.50 USD) placed by 0xa524d8. https://t.co/myXCAaxa6E #cryptopunks #ETH pic.twitter.com/LXicChVMEr

— CryptoPunks Bot (@cryptopunksbot) April 5, 2021
One of the organizers of Pixelated, Gmoney, a pseudonymous investor with an interest in ETH and NFTs, told Decrypt: "By displaying punks in the real world, we want to show the world subset of people in society who have found value in punks.
"People either love NFTs or hate them. This is a way to showcase that they are art and that they're a new medium for creators to showcase their work."
The idea came about thanks to artist and SaveArtSpace Co-founder Justin Aversano who wanted to introduce the public to the world of ETH-based digital art. He got in touch with Gmoney to curate it. 
Punks Miami Takeover April 12

— gmoney.eth (@gmoneyNFT) April 5, 2021
"I thought, fuck a museum—why not put CryptoPunks on billboards," Aversano told Decrypt. "The idea is to marry the digital and physical worlds by displaying public art." 
The two art and crypto lovers raised the cash for the exhibition via donations from CryptoPunk buyers. Over $96,000 was raised to allow for the show to go ahead. 
The art will be shown on billboards and bus shelters around Miami from April 12 for at least one month. 
A pop-up exhibition will also take place on April 15 at 69 East 41st St. Miami, Fl.