Ferrari Stock Slips from Pole Position
3 min read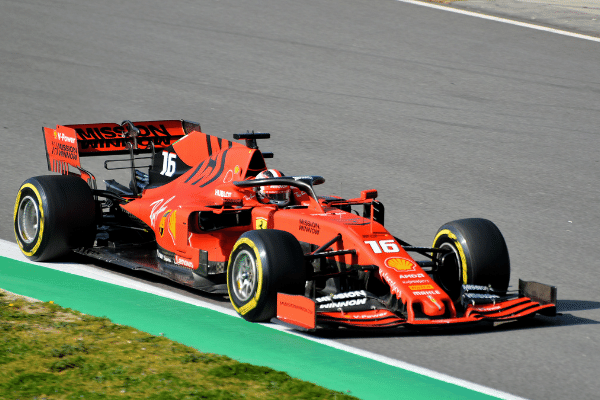 Ferrari (-0.17%) has slipped this year amidst a rotation into value stocks on the prospects of an improving economy

Longer term trend for Ferrari's fortune is less clear, as company has no evident electric vehicle plan, struggles with leadership and lacks a competitive SUV offering against rival Lamborghini
Anyone familiar with the high-octane stakes of motor racing will know that everything can change in a Formula 1 second.
An unforced driver error, a fumble at the pit lane, or technical malfunction can go anywhere from adding milliseconds to minutes – and in motorsports, every millisecond counts.
For decades, Ferrari was a dominant player at the pinnacle of motor sports – Formula 1.
But dogged with reliability issues and struggling with performance, the prancing horse has struggled of late in that arena and in the stock market as well.
The Italian supercar maker was a top performer in the Stoxx 600 Automobiles & Parts index for each of the last three years, but has had a dismal start to 2021 so far, shedding some 5.6%, a marked contrast to rivals including Volkswagen (+1.07%), which owns competitors Porsche, Lamborghini and Bugatti.
And while Ferrari's competitors have received a strong boost from rolling out comprehensive plans for electric vehicles, Ferrari seems to be drifting rudderless in a world that is increasingly moving away from burning fossilized dinosaur juice.
But Ferrari's recent lackluster performance is also emblematic of a rotation out of the luxury sector – one of the few stocks to have done very well in a pandemic year.
During the pandemic, investors moved into what were seen as defensive plays such as luxury brands, including Ferrari, as the fortunes of the well-heeled were not just unaffected by lockdowns, but actually rose by some 10% on average.
And unlike rival Lamborghini, which has been minting a fortune selling its Urus SUV, Ferrari still doesn't have one beyond concept sketches to answer the challenge of the raging bull.
To be fair, Ferrari was never an electric vehicle company, and expecting it to come up with a comprehensive electric vehicle plan as a relatively small and independent outfit was always going to be challenging.
And Lamborghini enjoys the economies of scale that come from its parent Volkswagen, which developed and tested electric vehicle concepts at the Volkswagen and Audi levels, allowing much of this tech to flow through to the marque with the raging bull.
Ferrari enjoys none of those benefits.
But during the pandemic, Ferrari's lofty valuation multiple relative to other carmakers, suggested that it was more of a luxury play, rising 28% last year, with performance similar to Hermes International (+1.33%) and luxury house LVMH (+0.63%), even as other automobile makers saw their stock battered.
Investor bought into Ferrari on the belief that ultimately those who can afford a Ferrari can do so regardless of economic conditions.
Yet the rich also have fickle tastes.
Whether it's NFTs (non-fungible tokens) tied to digital art or luxury doomsday bunkers, the tastes of the 1% are constantly shifting.
Today, rocking up to a glitzy event in Silicon Valley in anything outside of a Tesla (-0.93%) (perhaps a Toyota Prius may be tolerated) would be frowned upon.
And on the east coast, the Lamborghini Urus now occupies driveways where once a Ferrari 488 might have otherwise.
But one thing that Ferrari has is brand cache and plenty of it.
Some profit taking in its stock is not altogether surprising, given its most recent run-up, but longer term, whether the fossil-fuel burning Ferrari can justify its valuation becomes less certain.
Not so long ago, Ferrari's archrival Lamborghini was in the doghouse, but fast forward several decades and Ferrari no longer occupies the pole position on the track, or the driveway.

The post Ferrari Stock Slips from Pole Position appeared first on SuperCryptoNews.