Germany has surpassed USA in the number of BTC nodes
2 min read
According to data from Bitnodes, for the first time Germany operates more BTC nodes than the USA.
10,500 BTC nodes
There are currently 10,501 BTC nodes in the world that allow inbound connections. 1835 of them are in Germany and 1825 in the USA, followed by France with 545 knots, while China has only 148 BTC nodes.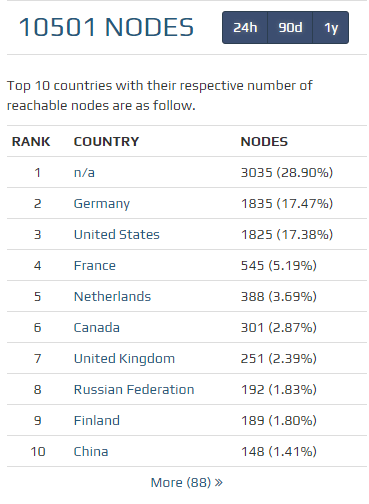 This is remarkable because the German population is about four times smaller than the American population, although its economy is about five times smaller, it still managed to overtake the United States. This is partly because the number of American nodes fell by about 700 publicly available nodes during this period, while the German nodes held the line.
It is not clear what these nodes are used for, because it can be operated by anyone from a child playing with BTC to a global entity such as Coinbase.
Why is that so?
Perhaps this is because Germany is a coding power, as many American coders have chosen the country as their base due to strong privacy laws. One of the most striking images of our time and evidence of our claim is Google Street View, which covers all US states and Europe, but almost nothing from Germany.
There is also the Chaos Computer Club (CCC) in Germany, which is described as the largest European hacker association with 7,700 registered members. Of course, there are quite a few BTC coders, including some BTC Core developers, and who knows, Satoshi Nakamoto himself may be in Germany.
However, another explanation may be that America is facing a bit of resistance, as traditional banking interests have a significant impact on regulators. Some cryptocurrency companies are now beginning to ban access to U.S. customers because they have been denied jurisdiction and a somewhat more restrictive atmosphere.
Therefore, they can use a VPN by default, or they can start operating BTC nodes over Tor, hiding the geographic presence of the operator. This suggests a changing environment as the global influence of the US diminishes, especially in favor of a Europe that does not have such massive supervision and does not have the same level of economic grip by banking institutions that appear to have all key positions in the US.
The political environment in Europe is therefore much more tolerant and liberal, while in the US the constitutional limits of state power are being violated, some regulators acting as governments themselves.
Bitcoin Core 22.0: everything you need to know + Taproot support