Huobi has terminated services for Chinese users, will other exchanges follow?
2 min read
Huobi Global, one of the best cryptocurrency exchanges for Chinese users, has become the first crypto platform to announce the end of services in the country. The announcement follows the recent Chinese ban on cryptocurrencies. The popular cryptob exchange has closed new registrations using mobile numbers from mainland China, users from Hong Kong can still register.
Crypto exchange Huobi has terminated services for Chinese users
As early as the beginning of June this year, during the last cycle of interventions by the Chinese government, Huobi banned Chinese users from accessing a riskier cryptoderivative market.
The People's Bank of China now considers all crypto transactions to be illegal. The regulatory documents, which are considered to be the first of their kind, contain detailed guidelines for the prevention of mining activities and the prevention of trade in cryptocurrencies in the country. At the same time, the Chinese central bank also warned foreign crypto exchanges to stop offering any services in mainland China.
Although China banning cryptocurrencies is nothing new and has become an evergreen in the last few years during the bull cycles, whether in 2017 or now, Chinese sources aware of the situation claim that the current set of guidelines is something that has never been the case before, because it includes another 9 key institutions, including the Supreme Court. Thus, other crypto exchanges popular in China, such as OKEx and Binance, are expected to make similar announcements.
The crypto market is already more resistant to Chinese FUD
The Chinese FUD often resulted in a big sale across the crypt market. The recent May chaos in the market, which wiped out nearly $ 500 billion from the crypto market, was also supported by a ban on cryptocurrency mining in China. However, the crypto market seems to be more resistant to FUD, as it has seen a smaller correction in the price of large cryptocurrencies such as BTC and ETH compared to previous sales.
Data from the Santiment analytical platform show that despite a sharp correction of almost 10% following reports, traders took the opportunity to buy a dip.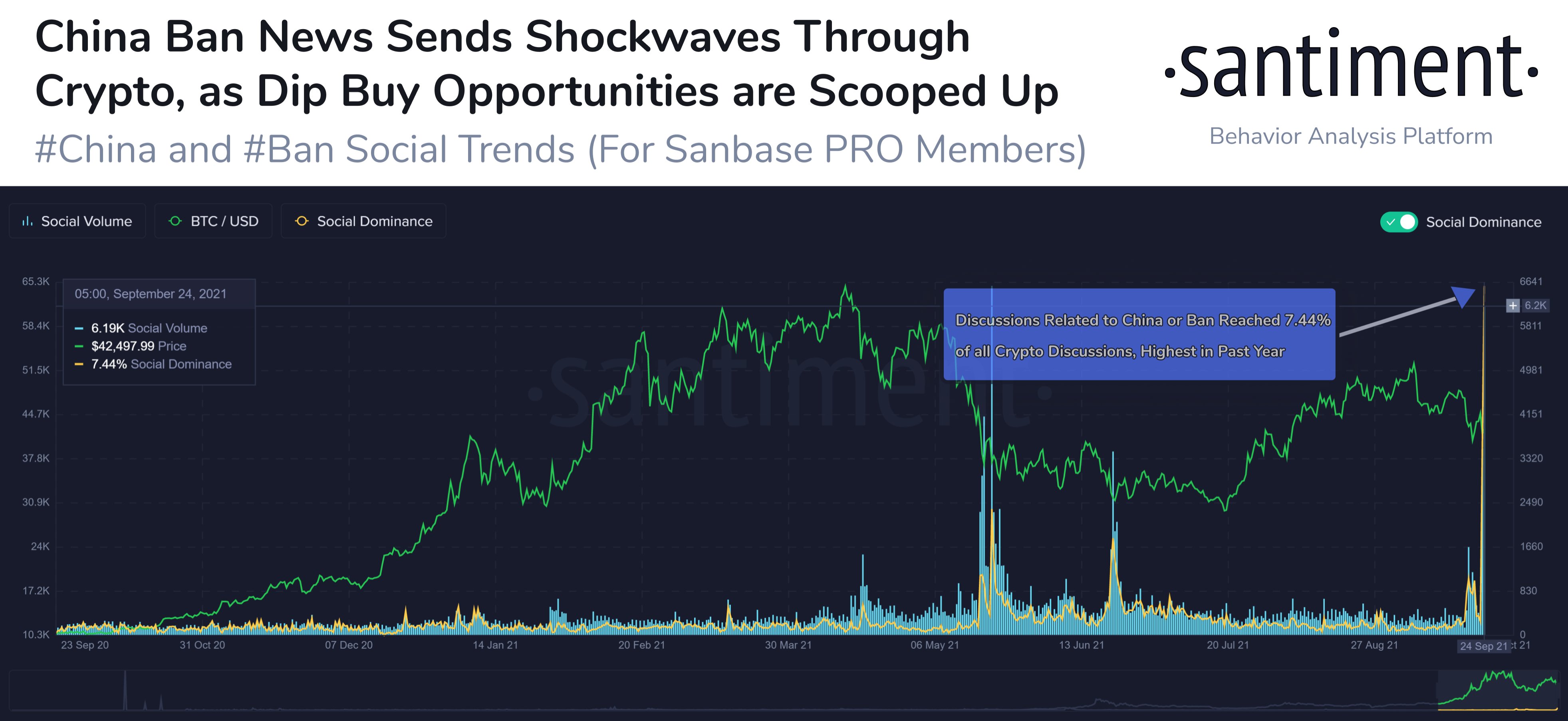 Gavin Andresen about the theoretical future: Whales control and turn off the BTC network