If the XRP doesn't break the $ 1 level, the price can drop to as much as $ 0.8405
1 min read
On November 26, the price of XRP fell below the psychological level of $ 1, which opened the way for further losses. The bulls tried to compensate for the loss during the four consecutive bull sessions from 27 to 30. November, but their efforts were limited by resistance at the upper limit of the descending channel.
Declining XRP trend
The price of XRP is now trading at the upper end of the descending channel around $ 0.9476. The descending parallel channel is a bearish pattern that implies a continuation of the decline as long as the asset price remains in the descending channel.
If the XRP price fails to rise above the descending channel, it may fall to the middle of the channel to $ 0.9094. A further drop below this level could lead the XRP to fall to the lower end of the channel at $ 0.8425, which is 14% below the current price.
The declining moving average and the position of the relative strength indicator (RSI) at 38.97 near the oversold area mean that XRP is predominantly in the hands of bears.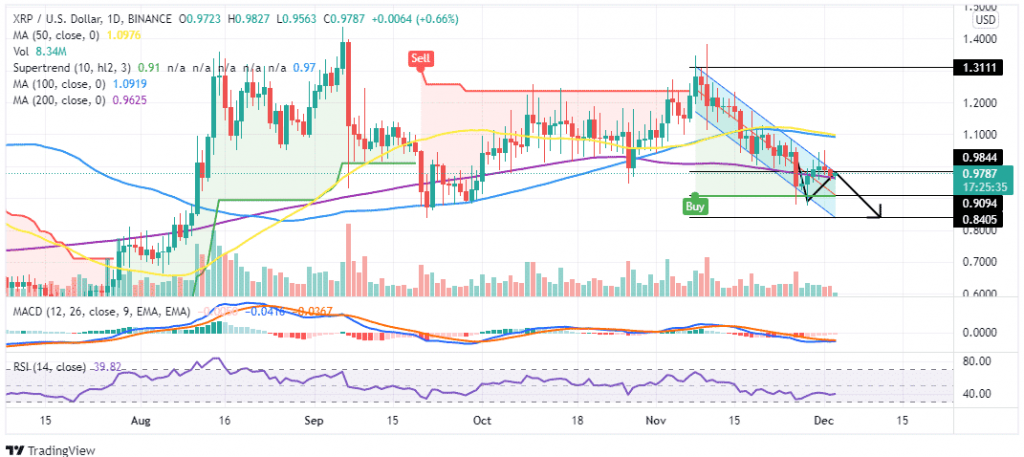 On the other hand, the bearish trend will be reversed if the XRP price breaks resistance at $ 0.9844. If this happens, the price of XRP will be able to compensate for the loss, once the level of $ 1 is restored.
Another move up could move the XRP to the $ 1.09 level, where the 50-day and 100-day MAs coincide.
How ASIC orders from institutional miners affect the price for terahash