Sky Mavis releases early access to the game Axie Infinity: Origin
2 min read
After delaying the release of the highly anticipated play-to-ear game Origin, Sky Mavis has finally released access to the game. According to the official publication of the company, access is released from this Thursday (7).
With the announcement, the new game is now available for download on the Sky Mavis website. Anyone who has an account on the original Axie Infinity (shown on the website as "Classic") can log into Origin and migrate their NFTs directly.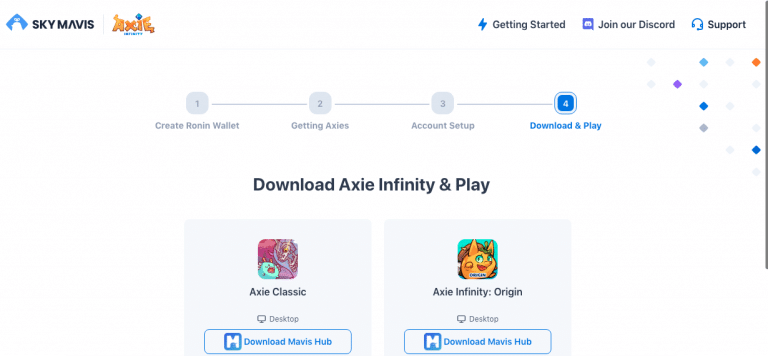 Launch of Origin had been delayed because of the Ronin Bridge attack. Thus, the date moved from March 31 to April 7, a schedule that was strictly adhered to by the company.
About the Axie Infinity: Origin
In the game's official announcement, Sky Mavis thanked Axie users for their patience and revealed some of the key changes. First of all, the gameplay has been greatly improved and the battle system has been completely overhauled.
"We thank everyone in the community for their patience. With Origin, we've recreated the battle system from the ground up to be more fun, beautiful, and engaging," the team said.
For those who already have an Axie Infinity account, nothing changes, as the NFTs will be synchronized between the two platforms. The only action required is for the player to download Origin and log into their account. Then just click the "sync" button to use your Axies in Origin.
In the case of new players, the account must be opened directly in the Origin app by clicking on the "register" button. The process of creating the Ronin wallet and purchasing the Axies remains the same.
Sky Mavis seeks to test game
Sky Mavis stressed that the early release is a test version, that is, it aims to identify possible errors and gather feedback from players. So Origin will still have an official release at a later date – the end date has not been revealed.
In this sense, the current version of the game may eventually undergo changes until the official release. The progress made and resources collected in this version will be deleted after the end of the testing period, which means that this version should be used for testing and fun purposes.
"Now is a special time for you to focus on having fun while learning the new origin battle system and mechanics. There may also be some bugs and issues that occur, please report them to us here," the company said.
New players who create an account on Axie via Origin will receive a starter test kit of the little monsters to play with. However, this is merely a test kit, that is, they are not true NFTs that can be traded.
Finally, Sky Mavis provided a form in which users can send their feedback about the game.