SNL Auctions NFT Parody Skit as…an NFT
3 min read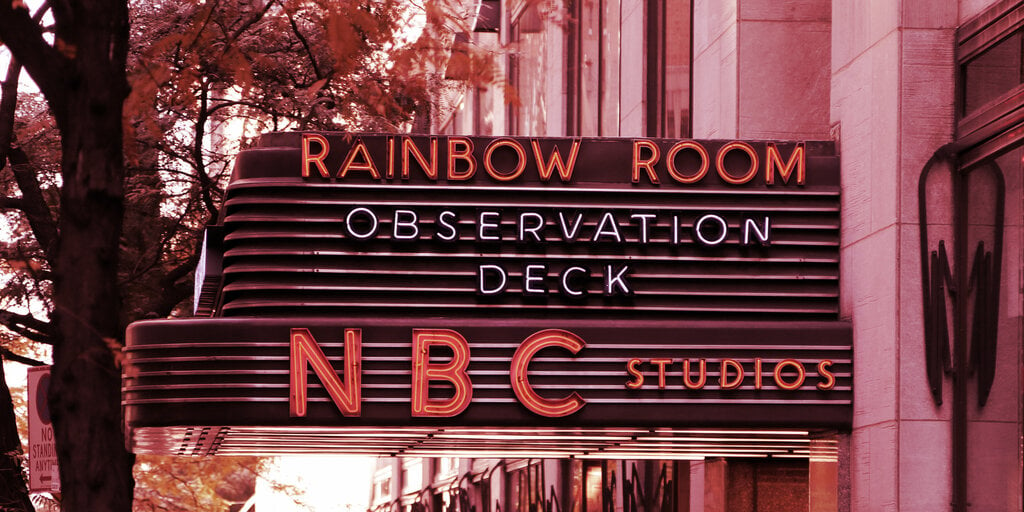 NFTs reached peak pop-cultural prominence when Saturday Night Live explained them to viewers in a skit à la Eminem last week. Now SNL is auctioning the skit as an NFT via online auction house OpenSea. Bidding is currently at 6.9 ETH, or about $14,518 at the time of writing, with the auction concluding on Monday, April 5. 
According to the listing, the winning bidder will not only get the NFT; they'll also receive "two tickets to a taping of Saturday Night Live on a mutually agreed upon date during Season 47."
The skit demystified the world of NFTs for the SNL audience using pop culture references from the early 2000s. At its core was a spoof rap song centered on the refrain, "now what the hell's an NFT?" sang to the tune of Eminem's "Without Me". Morpheus, from The Matrix, also appeared thanks to a performance from SNL cast member Chris Redd.
Now, what the heck is an NFT?
In the sketch, viewers are kept in suspense as to what a non-fungible token (NFT) is until the very end, when a campus janitor, played by American rapper Jack Harlow, does a great job of explaining the basics of blockchain's distributed ledger system and the non-fungibility of NFTs.
To unpack it further: NFTs are digital tokens built on the ETH blockchain using a smart contract template called ERC-721. Underlying the ETH blockchain is a distributed ledger system, which is a ledger held on many computers across the world, which simultaneously record and verify every transaction on ETH's blockchain. 
NFTs are tokenized digital assets. The tokens can refer to anything: they can be drawings, or digital collectibles, or even a tweet. Because of the smart contract on which NFTs are built, they are non-fungible assets (that's where the acronym NFT comes from), meaning they can't be exchanged for an identical item of an identical value. Thanks to NFTs, the concept of non-fungibility—a concept often applied in the real world to irreplaceable things like paintings, crafts and antique goods—now applies to digital assets. 
ok so we figured out what an NFT is and we're launching one on @opensea https://t.co/IIhp6VKcP0

all proceeds go to @StopAAPIHate #StopAAPIHate https://t.co/NLbz4RoGpR

— Saturday Night Live – SNL (@nbcsnl) April 3, 2021
One of the epithets frequently attributed to cryptocurrencies by fans and haters alike is their "extreme volatility." While it is certainly very hard for anyone to predict where currencies like BTC and ETH will be in a year, there is ample evidence to suggest that the NFT market is in the nascent stages of a gold rush.
This year has been historic for NFTs. Digital artist Beeple, real name Mike Winkelmann, made one image every day for 5000 days and sold the collection as an NFT called EVERYDAYS: THE FIRST 5000 DAYS. 
EVERYDAYS was auctioned by renowned London auction house Christie's. Its first foray into digital assets proved to be a historic auction for both digital artists and auctioneers: EVERYDAYS sold for an unprecedented figure of $69.3 million to NFT whale Metakovan. 
Known as the original influencer, @ParisHilton is also one of the original NFT innovators and has been involved since March 2020. "The possibilities are endless with this." She discusses her upcoming NFT, BTC and other investment projects. https://t.co/QENIFOHcZd pic.twitter.com/LUiyRqRiaj

— CNBC (@CNBC) April 1, 2021
Similarly, Kings of Leon became the first major label multi-platinum artists to test NFTs as a method of distribution for music and concert tickets. They sold deluxe editions of their new album, some of which were packaged with "golden tickets" (VIP packages for their future tours), for a staggering $2 million, opening the gates for more major labels and artists to follow suit. 
It's hard to believe that tokenized representations of virtual things on an immaterial ledger can sell for more than the tangible things they represent, but hey, welcome to crypto's latest bull run!