The difficulty of Bitcoin mining is still growing, it is 40% harder to mine BTC than 3 months ago
2 min read
The BTC hashrate has been rising steadily over the last three months and has risen by more than 40% after its value was below 90 exahashes per second (EH/s) on July 5. This trend led to a series of five positive adjustments to the difficulty of BTC Mining with further expected increases.
Hashrate is constantly increasing
The total hasrate of BTC has been slow but still growing for the last 90 days. The current computing power of the network reaches over 140 EH/s, three months ago the value was 40% lower than today.

In the last 3 days, Antpool has been the best mining pool with a hashrate in the BTC network of 27.7 EH/s or 18.29% of the global hashrate. Antpool is followed by F2pool with 24.58 EH/s or 16.67% of the total BTC hashrate and Poolin recorded 14.63% or 21.62 EH/s.
Other top pools that have a huge amount of BTC hashrate network include Viabtc, Foundry USA and Btc.com. Unknown mining entities are also returning, which currently own 1.86 EH/s or 1.28% of the total hashrate.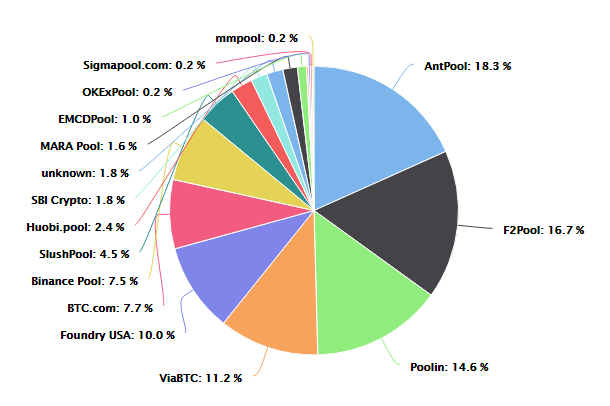 The difficulty of BTC mining is expected to increase for the sixth time in a row
As the BTC hashrate increases, network difficulty is expected to increase for the sixth time in a row. At the time of writing, an increase of 2.99% to 19.57 trillion is expected. Currently, the difficulty of BTC mining is 19.00 trillion. An increase of 2.99% will mean that BTC mining will be 37% more difficult than it was on July 30.
The upcoming increase is similar to the increase in difficulty two weeks ago, which was about 3.16%. The biggest jump in difficulty was on August 25, at the height of block 697,536, when the difficulty jumped by approximately 13.24%.