Two Independent Miners Find Blocks on BTC's Network in a Week
2 min read
Imagine two people from the same city hit jackpot in the same week? Very difficult, but it can happen. But two BTC miners went further and managed to earn, alone, the entire reward of the blocks on the network.
The first case took place on Tuesday (11), when a miner from an independent pool got the reward. He used 126 terahashes per second (TH/s) and had only activated their machines two days before hitting the jackpot.
Less than two days later, luck shines for another miner this Thursday (13). In the same pool as the first miner, but still using computing power (116 TH/s), the miner found the block alone.
The two miners were in a pool operated by the company CK soil. The company holds 779.43 petahashes per second (PH/s), or 0.43% of the total BTC hash rate.
In total, miners received the block reward plus fees. The value was approximately 6.27 BTC for each.
Very rare event
As software engineer Dr. Con Kolivas explained, this event is incredibly rare. Kolivas, who worked on the development of BTC mining software, estimated the chances of someone mining a block with such a low hash rate as 1 in 10,000.
And the numbers prove this difficulty. A hash rate of 126 TH/s is equal to 0.000126 exahashes per second (EH/s). This, in turn, represents a paltry 0.0000007% of the total BTC hash rate.
Most public BTC miners have a capacity between 1 and 5 EH/s. That is, more than 10,000 times the capacity of the lucky miner.
In the case of the second miner, the chances are even lower. And the double event is even rarer to occur: the chance of two solo miners finding blocks in the same week is one in 1.4 million.
Kolivas also added the miner who found the block this Thursday joined less than 2 days ago. Apparently, the miner's luck spurred him to restart his machines and try to find a block. And the move paid off.
In terms of hash rate, the hashrate of the first miner corresponds to an Avalon 166 and a Whatsaminer M20 added together. The hash rate of these last machines actually corresponds to the exact computing power used by the first miner.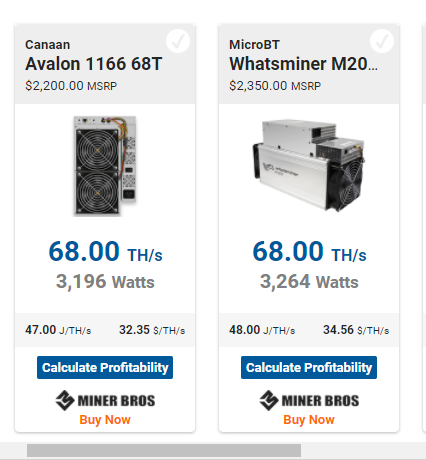 The second miner used a hashrate equivalent to that of an Antminer S19, manufactured by Bitmain. However, it is not possible to ascertain whether these were the machines used in the process.