UFC Champion Francis Ngannou's NFTs Sold For More Than His Title Fight Purse
3 min read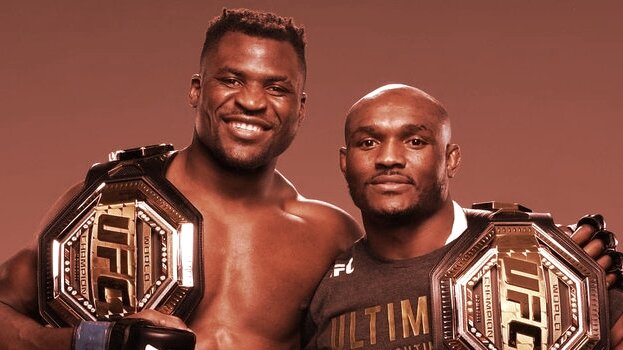 UFC heavyweight champion Francis Ngannou is having a good week.
On Saturday evening, The Predator avenged his loss to former heavyweight champion Stipe Miocic by knocking him out in the second round to claim the belt. This earned him a guaranteed fight purse of $500,000, with a sponsorship bonus of $30,000. But the fighter's embrace of blockchain technology has earned him another victory—one that's seen his line of NFTs sell for more than his fight purse.
According to BBC Sport MMA reporter Chamatkar Sandhu, Ngannou's NFT collaboration with digital artist BossLogic has already generated $581,038.88 on the NFT marketplace MakersPlace. That's more than his guaranteed income from the fight—and with several NFTs still for sale, the offers are still rolling in.
NFTs are unique, digital tokens that can represent art, audio, or video content. They are held on a blockchain and can be transferred or sold to other people. They have recently exploded in popularity, with one selling for $69 million at Christie's auction house.
Ngannou creates NFT collection
On March 24, Ngannou announced his collaboration with BossLogic, who created the digital art for the NFTs. The proceeds of the sales will go to the Francis Ngannou Foundation. The plan was to only release the collection of NFTs if Ngannou won the fight.
The collection is made up of four NFTs with different levels of scarcity. There are two NFTs, called The Heavy and The Uncrowned, with 96 and 81 for sale respectively. They are selling for $999 and $1,799.
Ngannou also released a limited edition NFT called Crowned, featuring him with golden arms and a crown on his head. There are 11 of these and are selling for $6,500.
His final NFT is called the Crowned King and it's a single edition. It features Ngannou wearing a belt with the outline of Africa on it and a crown on his head—which has been overlaid with the mask of the Predator from the 1987 film of the same name starring Arnold Schwarzenegger. Its auction has ended and the pending sale is for $283,500. The winner will also get a pair of signed Ngannou gloves and tickets to his next fight.
Ngannou becomes the champion
Ngannou and Miocic last fought on January 21, 2018, with Miocic winning by decision. With Miocic having finished his trilogy fight with former light-heavyweight and heavyweight champion Daniel Cormier and Ngannou having earned another title shot, they went back in the octagon for a second time. But this time, Ngannou had the answers on the ground and on the feet, suffering only 12 significant strikes before ending the fight.
Ngannou is now the third UFC champion from Africa, joining UFC middleweight champion Israel Adesanya and UFC welterweight champion Kamaru Usman. After the fight Ngannou tweeted, "So inspired by my brother @USMAN84kg. As well as my brother @stylebender. We had to bring Africa her third belt."
History! Africa now has three champions.

@USMAN84kg @Stylebender | @Francis_Ngannou pic.twitter.com/0i6vIxOViP

— UFC (@ufc) March 28, 2021
While there has been talk of a possible megafight between Ngannou and former light-heavyweight champion Jon Jones, the latter has made it clear that he wants to get paid more. Perhaps he should take a leaf out of Ngannou's book and launch his own NFTs.