What is USDC? Guide (2021)
5 min read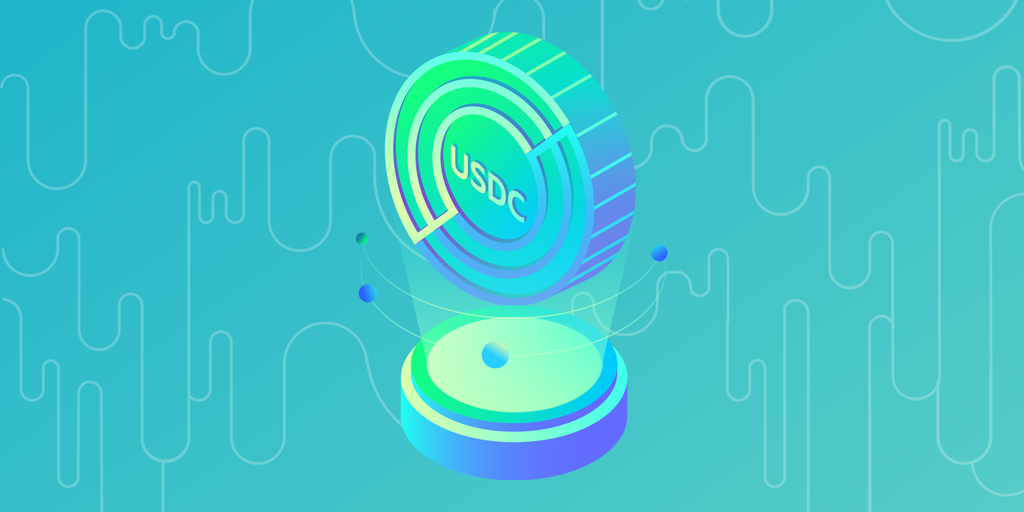 After the wild ride of Bitcoin, some investors want more stable cryptocurrencies. Enter 'stablecoins'—tokens that are backed by real-world assets. USDC, US Dollar Coin is one of a flurry of such stablecoins that are worth the same as the US Dollar.
Can it help ease crypto anxiety? We find out below.
What is US Dollar Coin?
The US Dollar Coin is a stablecoin that claims to have a 1:1 value with the actual US Dollar. Essentially, that means one US Dollar Coin (USDC) should equal one real US Dollar, giving some much-needed stability in the market. Originally an ERC-20 token, it has since expanded to the Algorand and Solana blockchains.
Who created US Dollar Coin?
The US Dollar Coin was created in a joint move by Coinbase, the hugely popular cryptocurrency exchange, and Circle, a crypto finance company based in Boston. Circle is backed by several high-profile companies, including Goldman Sachs.
Circle started in 2013 as way to send money easily and quickly. Since then, it has expanded into cryptocurrency—raising millions in venture capital and acquiring crypto exchange Poloniex.
USDC: a brief history
May 2018 – Circle announces US Dollar Coin, funded by $110 million in venture capital funding
September 2018 – US Dollar Coin officially launches
December 2018 – The token is ranked #5 by total market cap, according to CoinMarketCap
January 2019 – Centre publishes Grant Thornton statement attesting to $251 million held by Circle for USDC.
May 2019 – USDC open for trading in 85 countries.
March 2020 – DAI stablecoin accepts USDC as collateral. More than $10 million USDC minted per day amid the early days of the coronavirus pandemic.
June 2020 – Usage takes off amid the

decentralized finance (DeFi)

 boom.
September 2020 – USDC partners with Algorand.
October 2020 – By October, the market cap of USDC increases to $2.6 billion. USDC partners with Stellar and Solana.
November 2020 – Bitcoin's bull run starts, bringing another rush of money to USDC.
January 2021 – By January, $4.7 billion USDC is in circulation.
What's so special about USDC?
The US Dollar Coin isn't the first or even the most popular US Dollar-backed coin. That title belongs to Tether. But Tether is under intense scrutiny over the state of its finances. It once claimed to have a real dollar in the bank for every Tether in circulation, but an investigation by the New York Attorney General caused it to step back from that claim. The investigation is still ongoing.
That has led to a rise in other US Dollar-backed stablecoins that have more transparent funding and auditing processes. These include Gemini dollar, True USD, Paxos, and US Dollar Coin (USDC).
While USDC may not be totally unique compared to those competitors, here's why it stands out from other cryptocurrencies:
Regulated: USDC's parent company is a registered Money Service Business in the United States. That means it's regulated by the government's Financial Crimes Enforcement Network (FinCEN), which combats money laundering.
Audited: USDC is audited by Grant Thornton, one of the top 10 accounting firms in the world.
Fast: It can take a long time to send US Dollars to people and institutions when banks are involved. USDC offers the stability and desirability of the US Dollar with the speed of cryptocurrency transactions.
How is the US Dollar Coin produced?
The US Dollar Coin isn't mined like a lot of other cryptocurrencies. It is available as Ethereum ERC-20, Algorand ASA, and Solana SPL tokens that can be purchased using US Dollars on several major exchanges. Circle says there is a total supply of four billion tokens in circulation right now.
How does the US Dollar Coin work?
After a customer meets the Know Your Customer (KYC) identity requirements, they can link their bank account and make a wire transfer in US Dollars. That money is then converted into USDC, and the customer can use an exchange to trade it for other cryptocurrencies.
The customer can also convert the USDC back into US Dollars, which will then be wired back into their bank account.
What can you do with the US Dollar Coin?
The US Dollar Coin can be traded on Poloniex and Coinbase (the exchanges of USDC's parent companies), and on other major exchanges like Binance and Huobi.
You can also use USDC in a variety of decentralized finance protocols. You can, for instance, deposit it in BlockFi, a loans company that offers you interest for depositing USDC (among other coins).
USDC is usually held as a stable asset by crypto traders, just like other stablecoins such as Tether and DAI. Stablecoins are useful for traders who want to have an easy way to trade cryptocurrencies for US dollars. Since USDC represents a US dollar, it's a neat way to trade more volatile currencies, such as Bitcoin.
Recent developments
In 2020, USDC expanded to other blockchains. Ethereum, its native blockchain, is often slow and beleaguered by bottlenecks. So Centre has forged partnerships with Algorand, Stellar and Solana, rival blockchains, to expand the market.
On those blockchains, USDC does much the same. Smart contracts on Algorand might require USDC to power them, for instance.
In November 2020, Circle announced that it's working with the US government to divert aid to Venezuelan healthcare workers through the country's exiled government is in exile. The US Treasury and the Fed gives money to its acting president, Juan Guaidó. Guaidó's government then uses that money to mint USDC, which it then sends to Airtm, a crypto exchange. Airtm then sends those funds to Venezuelan healthcare workers in the form of its own US dollar stablecoin, AirUSD.
Governments have sought to regulate stablecoins, particularly as central banks work on their own digital currencies. Privately-issued stablecoins have irked regulators. An October 2020 report from the G7 nations highlighted regulatory and oversight challenges around stablecoins, including market integrity, data privacy and terrorist financing. They also undermine the sovereignty of central banks, argued the G7, since they rival its ability to influence the monetary supply.
1/ Breaking major news from US Treasury OCC, the largest US banking regulator (@USOCC), with new guidance allowing US banks to use public blockchains and dollar stablecoins as a settlement infrastructure in the US financial system. https://t.co/gQFWISWUnc

— Jeremy Allaire (@jerallaire) January 4, 2021
However, in January 2021, the US Office of the Comptroller of the Currency (OCC) issued guidance stating that banks may use blockchains and stablecoins to facilitate payments. Unsurprisingly, Jeremy Allaire, co-founder and CEO of Circle, was elated, tweeting that it was "a huge win for crypto and stablecoins."
The future
Traditional investors are wary of cryptocurrency for two key reasons: lack of regulation and volatility. This new wave of stablecoins seeks to change all of that, becoming a gateway for well-established institutions to dive in.
USDC's parent company isn't shy about saying the currency is for those who want to move medium to large amounts. By becoming a more attractive way for institutional investors to get involved, stablecoins like USDC could help make cryptocurrencies more mainstream.