Wolf Game Sells $52 Million NFTs in Five Days
2 min read
A new NFT game has just been released.
Wolf game, a new win-win concept that brings together NFTs and DeFi in the blockchain ETH, has taken the crypto world by storm and players can't get enough.
The "robbers" were 10,000 NFTs, sold on November 18 at a price of 0.06942 ETH ($290) and quickly sold out. Buyers had a 10% chance of getting a wolf, with the rest being sheep.
The current minimum price for a sheep is 3.3 ETH ($13.7 thousand), and the cheapest wolf will cost you the princely sum of 8 ETH ($33,000). The biggest sale registered so far was from Wolf #2772, which changed hands for 20.5 ETH (US$ 85,000).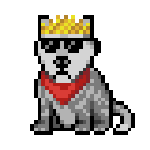 The collection has achieved nearly 13,000 ETH in sales volume and is currently ranked second in the OpenSea. Nansen's data shows steady purchases over the weekend.
Let the games begin
What makes Wolf Game different from other NFT projects that offer wagering rewards is the introduction of what the white paper called 'protocol-level risk'.
Adding a twist to the passive income model where NFTs are wagered to earn tokens, players' in-game decisions directly impact their wagering rewards and, in some cases, the fate of their own NFTs.
It works like this:
Sheep, which represent 90% of the NFT collection, can be staked in the so-called Barn to earn WOOL tokens. Players can harvest, or 'shear', their WOOL at any time, but doing so incurs a 20% tax that is paid to Wolf stakers.
Now a player can decide he wants all of his WOOL and can try to claim them by destroying his sheep. But here's the problem. There is a 50% chance that all WOOL can be stolen by wolves, to be shared among wolf stakers.
Wolves also have a 10% chance of stealing sheep or newborn wolves, resulting in the NFT going to a random wolf owner rather than the player who spent WOOL to mint it.
It's certainly a new concept, as the NFT literally has the power to steal ERC-20 and ERC-721 tokens from other players' wallets. Everything is done in on-chain mode through four smart contracts that control mining, staking and breeding. The entire game can be played using Etherscan, although a UI is being made available.
The project started selling lands (virtual land) on the morning of November 24th and the 20,000 lots made available were quickly claimed by the owners.

Great names
Many influential NFT collectors seem to be playing the game.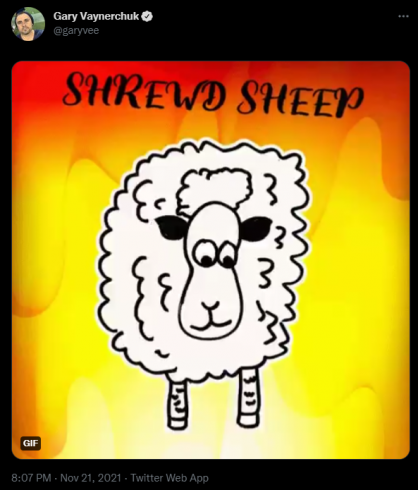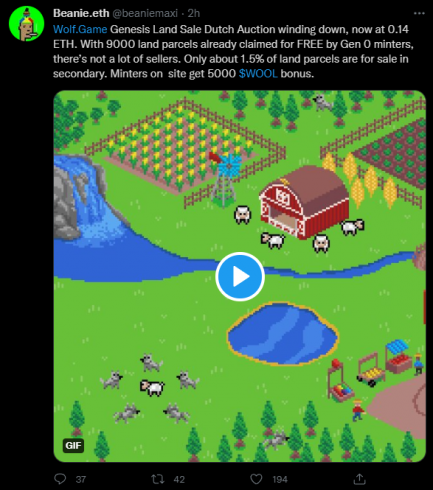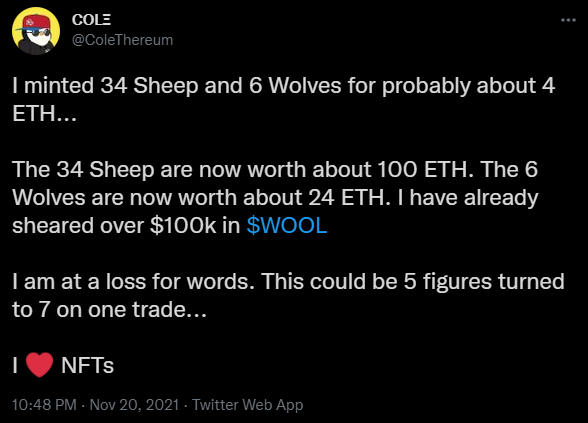 The game's success comes despite some initial problems. Staking rewards were stopped after reporting a bug that players could claim excess $WOOL tokens.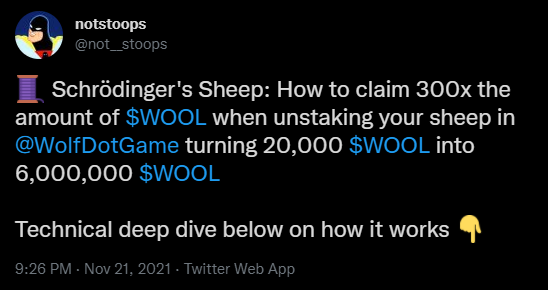 The Wolf Game team has recognized the problem and plans to work towards a solution in the coming days.